On December 13, Virgin Galactic scripted history with the success of the maiden space flight of VSS Unity that culminated in a safe landing, fulfilling a long awaited dream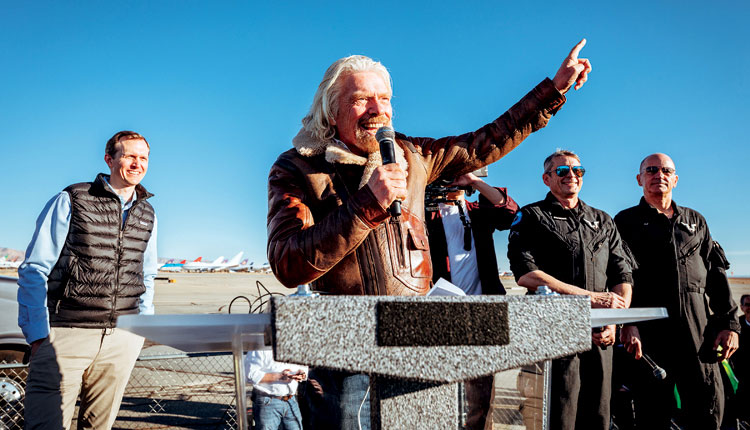 The VSS Unity is a sub-orbital, rocket-powered manned space plane and is a part of the fleet of Virgin Galactic, the first commercial spaceflight company founded by Sir Richard Branson and jointly owned by the Virgin Group and Mubadala Investment Group. The company is developing commercial spacecraft with the aim of providing sub-orbital space flights to tourists as well as for scientific missions. Rolled out from the company's facility in Mojave, California, on February 19, 2016, VSS Unity was the second SpaceShipTwo to be built at Virgin Galactic. The first Spaceship, the VSS Enterprise, was unfortunately destroyed in a crash in October 2014. The SpaceShipTwo Virgin Galactic's suborbital spacecraft is air launched from beneath a carrier airplane known as White Night Two.
VISION OF VIRGIN GALACTIC
The vision of Virgin Galactic is to make a radical change to enable easy access to space to any individual desirous of doing so. The company will provide affordable and safe launch opportunities for private individuals and research payloads through their human spaceflight system. Through innovative design, space vehicles used by Virgin Galactic are built to significantly increase the frequency and enhance safety levels in space flights. The company's business aims to fly more people to space in its first few years of service than have been there through all of history. Its sister company, Virgin Orbit, will provide launch opportunities for new orbital technology via its small satellite launch service. Its launch vehicle will open up the space frontier to innovators of all sorts, from start-ups and schools to established space companies and national space agencies. By achieving these objectives, Virgin Galactic and Virgin Orbit will be playing their part in opening space to change the world for good.
Virgin Galactic has indeed transformed access to space for the benefit of life on Earth. To date, over 600 men and women from over 50 countries, larger than the total number of humans who have ever been to space so far, have booked slots to fly on Virgin Galactic's reusable space launch system.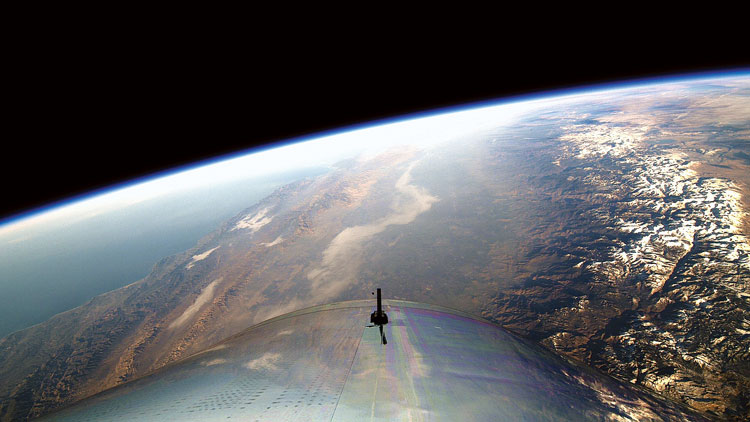 Virgin Galactic in space
PARTNER COMPANIES
SpaceShipTwo and WhiteKnightTwo are manufactured and tested in Mojave, California by its manufacturing partner, The Spaceship Company (TSC). Spaceflight operations will be based at Spaceport America in New Mexico, the world's first purpose-built commercial spaceport. TSC, a SpaceShip company, is Virgin Galactic's space-system manufacturing organisation. With its headquarters at Mojave Air and Space Port in California, it is building and testing a fleet of WhiteKnightTwo carrier aircraft and SpaceShipTwo reusable spaceships that, together, form Virgin Galactic's human spaceflight system. Its team of talented and dedicated engineers, technicians and professionals are united by a willingness to challenge the status quo and deliver innovative aerospace solutions to the needs of customers. The extensive capabilities of TSC include preliminary vehicle design and analysis, manufacturing, ground testing, flight testing and post-delivery support.
Passengers aboard Virgin Galactic's SpaceShipTwo, the first commercial human spaceflight vehicle, will experience the unique thrills of spaceflight, enjoying the opportunity to leave their seats to float in zero gravity for several minutes. SpaceShipTwo can also be configured to carry research payloads by replacing the seats meant for astronauts with mounting racks that can accommodate the payload container systems. Each flight can carry 450 kg of payload into space in addition to an onboard Payload Engineer. This offers an unparalleled opportunity to conduct high-quality, affordable experiments. Many researchers are looking at SpaceShipTwo as an invaluable stepping stone on their way to orbital systems, while others are conducting unique research customdesigned for suborbital flight. NASA is already a customer, having chartered a flight on SpaceShipTwo.
"THIS IS A MOMENTOUS DAY AND I COULD NOT BE MORE PROUD OF OUR TEAMS WHO TOGETHER HAVE OPENED A NEW CHAPTER OF SPACE EXPLORATION," SAID SIR RICHARD BRANSON.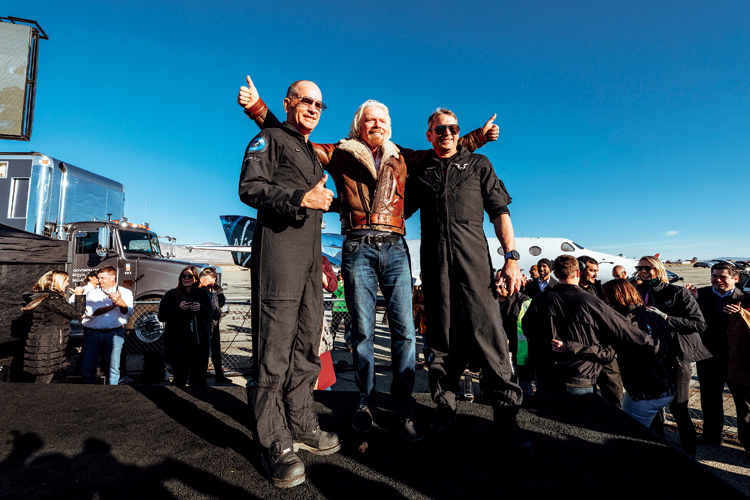 THE SPECTACULAR SPACEFLIGHT
On December 13, 2018, Virgin Galactic scripted history with the success of the maiden space flight of its commercial SpaceShipTwo, VSS Unity that culminated in a safe landing, fulfilling a long awaited dream. This was also the fourth powered test-flight of the space vehicle and was also the first human spaceflight to be launched from American soil since the final Space Shuttle mission in 2011. What is notable is that this was the first time that a manned space vehicle built for commercial, passenger service, has reached space. The historic achievement has been recognised by the Federal Aviation Administration (FAA) of the US. On this occasion, FAA announced the award of FAA Commercial Astronaut Wings for the two pilots of VSS Unity namely Mark Forger Stucky and Frederick CJ Sturckow to be conferred a year later at a ceremony in Washington DC. Amongst the many firsts, the successful space flight on December 13, has also been recognised by the NASA Flight Opportunities Programme, which carried out four space science and technology experiments on VSS Unity, making this Virgin Galactic's first revenue generating flight.
The spectacular spaceflight was witnessed by a large crowd of staff and their families, as well as special guests and the media. There was a 60-second planned rocket motor burn which propelled VSS Unity to almost Mach-3 and to an apogee of 51.4 miles. As VSS Unity coasted upwards through the black sky and into space, Virgin Galactic Mission Control confirmed the news and congratulated the two astronaut pilots: "Unity, Welcome to Space".
After a Mach 2.5 supersonic re-entry into the atmosphere, Forger and CJ guided the spaceship down to a smooth landing on the runway and an emotional homecoming welcome. Commenting from the flight line Sir Richard Branson said, "Many of you will know how important the dream of space travel is to me personally. Ever since I watched the moon landings as a child, I have looked up to the skies with wonder. We started Virgin Galactic nearly 50 years ago dreaming big and loving a challenge. Today, as I stood among a truly remarkable group of people with our eyes on the stars, we saw our biggest dream and our toughest challenge to date fulfilled. It was an indescribable feeling of joy, relief, exhilaration and anticipation for what is yet to come. This is a momentous day and I could not be more proud of our teams who together have opened a new chapter of space exploration."