Boeing Forecasts demand for 2,300 new airplanes in India valued at $320 billion, over the next 20 years, which is up by 200 airplanes from their last year's forecast. Exceptional domestic passenger traffic in double-digit over the last 51 consecutive months and rapidly expanding low-cost carriers (LCCs) drove up the demand.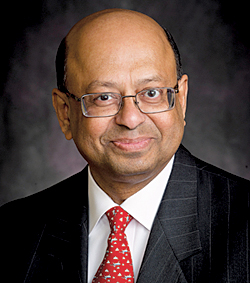 Dr Dinesh Keskar
Senior VP, Asia Pacific & India Sales Boeing Commercial Airplanes
Boeing forecasts a market for 2,300 new commercial jets worth $320 billion in India over the next 20 years, but has tempered its outlook with the caveat that "irrationally low domestic fares" could upset the applecart for this sector, taking note of the fact that not a single airline is operating profitably in India at the moment. It pegs the size of the post-sales Commercial Support and MRO Market at an even higher level of $430 billion over the same time frame.
The optimism of Boeing's Current Market Outlook for 2018-2037 is driven by galloping and sustained double digit growth in passenger traffic in India, and the hope that the civil aviation sector will bring about discipline in fares and overcome the problem of high fuel prices and a weakening Rupee.
Boeing's Current Market Outlook is the world's longest running jet forecast and regarded as the most comprehensive analysis of the commercial aviation industry. It was presented in New Delhi by Dr Dinesh Keskar, Senior Vice-President Asia Pacific & India Sales, Boeing Commercial Airplanes.
While acknowledging that Indian traffic now consistently exceeds 10 million passengers a month, Dr Keskar took note that this has not resulted in profitable growth for India's airlines. "Indian fares are irrationally low. These are 10-15 per cent lower than break even, and can't be sustained for long. The low fare yield needs to be addressed," he said, calling for "discipline" and pointing out that Indian fares are three-to-four times lower than those in the US, where the airline industry is operating profitably.
The Outlook puts its money on single-aisle aircraft, forecasting that this category will account for 84 per cent of the Indian market for new aircraft in numbers and 69 per cent in value terms. Up to 1,940 single-aisle jets worth $220 billion will be sold in India. The share of widebody jets will be up to 350 aircraft at $100 billion. The report presented a dismissal picture for the prospects of Regional Jets, assessing its share in the market at less than 1 per cent.
Boeing's forecast takes into account the solidity of the Indian market reflected in 50 consecutive months of double-digit growth in traffic, with the growth figure for December 2018 pegged as high as 18 per cent. The global average is 4.7 per cent. Even a one per cent shift from the 23 million per day passenger base of the Indian Railways could double the civil aviation market in India.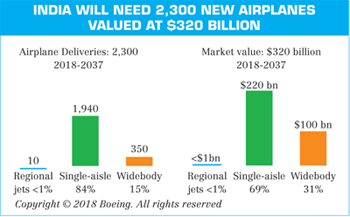 At 64 per cent, almost two-thirds of the traffic is on low-cost carriers, and all except one carrier – Jet – have recorded a growth in traffic. The market assessment was also buoyed by the prospect of a $8.5 trillion Indian economy by 2037, by which time it's expected to be the world's third largest.
On headwinds other than the 'irrational fares', Boeing's India outlook pointed out that aviation fuel prices are 66 per cent higher than in the US, and that these prices have risen by 60 per cent since mid-2016. Exchange rate volatility, and the stiffening of the dollar has put the Indian aviation industry under even greater stress by making fuel prices more volatile.
The survey points to huge prospects in the commercial services market worldwide. Against the forecast of $6.3 trillion business for new aircraft, the size of the post-sales commercial market stands at an even bigger $8.8 trillion over the next two decades. In line with the trend of new sales, the Asia-Pacific and Indian markets account for the largest chunk. South Asia will demand Commercial Services worth $430 billion, of which $80 billion will be on account of maintenance and engineering support MROs. Dr Keskar indicated that Boeing intends targeting this business directly.