Globalisation of MRO services, manpower cost competitiveness, availability of talent, advantages of location and the presence of specialist capabilities, all combine to make India a potential global MRO hub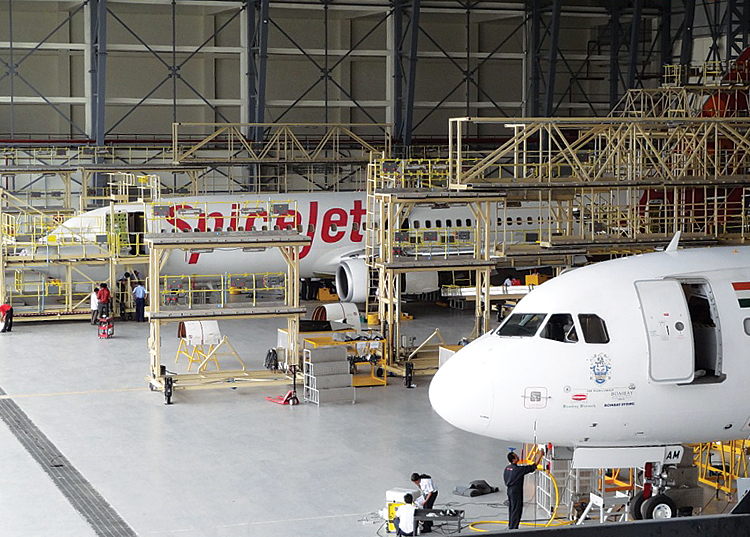 The Indian civil aviation industry has emerged as one of the fastest growing industries in the country during the last three years. India is currently the third largest domestic civil aviation market in the world and is expected to become the world's largest in the next 10 to 15 years. Domestic air traffic rose 17.69 per cent year-on-year in December 2017, according to the civil aviation regulator Directorate General of Civil Aviation (DGCA). About 11.24 million passengers flew in December 2017, up from 9.55 million a year earlier. Also, domestic air traffic in India is expected to cross 150 million in the financial year 2018-19 due to the rising demand and an unprecedented capacity induction by airlines. As of December 2017, the existing fleet of aircraft in India stood at 548 and another 920 aircraft are expected to be inducted into the fleet by 2025. In the coming 20 years, Indian companies will buy 2,100 new planes worth $290 billion.
Capital expenditure plans to the tune of 65,000 crore have been finalised by the Airports Authority of India with 17,500 crore for the next five years, 22,000 crore for Brownfield expansion in Delhi, Mumbai, Hyderabad and Bengaluru by private operators and 21,000 crore for Greenfield airports. Under the second round of Regional Connectivity Scheme, the government has awarded 325 routes to airlines as well as helicopter operators with the objective of enhancing flight services to remote areas. Constructing 17 highways- cum-airstrips are the government's priorities and it will start work on them in 2018. India's aviation industry is largely untapped with huge growth opportunities, considering that air transport is still unaffordable for majority of the country's population, of which nearly 40 per cent is the upwardly mobile middle class.
MRO VALUE CHAIN
The Indian aerospace industry, both military and civil, has set itself on the path of transformational change. The domestic capability is being significantly enhanced through extensive tie-ups, joint ventures and technology transfer. Fundamental strength in the Indian industry already exists, in the form of a large number of Small and Medium-sized Enterprises (SMEs), which in the past, have been suppliers at the sub-component and component level for Defence Public Sector Undertakings, Hindustan Aeronautics Limited (HAL), Defence Research and Development Organisation and the Indian Space Research Organisation. The SMEs are slowly but surely transforming themselves into major players in this sector, modernising with cutting-edge technologies to become suppliers for global aerospace companies looking to outsource products and components from India. Maintenance is a major cost component of operating aircraft and significantly affects the overall life cycle cost. In fact, maintenance costs incurred for an aircraft can exceed its initial procurement cost. On an average, the aerospace industry spends more annually on Maintenance, Repair and Overhaul (MRO) than on manufacturing or development. The MRO sector is typically segmented into airframe, its modification, engine maintenance, line maintenance and component maintenance.
The aerospace value chain is characterised by a long project life cycle spanning R&D, engineering design, manufacturing, assembly and aftermarket support. As a support service to the aviation industry, the MRO sector will grow with the industry. Additionally, globalisation of MRO services, manpower cost competitiveness, availability of talent, advantages of location and the presence of specialist capabilities, all combine to make India a potential global/regional MRO hub. India's MRO segment is estimated to grow to $2.6 billion by 2020. However, the main challenge in positioning India as an MRO hub comes from the indirect tax structure, specifically GST.
The Indian MRO is an industry with huge potential; but faces hurdles in becoming an effective value chain. Various MROs have set up operations in India; but the industry is still left wanting when it comes to getting a regular demand from airlines. Although the hurdles are policy and procedure related, removing these will solve only one part of the problem. The downstream value chain for MRO support will still create significant challenges for MRO's to deliver value for money and a one-stop service. There is a need for government and MRO players to educate and promote new investments in this sector with a view to develop downstream MRO support shops. One of the basics of a downstream value chain in MRO is the availability of warehousing for aircraft spares and trading companies. Without the availability of such services, large inventory costs and frequent movement of parts outside India, will keep the 'value for time and money' unpredictable.
MRO TRAJECTORY
Many aircraft models are either entering the manufacturing stage or undergoing a production ramp-up resulting in increased level of strain on the existing aircraft suppliers. This would provide significant opportunities for Indian companies to become part of the global supply chain. Global aerospace original equipment manufacturers (OEMs) and Tier-1suppliers source over 70 per cent of their systems from suppliers in the United States (US) and the European Union. The system integrators and Tier-1 suppliers are keen to de-risk and diversify by developing their suppliers in the Asian region, especially India and China, which are closer to the consumers. Hence, aircraft manufacturers have begun looking at increasing their sourcing volume across components, sub-systems and assemblies from these emerging markets. Global majors such as UTC, Sikorsky, Lockheed Martin, RollsRoyce and Moogetc have set up manufacturing facilities in India and are developing the supply chain here for their global requirements. The Indian aerospace supply chain is in an interesting phase and is undergoing gradual transformation due to growing opportunities.
MAINTENANCE IS A MAJOR COST COMPONENT OF OPERATING AIRCRAFT AND SIGNIFICANTLY AFFECTS THE OVERALL LIFE CYCLE COST
India has a relatively young civil aircraft fleet which would require long term maintenance services. However, the growth of the MRO industry in India is severely restricted due to challenges such as an extremely disadvantageous tax regime and lack of adequate space and infrastructure at airports. Several MRO projects have been announced in the past, but lack of enabling policies have resulted in many of them getting stalled.
MRO is a highly capital-intensive industry and requires a long gestation period and huge investments from domestic as well as global players. It also calls for greater need for continuous investment in tooling. Global certification is also required from safety regulators such as the Federal Aviation Administration (FAA) and the European Aviation Safety Agency (EASA). Global OEMs such as Airbus, Bell Helicopter, Boeing, Bombardier Aerospace, Dassault Aviation, Gulfstream Aerospace and Honeywell, – all play a key role in bringing in technology and investment. Certification from the Directorate General of Civil Aviation (DGCA) is also required. Moreover, land shortage at airports and the lack of clarity in land allotment, prevent potential MRO players from coming into their own. India has accorded 'in-principle' approval for setting up15 Greenfield airports in the country. Yet, the MRO service, which is an essential requirement, has not been factored in as part of the airport infrastructure. Even lease of hangar space for MROs at various airports in India, is a complex issue. Availability of land, customs and immigration clearance are other issues that the MRO sector need to contend with. However, this has been resolved partially through reservation of land for MRO activities at the international airports in Bengaluru and Hyderabad.
As a result of these challenges, airlines operating in India are forced to service their aircraft outside the country. Except Air India, all other airlines are sending their aircraft out of the country to Singapore, Dubai and Sri Lanka for routine check ups. There is certainly the need to bring the $700 million business into India.
SETBACKS AND ACHIEVEMENTS IN MRO SEGMENT
The setbacks are the ground reality. The MRO facility at Multi-modal International Hub Airport at Nagpur (MIHAN) built at a cost of 6.7 billion by Boeing, was inaugurated by Union Transport Minister Nitin Gadkari in June 2016. Unfortunately, this venture has failed to make any significant progress. The MIHAN facility came up as a result of an agreement between Air India and Boeing after a massive order for Boeing 787 Dreamliner in 2006. Another setback came from Airbus, the world's leading aircraft maker that was also planning an aircraft MRO facility in India after a large orders from Indian carriers. However, delayed deliveries by Airbus have resulted in the MRO facility taking a backseat.
Air India has now a 600-crore MRO facility at the Multi-modal International Cargo Hub and Airport at Nagpur developed by the state government through Maharashtra Airport Development Company Ltd (MADC), as a special purpose vehicle. The main MIHAN site, spread over 4,000 hectares, is located about 15km away from downtown Nagpur. The airport, MRO, SEZ and other manufacturing facilities are located in the same area. It was originally envisaged as a Multi-modal International Cargo Hub for servicing global cargo companies and their aircraft. Union Shipping Minister Nitin Gadkari had provided a major push to the project. Air India Engineering Services Ltd (AIESL) has been jointly set up by Air India and Boeing and is designed for undertaking maintenance work of any type and size of aircraft including Airbus A380. The national carrier has entered into an agreement with SpiceJet for maintaining the latter's' aircraft at AIESL facilities. Both the companies have signed an MoU under which Air India will provide support to SpiceJet for the maintenance of their Boeing 737 aircraft and landing gear replacement at the Nagpur facility. In 2016, AIESL at Nagpur, also had begun carrying out C checks on Jet Airways Boeing 777 and it is believed that only about 20 per cent of the capacity at the MRO facility is presently being utilised. The AIESL now also services Jet Airways aircraft at Mumbai. The MRO unit has also started tests and minor repairs on GE engines that power Boeing 777s. Complete overhaul of engines is likely to be carried out soon. The engine overhaul facility, the first of its kind in India, can undertake engine repairs of all General Electric power-plants. The facility was serving only Boeing 777s until the DGCA granted it approval late last year to maintain Airbus A319, A320 and A321 aircraft. Staff-crunched Air India, however, is looking for a private player to take on a 30-year lease for the MRO facility at MIHAN on a revenue-sharing basis.
DOMESTIC PLAYERS ARE NOT CONSIDERING CREATION OF MAJOR MRO FACILITIES AT DELHI, BENGALURU, HYDERABAD AND MUMBAI BECAUSE IT IS 30 PERCENT COSTLIER AS COMPARED TO MROS ABROAD
IndiGo, India's low cost carrier that operates a fleet of over 100 A320ceo aircraft, has been availing MRO services from Colombo in Sri Lanka since February 2009. In February 2016, the carrier selected Singapore-based UTC Aerospace Systems' aero-structures unit to provide nacelle asset support and MRO services for the airline's fleet of new Airbus A320neo aircraft. MRO support for IndiGo will now be provided at Goodrich Aero-structures Service Centre-Asia Pvt Ltd in Singapore. Similarly, other aviation players also fly to foreign destinations for MRO services.
The domestic players are not considering creation of major MRO facilities at Delhi, Bengaluru, Hyderabad and Mumbai because it is 30 per cent costlier as compared to MROs abroad. At present, Indian MROs end up paying 29 per cent customs duty on consumables imported as also GST, apart from the procedural hassles of import. All this is making the sector highly uncompetitive in South Asia. How can India emerge as an MRO hub if there is no level playing field? We need to understand that the aircraft parts are universally priced.
It is for these reasons that Indian carriers are forced to look at MRO centres in South East Asia, Middle East or Europe, resulting in huge expenses to ferry the aircraft, logistics costs and engine/component hours. Besides, there are 40 overseas MRO providers approved by the DGCA to conduct work on Indian registered aircraft in locations such as the UK, Germany, France, Jordan, UAE, Sri Lanka, China and Singapore.
Presently there is no MRO facility in India for helicopters except HAL which is only for military helicopters and it is a big business opportunity waiting to be tapped. Pawan Hans Ltd which specialises in helicopter services, is planning to set up four MRO firms as a part of its diversification plan. These will be initially at New Delhi and at Juhu airport in Mumbai and extend it to the Northeast at Guwahati in South India. It is also India's largest helicopter operating firm that is exploring an initial public offer (IPO). With the 'Make in India' initiative of the government, this will create job opportunities for pilots and aircraft engineers.
On February 14, 2018 at Hyderabad, GE and Tata Group held a ground-breaking ceremony for a Structural Centre of Excellence (COE) focused on aero-engine components. The COE will incorporate the latest technologies from GE and the best manufacturing practices to deliver complex high precision aero-engine components to the world's fastest-selling jet engine, the CFM LEAP engine. This is a part of the strategic partnership agreement signed in November 2017 between GE Aviation and Tata Advanced Systems Limited (TASL) for manufacturing, assembling, integration and testing of aircraft components. The manufacturing facility will be located in Hyderabad. The agreement for manufacturing of LEAP components and the establishment of a COE, provide the opportunity for TASL to expand into other GE product lines in both commercial and military engines in the future.
Currently, India's share in the global MRO business is merely one percent. As the Indian aviation industry is set to witness robust growth, a strong MRO can generate employment for Indian engineers, boost the country's Micro Small and Medium Enterprises (MSME sector, reduce dependency of Indian carriers on MROs abroad and consequently, save and earn foreign exchange by attracting national and global players to Indian MROs.The MRO industry has asked the government to create a level playing field by either abolishing GST of 18 per cent being levied on the sector or imposing customs duty equivalent to 25 percent to the value of the import of aviation MRO services on aircraft being serviced out of the country to incentivise domestic value addition towards 'Make in India'. The airlines cannot get a refund for GST paid because there is no provision for refund available on economy class seats, which form a substantial part of the airline capacity in India. If customs duty is imposed on the import of MRO services, it will give nearly 19 billion as revenue that will be around 30 per cent of the 66 billion worth of MRO services currently imported without any duty.
THE WAY AHEAD
India's airline operational fleet is set to grow to approx. 1,500 airplanes from the current 548 in the next 25 years. As a result, local MRO companies are eyeing a business opportunity of 100 billion by 2023. The Indian government needs to promote the domestic MRO industry by removing the anomalous tax structure and provide it a 'deemed export' status to help prevent the flight of business abroad. The Indian aerospace manufacturing segment needs radical reforms to emerge as the central pillar of the government's 'Make in India' drive. There is a need to facilitate greater investments from global OEMs and Tier-1 suppliers through reforms in limits on Foreign Direct Investment and 'ease of doing business'. We should collaborate with global players, innovate and then go one step ahead of them in certain critical technologies over the next 20 years. The Ministry of Civil Aviation should take the lead in creating common infrastructure that can be shared by the component manufacturers. This may include special process and testing facilities, warehouse for inventory storage and training centres. Defence offsets should be wisely used as an enabler to promote civil aerospace manufacturing in the country. Higher offset multiplier should be provided for sourcing commercial aerospace components from Indian players and MSMEs. This is an on-going process and we must remember that Rome was not built in a day.