Facts and the subsequent analyses provide useful insights for business jet owners and Maintenance Repair and Overhaul (MRO) service providers to discover where new business opportunities lie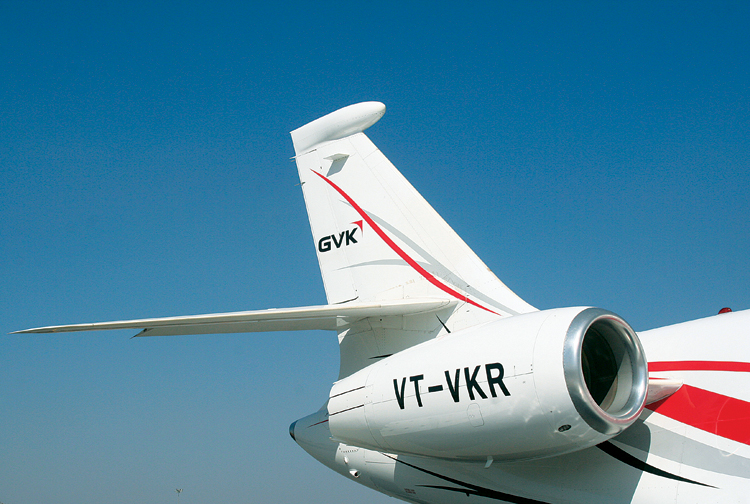 A careful analysis of the data pertaining to charter flights to different airports in India as provided by the Directorate General of Civil Aviation (DGCA) for the last decade, manifests numerous unique trends and business opportunities in aviation. A place such as Gaya that is low on the tourism itinerary grapevine, commands a handsome number of charter flights. Off course Goa, is the uncrowned King. It boasts of a consistent annual average touchdown by 677 charter flights, ie about two flights per day. These facts and the subsequent analyses provide useful insights for business jet owners and Maintenance Repair and Overhaul (MRO) service providers to discover where new business opportunities lie. The aircraft companies can pre-position aircraft to provide customised itineraries to these destinations and increase their flight revenues. The MRO companies can schedule servicing tasks, pre-position technicians and spares to provide just in time services so that the cost of MRO and flight revenues get optimised.
An analysis of the data for the last decade smoothens out freak aberrations. Hence, the analysis irons out business cycles and at the same time, provides credible forecasts. The bar chart along with this article manifests Goa separately from the other destinations to get a better analysis. This is so because the popularity of Goa alone is unmatched by other destinations. Goa is an all time favorite charter flight destination because it offers the nearest warm water beaches for the tourists from Russia. Even the tourists from Israel consider it safe and welcoming.
It can be seen that Goa with an annual charter jet touchdown rate of 667 flights per annum, offers, a tremendous opportunity to deploy less utilised small and medium sized business jets. All that the aircraft owners have to do is to show in the open media, greater visibility of their jet's availability in the tourist season; have a better tie up with luxury travel agents; deploy skilled salesman who offer bespoke and customised itineraries to attract customers having a high disposable income. Another attraction could be offering aerial adventures to tourists in the locales of Goa. All these facets are bound to attract thrill seekers if projected through integrated marketing communication with credibility.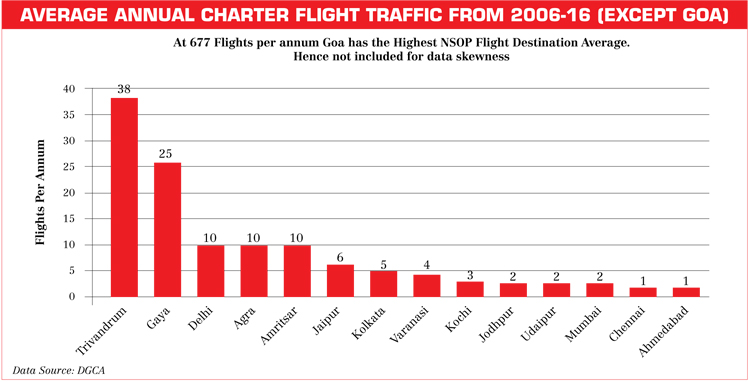 The huge variety of aircraft that land at Goa, offer a tremendous opportunity to organisations to pre-position spares aircraft wise based on the modal data on the type of aircraft visiting Goa. The spares can be stocked optimally based on prognostics for each aircraft if data can be acquired, trends of fast moving spares and offering a relative cost advantage. The availability of specialised staff to service the visiting aircraft, will result in reduced aircraft down time thus making them available for other revenue generating sorties. When the technician demand ebbs due to reduction of flights as per the seasons, they can be redistributed or the incremental hires can be relieved.
DELHI IS LOSING ITS SHEEN AS AN AVIATION DESTINATION DUE TO HIGH PARKING CHARGES, AIR TRAFFIC CONGESTION, ROAD TRAFFIC CONGESTION AND INCREASING HOSPITALITY COSTS FOR AIR TRAVELERS
There are several airports that host fewer charter flights. The MRO companies can form a cluster of such places based on their geographic proximity, interconnectivity, aircraft type preponderance to stock spares and position the technical staff for the MRO of visiting aircraft including the requirements of unscheduled repairs.
Trivandrum and Kochi have annual touchdown figures of 38 and three charter flights respectively. They can form an excellent cluster with its mother depot being Chennai and all the above mentioned ancillary services being based at Trivandrum.
Another economical cluster covering Agra, Jaipur and Jodhpur having ten, six and two annual touch down by charter flights respectively, can be formed. All these places are well connected by rail, road and air. Jaipur should be the cluster head due to its central location and be the mother stocking facility.
A very potent and new MRO cluster can come up between Amritsar, Jammu, Srinagar and the newly built international airport at Zirakpur near Mohali in Punjab. This greenfield entrepreneurial venture can draw sustainable profitability from the numerous aviation technicians who retire from the Indian armed forces and settle down in Punjab. This trained, disciplined and dependable technical manpower would be mentally accustomed to moving at short notice and deliver their service as they did in the armed forces. This trait, their cost arbitrage and their experience will offer a very affordable factor of production to the MRO industry. The technical prowess of innovative, small scale manufacturing sector of Ludhiana can be harnessed with a bit of standardisation training to acquire standardised aviation spares to reduce the bottom lines.
This cluster in Punjab is bound to grow due to increase in direct flights for the diasporas and the Haj traffic from Jammu. Moreover, Delhi is losing its sheen as an aviation destination due to high parking charges, air traffic congestion, road traffic congestion outside the airport and increasing hospitality costs faced by air travellers. Hence, the natural shift will be to Zirakpur. This it will redistribute the revenue centers. Thus, this data driven analytics has offered numerous niches of profit earning ventures for aircraft owners and MRO service providers.