It is expected that approximately 10,000 aircraft would be in service in the region by 2035, creating an opportunity for the major MRO players in the region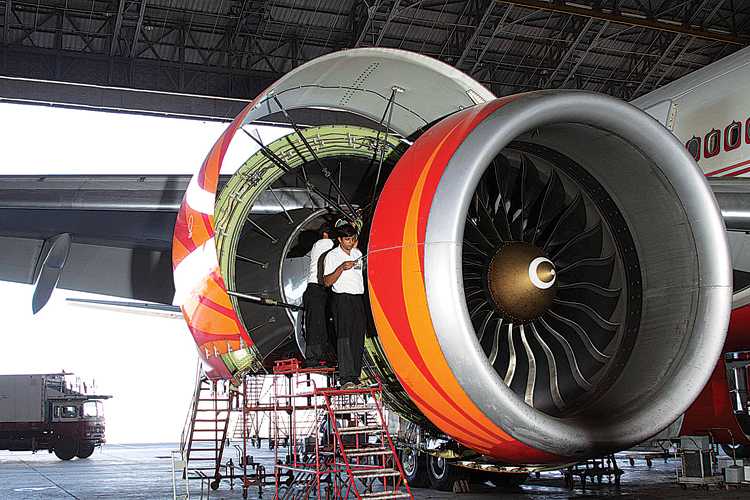 Heavy maintenance at Air India Engineering Services
India, with its growing aircraft fleet size, strategic location, rich pool of engineering expertise and lower labour cost, has a huge potential to be the global Maintenance, Repair and Overhaul (MRO) hub on a long-time horizon. The current market size of MRO is estimated at about $700-800 million which is expected to reach $1.2 billion by 2020. India has the potential to become the third largest aviation market by 2020 and the largest by 2030. The growth of the industry is being propelled by the development of airports, presence of several low-cost carriers, a liberalised FDI policy, increasing adoption of information technology and focus on improving regional connectivity. In the absence of quality infrastructure, airlines carry out maintenance outside India at the nearest available MRO location (South East Asia, Middle East or Europe) incurring a ferry flight, logistics costs and engine/component hours. There are about 40 overseas MRO providers approved by the Directorate General of Civil Aviation (DGCA) to conduct work on Indian registered aircraft in locations such as the UK, Germany, France, Jordan, UAE, Sri-Lanka, China and Singapore with 90 per cent of an MRO work-scope going outside India.
MRO Market
With over 1,000 aircraft on order, India is poised to become the third largest buyer of commercial passenger planes in the world, with only the US and China ahead of it. Having received huge orders from Indian carriers, aircraft manufacturers such as Airbus plan to build MRO facilities in India. In January 2017, SpiceJet finalised a deal worth $22 billion to buy 205 aircraft from Boeing and has tied up with Air India Engineering Services Ltd (AIESL) for MRO facility at Nagpur. The Indian business aviation market is complex from a maintenance perspective as it has over 60 different aircraft types operating in a total of about 350 aircraft (business jets, turboprops and helicopters). Each type of aircraft requires trained technical manpower, tooling and approvals from the regulator and the OEM to enable worldclass MRO services. Therefore, the industry is highly fragmented and hence has its own challenges to counter.
Airlines in India spend about 15 per cent of their revenues towards maintenance, the second-highest cost item for airlines after fuel. Generally, airlines carry on-tarmac inspections (A and B checks) in-house and work with third-party MROs for engine, heavy maintenance (C and D checks) and modifications. Private operators and Non-Scheduled Operators Permit (NSOP) holders are required by the Directorate General of Civil Aviation (DGCA) to set up a CAR 145 approved maintenance shop or work with a DGCA-approved third party MRO. Most private operators and NSOP holders prefer the outsourced model for line maintenance and use OEM/DGCA approved facilities for engine, heavy maintenance and modifications.
CREATION OF MRO INFRASTRUCTURE REQUIRES A LEVEL OF INVESTMENT BOTH INITIAL AND RECURRING WHICH MOST MROS DO NOT FIND ECONOMICALLY VIABLE TO SUPPORT
In 2016, AIESL at Nagpur began carrying out C checks on Jet Airways Boeing 777s and it is believed that only about 20 per cent of the capacity at the MRO facility is being utilised. For the rest, Air India is eyeing external business to raise its turnover from 1.3 billion to two billion in a year by servicing airplanes of other airlines. The AIESL now also services Jet Airways aircraft at Mumbai. An MRO agreement had been signed with SpiceJet and talks are underway with another low-cost carrier. AIESL, a joint venture between Air India and Boeing, is designed to undertake MRO work on any type and size of aircraft including Airbus A380. AIESL has also started tests and minor repairs on General Electric (GE) engines that power Boeing 777s. Complete overhaul of engines is likely to be carried out soon. This engine overhaul facility, the first of its kind in India, can undertake repairs of all GE power-plants. The facility was serving only Boeing 777s until the DGCA approved late last year, maintenance of Airbus A319, A320 and A321 aircraft. Staff-crunched Air India, however, is looking for a private player to take on a 30-year lease for the six-billion MRO facility at MIHAN on a revenue-sharing basis.
Creation of MRO infrastructure requires a level of investment both initial and recurring which most MROs do not find economically viable to support. While heavy maintenance will be the growing need as India's fleet expands and ages, encouraging MRO players to invest, there are shorter-term opportunities for nimble suppliers and operators as well. The Indian MRO players must continuously upgrade their facilities and provide capacity to undertake economically, checks for commercial fleet, both Indian and international.
End of Lease Checks
Given the rise in the Indian sale-and-lease-back model which often sees aircraft changing hands at least once every six to ten years, redelivery maintenance of aircraft is expected to be a huge requirement. An aircraft on an operating lease is owned by the lessor and operated by the lessee. The lessor grants the lessee exclusive use of its aircraft for an agreed period of lease term. For new aircraft, this term is often eight to 12 years for a narrow-body and up to 12 years for a wide-body. The operator is charged a monthly rental fee for the duration of the lease. The lessor collects maintenance reserves as protection from the risk of the lessee failing to pay for any major maintenance items on the aircraft when due in the lease term. These are most often related to heavy airframe maintenance, engine performance restoration. overhaul, replacement of engine life-limited parts (LLPs), landing gear and APU maintenance. Since these are costly items, the lessee pays into a reserve account, based on the aircraft or engine utilisation, thereby creating a fund to cover the cost of such maintenance. All operating lease agreements specify the maintenance and general condition in which the aircraft is required to be returned to the lessor by a given date, at the end of the lease term. These are the return or re-delivery conditions. Aircraft redeliveries are timed around a scheduled heavy airframe check whenever possible. At the end of the lease, the lessor would like the aircraft returned with the airframe, engines, landing gear and auxiliary power unit (APU) in a condition which would allow operation for a year or two without any major maintenance coming due. The lessor and lessee will often agree to a 'mirror in/mirror out' arrangement, whereby the return condition should, at a minimum, reflect the condition in which the aircraft was initially delivered at the start of the lease. The maintenance checks are undertaken outside India at the lessor's designated MRO facilities. This is huge business and calls for out-of-the-box thinking to be undertaken in India. With heavy checks and overhauls being done gradually in India, the need to have component overhaul in the country with a global print, is a necessity. The components overhaul along with establishing MRO heavy checks, will have to go hand-in-hand to ensure India has a global presence in the industry to make it economically viable.
A NUMBER OF MAJOR MRO SERVICE PROVIDERS SUCH AS AIRBUS AND HONEYWELL, ARE PRESENT IN THE REGION, GARNERING HIGH MARKET SHARE IN THE REGION
Components MRO
Adequate facilities for Maintenance and Repair of planes are available in the country. However, for overhaul, only limited facility is available. Therefore, some Indian Carriers send their aircrafts to foreign countries to carry out the overhaul maintenance services in DGCA approved maintenance organizations located abroad. However, carriers avail maintenance services from DGCA-approved maintenance organisations depending upon their commercial considerations, duration for accomplishment of maintenance and lease requirements. There are 109 approved MROs in India of which seven are capable of carrying out overhaul of planes. Aircraft component MRO services are essential in ensuring the smooth operation of aircraft. MRO providers are regulated by various aviation authorities, such as the FAA, CASA and EASA. Aircraft component MRO services include maintenance, repair, and overhaul of avionics, electronics, mechanical actuators, fuel systems, carburettors, landing gear and auxiliary power units. Asia accounted for the largest share in global aircraft component MRO market. It is an emerging region in the long-haul international market and it relies heavily on the small and medium wide-body aircraft. Moreover, it is expected that approximately 10,000 aircraft would be in service in the region by 2035, creating an opportunity for the major MRO players in the region. Asia accounted for the largest share in global aircraft component MRO market as well. A number of the major MRO service providers such as Airbus and Honeywell, are present in the region, garnering high market share in the region. The aircraft MRO market is expected to grow at an estimated CAGR of 6.17 per cent. To meet this growing demand, it is important for the MRO service providers across the globe to ensure provision of efficient and high-quality maintenance for airplane components. The key players in global aircraft component MRO market are Delta TechOps (US), Lufthansa Technik AG (Germany), Air France Industries KLM Engineering & Maintenance (France), HAECO (Japan), Honeywell International (US), ST Aerospace (Singapore), AAR Corp (US), Barnes Aerospace (US), FL Technics (Lithuania) and Turkish Technic, Inc (Turkey). This is an untapped potential. However, to be globally competitive the MRO players must have scale of production in their favour. Tie ups with international players to provide component repairs and overhaul in India for the local airlines with assured repairs for the regional airlines as well. The business has to be highly competitive internationally to succeed and sustain.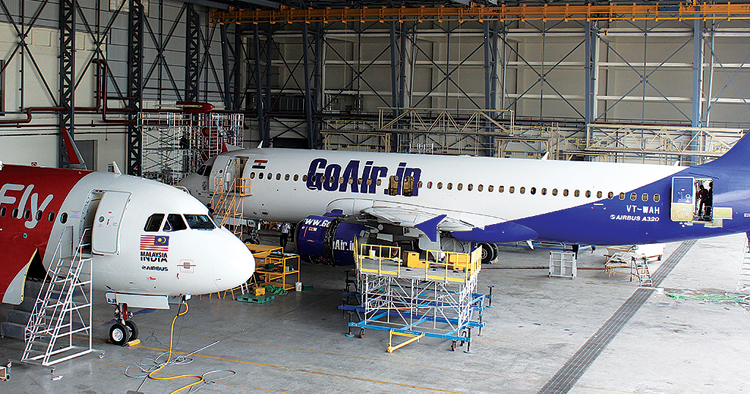 GMR Aero Technic's MRO facility
GST as Show-Stopper
The aviation MRO industry has asked the government to create a level playing field by either abolishing 18 per cent GST being levied on the sector or imposing customs duty on aircraft being serviced out of the country. The industry has made a representation to the Ministry of Civil Aviation (MoCA) seeking an exemption from GST, arguing that it makes servicing aircraft in India costlier than abroad. The airlines cannot get a refund for GST paid because there is no provision for refund available on economy class seats, which form a substantial part of the airline capacity in India. Also, pre-GST, zero VAT was paid on spares in Maharashtra and service tax on labour. Post-GST, it is 18 per cent on combination of spares and labour. Overseas MRO units have gained since the implementation of the GST regime, because there is no customs duty on getting a plane overhauled and its spares abroad and bringing it into India.
Skil Development
A report by the International Civil Aviation Organisation (ICAO) states that for every 100 jobs created in the aviation sector, an additional 610 new jobs are created in the local economy. To meet the growing demand and need for capacity addition, estimated to be 3.3 lakh by 2025, MoCA has undertaken a variety of skilling initiatives. Aviation Sector Skill Council (AASSC) has identified 70 job roles for development and formulation of National Occupational Standards (NOS) and Qualification Pack. These also include the MRO sector and an opportunity to augment the skills for the workforce in the aviation domain.
The National Civil Aviation Policy-2016 has detailed outline of the MRO industry. With the expected growth in commercial aviation domestic as well as international, the airlines are working on very thin profit margins to remain competitive. There is sizable business in the MRO market in the Indian subcontinent. The opportunity is here and now to be grabbed with both hands. The eco-system and government initiatives are the need of the hour to nurture this industry in the Make in India context.