Airbus has to drive home the point that the A380plus will give good returns to airlines that are flying to congested airports using limited landing slots and delay-prone air corridors
No doubt, the Airbus A380 is the world's largest airliner. According to its size, it has its share of problems and the A380 programme has not been what the giant European aerospace company had ordered. As of September 2017, the A380 orders stood at a measly 317 with total deliveries of 216 for a programme of huge proportions. Hence, Airbus has gone for a re-jig, so to say. At the Paris International Airshow 2017 at Le Bourget, Airbus showcased a development study of the 'A380plus' which is expected to bring about substantial changes in terms of comfort levels, new large winglets to provide up to four per cent fuel burn savings and 13 per cent cost reduction per seat versus the current A380. And Airbus is promising an optimised A380 maintenance programme. It is a wait-and-watch for airline operators to see how the re-jig fits into their scheme of things.
At Paris, John Leahy, the Chief Operating Officer Customers, Airbus explained "The A380plus is an efficient way to offer even better economics and improved operational performance at the same time. It is a new step for our iconic aircraft to best serve worldwide fast-growing traffic and the evolving needs of the A380 customers. The A380 is well-proven as the solution to increasing congestion at large airports and in offering a unique, passengerpreferred experience."
New winglets
The new winglets measure approximately 4,7 metres in height (an uplet of 3.5m, and a downlet of 1,2m). It is designed to improve aerodynamics and reduce drag. The optimised cabin layout based on the 'cabin enablers' presented at Aircraft Interiors Expo (AIX), allows up to 80 additional seats with no compromise on comfort, redesigned stairs, a combined crew-rest compartment, sidewall stowage removal, a new nine-abreast seat configuration in premium economy and 11-abreast in economy.
THE A380 IS WELL-PROVEN AS THE SOLUTION TO INCREASING CONGESTION AT LARGE AIRPORTS AND IN OFFERING A UNIQUE, PASSENGER-PREFERRED EXPERIENCE
The A380plus will have an increased maximum take-off weight (MTOW) of 578 tonnes providing the flexibility of carrying up to 80 more passengers over today's range (8,200nm) or flying 300nm further. The A380plus features longer maintenance check intervals, a reduced six-year check downtime and systems improvements, which will reduce maintenance costs and increase aircraft availability.
Eyeing Emirates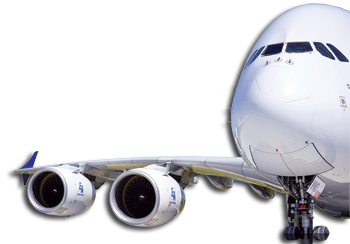 The question asked is why the need for a re-jig of an aircraft which is in a class by itself. The answer is simple – Airbus wants to give bang for the buck to airline operators and it has 18 customers on its books, the biggest being Emirates. The A380 has been in service for over nine years with Emirates which is expected to take delivery of the 100th A380 on November 3, 2017. The award-winning airline operates A380 flights to 48 destinations across six continents. The oldest A380 currently on the inventory of Emirates was delivered in 2008 and is scheduled to be retired from service when its financial lease ends in 2021.
It is reported that Airbus has had series of talks with Emirates for the A380plus; but the Dubai-based airline is looking at retrofit option. Tim Clark, President, Emirates Airlines has said that Airbus was trying to make the airline buy more. Emirates has another 40 A380 on order and is trying to get more clarity on the revamped aircraft. Even for the retrofit, Tim Clark has said that if refitting is going to cost a bomb, then the airline will look the other way.
Analysts are saying that Airbus should look beyond Emirates and for that the new offering has to be really attractive in terms of pricing and enhanced operational efficiencies. Airbus has to drive home the point that the A380plus will give good returns to airlines which are flying routes to congested airports using limited landing slots and delay-prone air corridors. There are many such corridors across the world.
DEMAND FOR THE GIANT FOUR-ENGINE AIRCRAFT HAS CERTAINLY WANED AS AIRLINES SEEK THE EFFICIENCIES OF SMALLER TWIN-ENGINE AIRCRAFT
With Airbus now coming up with A380plus, one needs to wait and watch how things are going to play out. The A380plus crams in 80 more seats and will carry 575 passengers in a fourclass configuration. "This looks like a last-ditch effort to me," says Richard Aboulafia, an aviation analyst with the Teal Group. "It is not conceivable that customers who did not want a very large jet would suddenly change their mind just because of the addition of winglets." The analyst said "It is a bit of a mystery why the winglets werenot included in the original design, given their well-documented benefits. Anyway, now Airbus has done it along with other changes".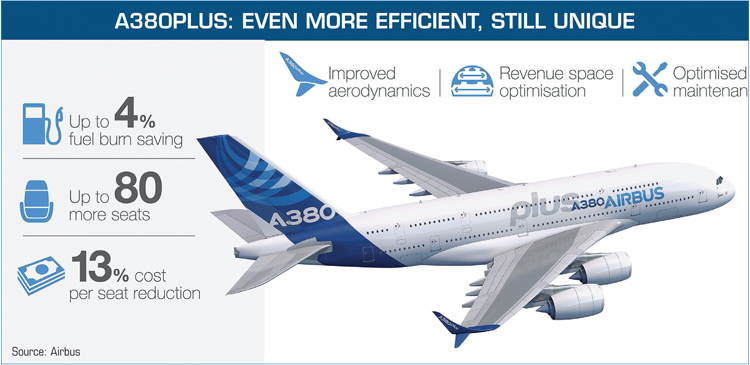 Description of cabin enablers
New Forward Stairs (NFS) – 20 more passengers (Business, Premium Economy and Economy Class). The NFS involves relocation of the forward stair from Door 1 to Door 2, and combining the entrance of the NFS to the upper deck (going up), with the adjacent staircase to the lower-deck crew-rest (going down). The NFS would make room for up to 20 additional passengers.
Combined Crew-Rest Compartment (CCRC) – three more passengers (Premium Economy). For the CCRC, the existing flight-crew-rest (behind the cockpit in the mezzanine area at Door 1) is moved down and combined with the cabin crew rest on the lower deck. This innovation frees space for three extra Premium-Economy passengers at the front of the main-deck.
11-abreast 3-5-3 economy layout on the main-deck – 23 more passengers (Economy Class). Thanks to an innovative seating concept developed by Airbus and its seating partners, Airbus is able to maintain an 18-inch seat-width while offering airlines an 11-abreast Economy Class on the main-deck in a '3-5-3' configuration. This enables an increase in capacity of 23 seats – adding significantly to the A380's revenue-generating potential.
New Aft-Galley Stair Module (AGSM) – 14 more passengers plus two food trolleys. The AGSM involves the redesign of the rear-stair from a spiral configuration to a straight/square one. On the main-deck, this allows valuable storage volume for galley modules. Overall the AGSM provides space for 14 more revenue passengers plus two extra food trolleys.
Upper-deck sidewall stowage removal – ten more passengers (Business Class). The option to remove the sidewall stowage on the upper-deck increases the wall-to-wall cabin width at foot-rest height which makes space for up to ten more business class seats/beds when an angled herring-bone arrangement is used.
Nine-abreast Premium Economy on the main deck – 11 more passengers (Premium Economy). The A380's generous main-deck cross section, significantly wider than any other commercial airliner, is allowing seat manufacturers to optimise their Premium Economy (PE) seat designs to create the industry's most efficient and comfortable PE layout possible. This layout enables 11 more PE seats than in an eight-abreast layout.
With these features the A380plus should help revive, if one may say so, the A380 programme which has gone into a 'flat mode'. In fact, it is negative if one goes by the half-year financials. Airbus said that considering the current order booking situation, deliveries of the A380 will be reduced to eight in 2019. At last year's Farnborough Airshow the company said it would slow production to just 12 a year by 2018, down from a rate of 27 the year before. Demand for the giant four-engine aircraft has certainly waned as airlines seek the efficiencies of smaller twin-engine aircraft. It is quite a competition out there and airlines are weighing in all options of making the right choice of aircraft, be it the single-aisle or a jumbo aircraft.