Pratt & Whitney's large commercial engines power more than 25 per cent of the world's mainline passenger fleet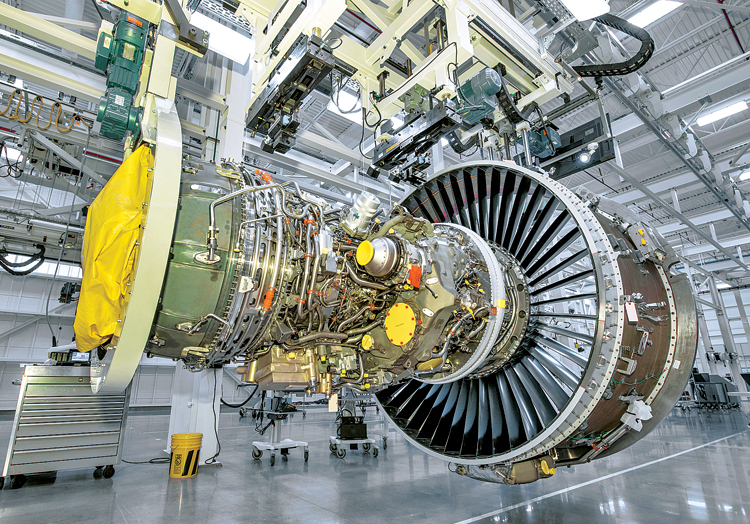 Way back in 1925 in Hartford, Connecticut, Frederick Rentschler founded Pratt & Whitney and the very first aircraft engine from its stables transformed the aviation industry. The air-cooled engine called 'Wasp' was of 410-horsepower, delivering unprecedented performance and reliability at that time.
Over nine decades later, Pratt & Whitney has been leading in engine development with game-changing technologies, one of which is the PurePower PW1000G engine, with patented the Geared Turbofan engine technology. Pratt & Whitney's large commercial engines power more than 25 per cent of the world's mainline passenger fleet. The company continues to develop new engines and work with its partners in International Aero Engines and the Engine Alliance to meet the future needs of airline customers. Approximately 470 customers operate large commercial engines from Pratt & Whitney in 121 countries. The company provides dependable power to hundreds of airlines and operators, with nearly 13,000 large commercial engines installed today.
INCREASED EFFICIENCY ALSO TRANSLATES TO FEWER ENGINE STAGES AND PARTS FOR LOWER WEIGHT AND REDUCED MAINTENANCE COSTS
Its fleet of commercial engines has logged over one billion hours of flight, powering the narrow and wide-body aircraft that fly both passengers and cargo around the world. It powers narrow and wide-body aircraft that fly both passengers and cargo around the world. The major products for commercial aviation include PW2000, PW4000, PW6000, GP7200, V2500 and PurePower1000G.
PW2000 powers Boeing 757
The PW2000 powers all models of the twin-engine Boeing 757. This engine entered revenue service in 1984 as the first commercial engine with Full-Authority Digital Electronic Control (FADEC) technology. Pratt & Whitney introduced an improved version of the PW2000, the Reduced Temperature Configuration (RTC) in 1994. This enhanced model offers improved reliability and durability for long on-wing times and reduced total maintenance cost, along with excellent environmental performance. The PW2000 is approved for 180-minute Extended-range Twin-engine Operations (ETOPS) and meets all current and proposed noise and missions regulations worldwide.
PW4000 Ultra-high-thrust model
The PW4000 powers the Boeing 747, 767 and 777 and Airbus A-300, A-310 and A-330 aircraft. It is a 112-inch engine, an ultra-high-thrust model covering the 74,000 to 90,000 pound-thrust class. Known for its reliability, experience and ETOPS, it is the leader for the Boeing 777 aircraft, providing the best customer value.
The engine's advanced, service-proven technologies including single-crystal super alloy materials, powdered metal disks and FADEC, provide excellent operational performance and durability. These features contribute to the engine's excellent environmental performance, which meets with margin all current noise and emissions regulations.
The PW4000 112-inch engine retains the outstanding accessibility and component modularity of other PW4000 family to reduce maintenance time and cost. For transportability, the engine can be shipped in a Boeing 747F aircraft as a complete engine. Also, the fan case is easily separated from the engine's core for split shipment without disturbing the bearing compartments.
PW6000 powers 100 seater aircraft
The PW6000 engine covers the 18,000 to 24,000-pound thrust class and is targeted for 100-passenger aircraft. The PW6000 is currently offered on the Airbus A318, which is part of the successful A320 aircraft family. The PW6000 builds on proven technology from other Pratt & Whitney advanced engine programmes to deliver the lowest cost of ownership for 100-passenger aircraft operators. Pratt & Whitney has incorporated technological advances in the PW6000 that enable a reduction in parts count for lower acquisition cost as well as a reduced maintenance cost.
PW6000 Engine
The PW6000's reduced noise provides revenue benefits as the engine enables flights into many airports that have curfews, noise quotas and other restrictions. For airlines contemplating the future acquisition of new 100- seat passenger aircraft, the PW6000 is an excellent choice as it is specifically designed for high-cycle operation in the demanding short-haul aircraft market. The PW6000 meets the challenges of low cost, clean, quiet, reliable and durable power for airline customers.
GP7200 For Airbus A380
The GP7200 is derived from two of the most successful wide-body engine programmes (PW4000 and GE90) in aviation history. The Engine Alliance, a 50/50 joint venture between General Electric Aviation and Pratt & Whitney, was established in 1996 to develop, manufacture, sell and support a family of advanced technology engines for new high-capacity, long-range aircraft. The result is the GP7200, a twin-spool axial-flow turbofan that delivers 70,000 pounds of thrust for the Airbus A380.
The engine benefits from both programmes and incorporates lessons learned from more than 25 million flight hours of safe operation on the two engines. The GP7200 entered service in 2008 with Emirates which has the world's largest A380 fleet. The first GP7200-powered A380 was delivered to Air France in 2009. Since entering service, the GP7200 has achieved a 99.9 percent departure reliability rating.
V2500 for Airbus A319, A320 and A321
The V2500 engine is designed and manufactured by International Aero Engines, a global partnership of aerospace leaders including Pratt & Whitney, Japanese Aero Engine Corporation and MTU Aero Engines. International Aero Engines brings advantages in technical excellence and manufacturing expertise, with a reputation of producing the engine of choice for the Airbus A320 family.
V2500 engines offer the most advanced technologies in the 22,000 to 33,000-pound thrust range with lowest overall emissions in its class. The IAE V2500 SelectOne build standard entered service on schedule in October 2008. SelectOne delivers reduced fuel burn along with a corresponding reduction in emissions, and a time on-wing improvement.
PurePower PW1000G
PurePower PW1000G powers the Bombardier CSeries, Mitsubishi Regional Jet (MRJ), Airbus A320neo, Irkut MC-21 and Embraer E-Jet E2. With 20 years of research and development, component rig testing on all major modules, extensive ground and flight testing underway, two engines in the family certified and the PW1100G-JM carrying passengers on a daily basis, the PurePower PW1000G engine with Geared Turbofan technology delivers game-changing reductions in fuel burn, environmental emissions, engine noise and operating costs.
In the PurePower PW1000G engine family, a state-of-the-art gear system separates the engine fan from the low pressure compressor and turbine, allowing each of the modules to operate at their optimum speeds. This enables the fan to rotate slower and while the low pressure compressor and turbine operate at a high speed, increasing engine efficiency and delivering significantly lower fuel consumption, emissions and noise. This increased efficiency also translates to fewer engine stages and parts for lower weight and reduced maintenance costs.
The PurePower PW1000G engine's fan-drive gear system is just one component of this next-generation engine. It also incorporates advances in aerodynamics, lightweight materials and other major technology improvements in the high-pressure spool, low-pressure turbine, combustor, controls, engine health monitoring and more.
Pratt & Whitney has been actively testing all key components of the PurePower PW1000G engine family, with 16 technology rigs running around the world. In 2008, Pratt & Whitney's full-scale demonstrator engine completed its rigorous 400-hour ground and flight test programme with test results that indicated the engine delivers the performance and efficiency targets of this revolutionary technology.
The PW1100G-JM engine for Airbus A320neo family of aircraft and the PW1500G engine for the Bombardier CSeries are certified. The PW1400G-JM engine for the Irkut MC-21 aircraft, the PW1200G engine for the Mitsubishi Regional Jet and the PW1900G for the Embraer E190-E2 are all in testing. The PW1100G-JM began powering revenue flights in January 2016.
Pratt & Whitney's PurePower PW1000G engine has been recognised by Popular Science Magazine with a 2009 "Best of What's New Award." In addition to the Popular Science award, Pratt & Whitney's PurePower engine family also received the 2009 Aviation Week Laureate Award for outstanding achievement in Aeronautics and Propulsion and the 2008 Technology Breakthrough Award from the China Aviation Association and AVIC Science and Technology department. In 2015 the engine won a Gold Edison Award and was named an Aviation Climate Solution by the Air Transport Action Group.