Since the PW100 engine family entered service in 1984, over 8,000 PW100/150 engines have been produced, accumulating more than 160 million flying hours due to their reliability, durability and operating economics.
PW150A engine, installed on the Bombardier Aerospace Q400
Since its foundation in 1925, the American aerospace manufacturer, Pratt & Whitney has established itself as a trusted name over the years in global service operations as well as in manufacturing of turbine engines for fixed-and-rotary-wing aircraft. Weather it is for commercial engines, military engines, business aviation engines, general as well as regional aviation engines, helicopter engines or auxiliary power units, Pratt & Whitney (P&W) has ensured to provide dependable engines. With the introduction of the JT15D (powering the Citation I) and the PW100 (regional airline turboprop) family, the company was rebranded as Pratt & Whitney Canada (P&WC) in 1975.
From the many engines made by the company, regional turboprop engine family of PW100 has been among the most successful product of P&WC. The regional aviation industry, which P&WC claims to have helped create, has brought convenience of commercial flight to countless communities around the world and fuels new business opportunities. The company also claims that no other engine family for the regional market delivers higher propulsion at takeoff and climb when it comes to powering shorthaul, regional aircraft.
GREEN POWERHOUSE
Proud of the PW100/PW150 turboprop engines, the company boasts of these to be the power behind regional airline turboprops. The PW100/PW150 engine family powers 90 percent of 30- to 90-passenger regional turboprop aircraft operating today, owing to its reliability, durability and operating economics. With 1,800 to over 5,000 shaft horsepower, the PW100/PW150 engine family has stood as the benchmark for low fuel consumption on routes of 350 miles or less. This implies that they consume 25 to 40 percent less fuel and produce up to 50 percent fewer CO2 emissions than similar-sized regional jets, with correspondingly lower greenhouse gases. These engines are also claimed to be biofuel compatible. The PW100 engines have hence come out as the greenest in the airline industry for the shorter routes served by the regional airlines.
FEATURES & SPECIFICATIONS
The PW100 is a threeshaft, two-spool engine with low pressure and high pressure compressors that are powered independently by cooled turbine stages. A third shaft combines the power turbine to the propeller through a reduction gearbox, optimized to establish the best combination of engine and propeller efficiencies. The PW100 fuel pumps are also dynamically designed with simplicity which allows them to get the work done for a longer period of time. This green powerhouse engine has also displayed its versatility in powering aircraft applications spanning the airlines, coastal surveillance, firefighting and cargo transport. Originally called the PT7, the PW100 made its first appeared as a technology demonstrator in 1977W.
PW100 turboprop engine
While the PW150 engine is a two-spool engine with fourstage centrifugal compressors, 3-stage axial, single centrifugal with all rotors integrally bladed. Axial and centrifugal are independently driven by low pressure and high pressure compressor turbines. With reverse flow combustor, the PW150 models have advanced, effusion cooling, high efficiency and durability, and offer low emissions as well as low noise. With FADEC (Full Authority Digital Engine Control), these also provide dual channel redundancy, ease of operation, and reduced workload. The PW150 is a growth version of the PW100-series turboprop, with a thermodynamic rating of 4,800- 5,600kW (6,500-7,500shp). The PW150 has also been known to provide customers with costeffective, reliable, power to enhance productivity and profitability in their operations.
SOURCE: PRATT & WHITNEY
Over more than the three decades, since the family entered service in 1984, 8,000 plus PW100/150 engines have been produced, accumulating more than 160 million flying hours. Resulting in class-leading fuel consumption and low greenhouse emissions along with the latest materials, design technologies and advanced engine control, the PW100 engines have regularly achieved more than 10,000 hours on-wing without a shop visit, an impressive dispatch reliability record and provide the pilot and maintenance crew with easy engine operation and maintenance.
Through consistent research and concept development, improvements in air and oil systems have also been achieved leading to great enhancements in analysis capability and to the introduction of improved air/oil system components. The maximum benefit from this evolution has been for PW150 engine.
Also, the use of non-contacting control gap carbon seals on all bearing chambers has reduced the non-usable air thrown overboard through the breather (engine air/oil separator) by 65 percent and has thus reduced the amount of heat rejected to the oil.
Not just reliability, PW100/PW150 engines also offer versatility of the engines to fly in many challenging environments. The variants of PW100 include PW115, PW118, PW119, PW120, PW121, PW123, PW124, PW125, PW126, PW127 and of course the PW150. Each of these further have their own variants as well. Such a vast number of variants shows the diversity of applications and the need to satisfy a wide range of customer needs of these engines.
Some of the highlights of PW100/PW150A are:
Hot Section Inspection LCF Replacement
Module Replacement RGB/Turbomachinery
Troubleshooting Engine Performance
External Oil Leaks
PT Pack Replacement
Video Borescope Inspection of Full Engine
Log Book Reviews
Hot Section Inspection & Repair
Line Replacement Unit Changes
Quick Engine Change Support(QEC)
Foreign Object Debris Repair
Low Pressure Impeller Blend
Minor Thread/Heli Coil Repairs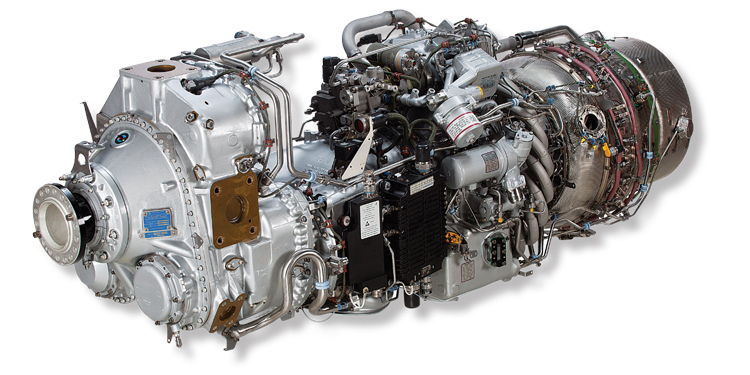 PW127M engine, installed on the ATR 72-500
CAREFUL MONITORING NEDED
The aircraft that operate in harsh environments, and also those that often land on and take off from unpaved runways, need to take up more careful monitoring of these engines. Hence the propeller balancing of PW100 becomes a must. When PW100 propeller balancing is performed properly to diminish the vibrations on a regular basis; engine durability goes high, maintenance costs reduces and a more comfortable passenger experience is assured.
APPLICATIONS
In the turboprop segment that accounts for just about 5 percent of the global commercial fleet, aftermarket spending is focused around a handful of engine types only. P&WC is estimated to hold more than 80 percent of the market in 2020, the most of which would be related to the PW100 engine, which is primarily found on the ATR42 and 72. With no new entrants expected in the turboprop segment, the OEM's market dominance can be expected to further grow over the next decade and stand at around 92 percent by 2029.
Although the PW100 engine has been modified to suit a waterbomber, industrial applications and has even been adapted to super charge a piston engine in a high altitude aircraft, its principle application has been in the regional aircraft market.
Apart from powering aircraft from the major OEMs, the PW100 and PW150 engine family strengthens many regional turboprop aircraft in operation and development including Chinese manufacturer Xi'an with the MA60, MA600, as well as ATR, De Havilland Aircraft of Canada, etc. The PW 100 series has only evolved to become the engine of choice in the regional aircraft sector through the efficient application of suitable technology.
In continuation to build the future of regional flight, P&WC is working on next-generation engine technologies tailored to meet the business needs of the company's many diverse customers. While delivering the same durability and dependability our customers expect, the manufacturer is looking at bringing more power, improved fuel consumption, better noise and emissions performance and improved maintainability.
APPLICATIONS - PW100/150
PW118
Embraer EMB120 Brasilia
PW150A
Bombardier Aerospace Q400
PW121
Alenia Aeronautica EADS
ATR 42-300/320
Bombardier Aerospace Q100
PW120
Alenia Aeronautica EADS
ATR 42-300/320
PW123C
Bombardier Aerospace Q200
PW123AF
Bombardier CL-215T/CL-415
PW127F
Alenia Aeronautica EADS
ATR 72-210/500
PW123E
Bombardier Aerospace Q300
PW127M
Alenia Aeronautica EADS
ATR 42-400/500
Alenia Aeronautica EADS
ATR 72-210/500
PW127H
Ilyushin IL-114-100
PW118A
Embraer EMB120 Brasilia
PW120A
Bombardier Aerospace Q100
PW123
Bombardier Aerospace Q300
PW123B
Bombardier Aerospace Q300
PW123D
Bombardier Aerospace Q200
PW127E
Alenia Aeronautica EADS ATR
42-400/500
PW127G
EADS - CASA C-295
PW127J
XIAN Aircraft Co. MA-60
Source: Pratt & Whitney