Four airports upgraded to Level 2 in 4-stage environment standards programme to move towards carbon neutrality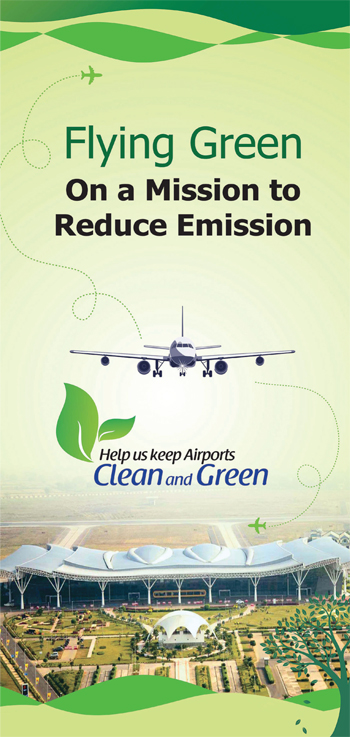 Four Indian airports managed by the Airports Authority of India (AAI) have received global recognition for efforts to reduce their carbon footprint. The Airports Council International (ACI) - a non-profit organization representing the world's airports - has announced that the Netaji Subhas Chandra Bose International Airport, Kolkata; Biju Patnaik International Airport, Bhubaneswar; Lal Bhadaur Shastri International Airport, Varanasi; and the Trivandrum International Airport, Thiruvananthapuram, have met all the necessary requirements to upgrade to the next level of the global plan to reduce carbon emission as per the Airport Carbon Accreditation (ACA) Programme.
In line with national as well as global climate change initiatives, AAI has initiated a carbon management program at these four airports with an objective of ensuring sustainable development of the aviation industry.
These four airports have been moved to Level 2 of this Programme. Level 1 is the category for Carbon Mapping; Level 2 for Reduction of emissions; Level 3 for Optimisation; and Level 3+ for Neutrality.
An airport fulfils the requirements for Carbon Mapping (Level 1) when it demonstrates a policy commitment to reduction of emissions and development of a Carbon Footprint for Scope-1 & Scope-2 emissions which are under its control.
Carbon reduction (Level 2) is achieved when the airport demonstrates reduction in emissions in comparison to the base year. The AAI was given Level-1 accreditation in December 2018 for these four airports, which have now been upgraded to the next level, that is, (the stage of) Reduction of emissions. This has been achieved after the constitution of a Carbon Management Plan and reducing carbon emissions at airports as per the ACA Programme.
The ACA programme has been developed and launched by the ACI as the voluntary Global Carbon Management Standard for Airports. The aim of airport accreditation is to encourage and enable airports to implement best practices in carbon management, with the ultimate objective of becoming carbon neutral. Airport Carbon Accreditation is developed in line with GHG Protocol and ISO 14064 principles.
With the accreditation for Level 2 carbon reduction, the AAI has set up a new benchmark for fulfilment of environment obligations in reducing carbon footprint. Going forward, the AAI is focusing on energy conservation and exploring alternative solutions for generating green energy.
As India's sole Air Navigation Service (ANS) provider and airport operator, the AAI consistently endeavouring with all required programmes and SOPs to meet the commitment for reduction of carbon emissions and sustainable development by implementing cost effective carbon mitigation action plans to conserve the environment and reduce adverse impact of pollution on the ecosystem and society, thus contributing to national sustainable development goals.