Four years ago, he missed his flight out of Bengaluru due to the city's unpredictable traffic jam. In March 2018, young Govind Nair offered the city, Asia's first helicopter taxi service from Bangalore International Airport to Electronics City. In an exclusive interview with Mahesh Acharya, Special Correspondent of SP's AirBuz, Govind Nair, Director-Business Development, Thumby Aviation, shares what started as non-serious suggestion to his aviator father, that he should start Heli-Taxi service, is a reality.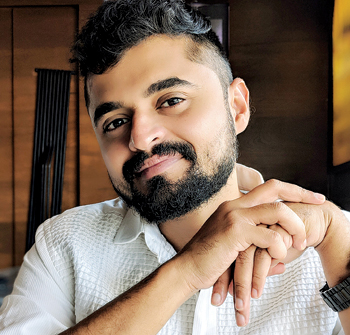 Govind Nair, Director-Business Development, Thumby Aviation
Mahesh Acharya (SP's): Tell us about yourself please.
Govind Nair (Govind): I am from sales background. After my graduation in Mechanical Engineering, I pursued MBA in Sales & Marketing. I worked with Colgate Palmolive for three years after which I decided to join my aviator dad, Group Captain K.N.G. Nair (Retd) who heads the helicopter charter company, Thumby Aviation.
SP's: What inspired you to start Heli Tourism Project?
Govind: In early 2015, I was travelling from Electronics City in Bengaluru to the airport to catch a flight and I missed it due to the traffic woes of the city. So I joked with my dad that he should start Heli-Taxi service in Bengaluru so that people can reach the airport in time and not get stuck in traffic jams. My dad, an aviator of 40 years experience, inspired me to join him. I was clueless about the Non-Scheduled Operations initially; but eventually acquired the skill and capabilities. We were catering primarily to movement of VIP's for different State Governments. When we revisited our vision, we figured that we should make Heli-Taxi services affordable and accessible to the common man and explored the means to achieve this vision. We started by offering joy rides as part of Heli-tourism at comfortable prices to test the waters.
SP's: How long did it take for the project to fructify?
Govind: My father liked the idea of launching Heli-Taxi service in Bengaluru and we started seriously planning it. By the end of 2015, the project was ready on paper; but it took to the skies only in March 2018.
SP's: Why was Bengaluru as your choice to start the Heli-Taxi service?
Govind: There are more reasons than one. Alongside the rapid growth of Information Technology (IT) industry in late 1990s, the city's public transport infrastructure did not expand in proportion to the growth of the city. This leads to a daily traffic gridlock in peak hours in its main IT hubs. The problem is further aggravated by road resurfacing, metro or flyover works, diversions and even rain spells. The city draws workforce from across India to support IT industry, manufacturing, construction and hotel industry, eventually taxing public transport infrastructure. Add to this, the fact that the new international airport moved out from the heart of the city in 2008. From Electronics City to the airport, it takes two and a half hours by road during peak traffic. I discovered that people here need to spend more money on travel to airport compared to Mumbaikars, as the Mumbai airport is within the city even though the average spending capacity of Mumbaikers is more. They prefer utilising public transport to reach the airport. To identify major pain points affecting airport commuters in Bengaluru, we conducted a study and concluded that Electronics City to Airport or vice-versa took the highest commuting time. We also discovered that productive man-hours wasted in Bengaluru was higher than Mumbai or Delhi as the public transport in those cities is good and traffic for different times of the day is predictable unlike here.
THE GOVERNMENT'S DRAFT POLICY HAS A PROVISION FOR BLANKET CLEARANCE FOR ALL FLIGHTS FOR A DAY BELOW 1,000 FT, FOR INTRA-CITY TRAVEL/FIXED ROUTE TRAVELS WITH JUST A SINGLE FLIGHT APPROVAL NUMBER
SP's: Please tell us more about the feasibility study.
Govind: We conducted market research and took inputs on various elements of the projects from corporates and non-corporate business travellers. It took us two years to get the desired data. We talked to air travellers at Bengaluru airport to gauge their expectations on elements of the project such as preferred location of helipads, facilities at waiting lounges, expected price and so forth.
SP's: Now that you are ten months into operations, has your operations met the desired expectations? If not, why?
Govind: Yes and no. We expected that local residents would utilise the service more than outsiders, but surprisingly, it is the outstation travellers who are subscribing to our service more than the local populace. We did not expect this. Maybe it is because locals are used to the traffic and plan their travel accordingly. We would like more locals to utilise the service. We will continue to serve as we believe there would be tipping point after which the service will grow exponentially and more locals will utilise the service.
SP's: What is the kind of infrastructure you have in place and what are the different services offered?
Govind: We have two operational helipads, one at the international airport and other at Electronics City. We currently operate Bell 407 and 412 helicopters and are likely to induct more as the demand increase. We offer four types of Heli-Taxi services for the public – shared shuttles, private shuttles – which is exclusive booking by customer for Bengaluru Airport-Electronics City-Bengaluru Airport. The third service is the Heli-Taxi outstation and the fourth are Heli-Joy rides. We also offer aero-medical transport, but this is rare.
SP's: What is your costing structure for the main services?
Govind: For shared shuttles we charge 4,000 and exclusive shuttle is between 30,000 to 35,000.
SP's: A typical day at Heli-Taxi?
Govind: Every day, navigating through airspaces controlled by four different agencies is a very complicated exercise. The controlling agencies are Bangalore International Airport which is North of the city and our operating base, the Yelahanka Air Force Station, the Government flying training centre at Jakkur and the airspace of the HAL airport. Preparation of a flight to ferry passengers from the Kempagowda International Airport (KIA) to Electronics City, which is in South of Bengaluru, begins with filing of the flight plan with Air Traffic Control. We are grateful to the Air Traffic Control of the four agencies as they facilitate seamless navigation through their respective airspaces and it takes around 12-13 minutes to reach Electronics City.
SP's: What in your view will ease the process of filing the flight plan for each flight?
Govind: Thankfully, the Government of India is already working on this and is likely to ease this element of day-to-day operations tremendously if the Government's proposed draft policy on intracity travel by helicopters is finalised and implemented. The draft policy has a provision for blanket clearance for all flights for a day below 1,000 ft, for intra-city travel/fixed route travels with just a single flight approval number. This will enable me to conduct seamless dawn-to-dusk flight operations.
HELI-TAXI OPERATIONS HAVE THE POTENTIAL TO BE A $100 MILLION BUSINESS OPPORTUNITY PER ANNUM ACROSS INDIA
SP's: Tell us more about average passenger traffic ferried in a month.
Govind: On a lean day, we conduct three to four trips a day and ferry 20-24 passengers. On good day, we ferry 50-60 passengers. A good day is usually the weekend or if there are corporate events in Electronics City on non-weekend days. We get about two to three corporate event days in a month. We do about 10-12 exclusive shuttles and this service is picking up from the earlier two to three trips in a month to more trips now. The outstation Heli-Taxi caters to customers who travel to nearby tourist spots such as Coorg, Chikamangluru and other destinations in Karnataka which is about 10-15, and increasing month-on-month, flight hours a month.
SP's: What are the challenges that you faced in terms of permissions from Bangalore International Airport (BIAL)?
Govind: None. BIAL has been very supportive in all fronts. Our discussions with BIAL started in early 2016, and they have been very receptive about the idea of Heli-Taxi. I would say they are very much one of the stakeholders, not in commercial sense, but in terms of concept and service. We are fortunate that they gave us a location of helipad close to the airport terminal for the convenience of inbound and outbound passengers.
SP's: What has been your experience with authorities such as Director General of Civil Aviation and Airport Authorities of India?
Govind: There were few challenges, but nothing to do with regulations. The challenges were related to adjusting to a new concept of Heli-Taxi for coordination and permissions with authorities which are routine and mandatory for everybody. Compliances were time-bound and our project could have been launched earlier. Their compliances were rightfully strict so that safety is not compromised. After we complied with all the requirements, there was no problem. For example, after the first helipad was approved, there was no delay in getting the approval for second one as the compliance processes were in place. Now that the concept is established, we are ready to replicate the model elsewhere.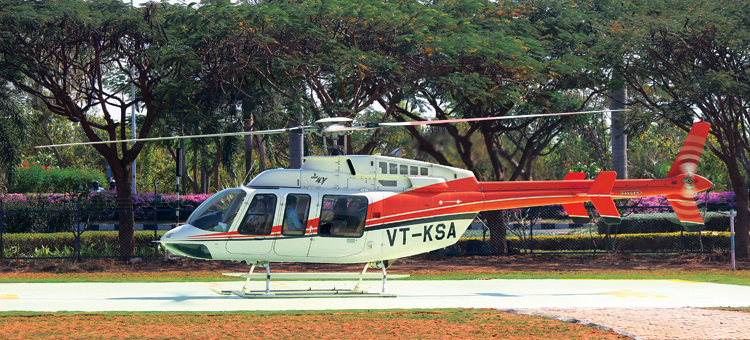 Bell 407 of Thumby Aviation
SP's: Any plans to utilise rooftop helipads in the city?
Govind: In the city, there are 92 unutilised helipads which may or may not be as per DGCA compliances. The main criteria is that rooftop helipad should have load-bearing capacity of the helicopter intended for landing, safety nets, fire dousing facilities, wind direction indicator and trained staff. We will try to utilise some of the helipads if these are activated hopefully before the end of this year.
SP's: In which non-developed countries is Heli-Taxi popular?
Govind: Sao Paulo in Brazil is one city that is the mother of Heli-Taxi operations in the world. The city is as big as Bengaluru and operates 300 helicopters. Some cities in Asia that have traffic problem are exploring this option.
SP's: Any wishlist that you think if promoted by aviation regulators will add value to the Heli-Taxi service?
Govind: Indeed! We would be happy if night operations are permitted. Currently, night flying is permitted for VIP movement and Aero-Medical service, but not for commercial operations. I wish singleengine helicopter are allowed for night operations in India. The US and Canada permit night flying across all categories of operations. Traditional navigation aids facilitating night operations and landing are very expensive for small operators like us if we were to install such facilities at our helipads under the current regulatory compliances for night operations. But there are ways to make night operations more economical and cost effective. My other wish is that authorities in India approve night landing navigation aids that are not expensive, of course without compromising safety. If approved, this will be a game-changer for helicopter operations in India including for Regional Connectivity Scheme. US Federal Aviation Regulations allows night landing by single-engine helicopter. I also wish that Class II helicopters be allowed to operate out of rooftop helipads. For operations out of rooftop helipads in India, helicopter need to be Class-I performance helicopter – twin-engine so that in case of one engine failure, the other engine can provide the power to handle the situation. So, rooftop landing by single-engine helicopter and permission to use alternate navigation aids such as beacons and GPSbased navigations systems that are economical, should be approved by Indian regulators. Such a system is already being used in the US.
SAO PAULO IN BRAZIL IS ONE CITY THAT IS THE MOTHER OF HELI-TAXI OPERATIONS IN THE WORLD
SP's: What is the profile of the travellers utilising Heli-Taxi?
Govind: Eight out of 10 passengers are corporate travellers who want to spend less time on the road, while other travellers are mix of family and individuals who share the shuttle like the concept of shared taxi.
SP's: What is the experience of travellers?
Govind: Our service is a boon for the executives as they spend less time on travel to meet their clients. Corporates can save money as outstations executives finish off their meeting at Electronics City or Hosur and return to their home station on the same day. Executives are pleased with the service.
POST SCRIPT
Traffic jams result not only in the loss of productive man-hours, but also affect individuals at personal and professional levels. A report by Boston Consulting Group for Uber last year estimated that traffic gridlocks in Delhi, Kolkata, Bengaluru and Mumbai costs the economy 1.5 lakh crore annually. Kolkata tops the chart of traffic congestion followed by Bengaluru. It is high time that the Ministry of Civil Aviation implements single-window clearance for future Heli-Taxi operators, online submission of applications, operations below 1,000 ft in well-defined safe heli-corridors, single-engine helicopter operations from roof-top helipads and night landing facilities through low-cost navigational aids.