Jet's rise from a few aircraft to a 119-aircraft behemoth has lessons for airlines the world over. A clear coherent strategy is as much about 'what not to do' as it is about 'what to do'.
| | |
| --- | --- |
| | By Satyendra Pandey |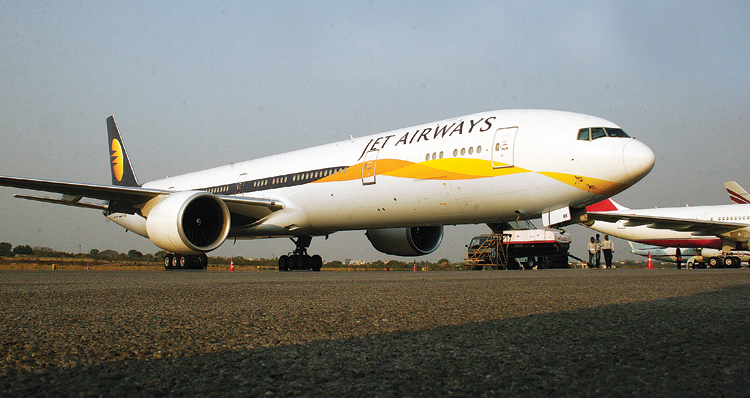 From 1992 to 2004, the airline had a good cumulative performance with strong growth, cash flows and profits.
India's oldest private airline, Jet Airways, recently announced the suspension of operations. After 26 years of operations, the last flight flown was from Amritsar to Mumbai at 10.30 p.m. on April 17, 2019. The suspension was inevitable given that the cash-flow had dried up and banks were unwilling to extend further credit. An airline, that only three months earlier flew a fleet of 119 aircraft, was down to flying a fleet of five aircraft. Apart from over 16,000 jobs at stake, hundreds of passengers were impacted with disruptions to their travel plans. Hundreds more are waiting for refunds. How did this come to be? Impacted by changing market dynamics, Jet became a victim of its own success.
Markets are dynamic entities and consumer preferences change over time. And for airlines that have witnessed success in the past, changing and adapting is a very tough sell. The usual pattern with successful ventures is that the management starts to become complacent and believes in its own narrative, costs spiral and hubris sets in. Indeed this was the case with Jet. From 1992 to 2004, the airline had a good cumulative performance with strong growth, cash flows and profits. The capital market listing in 2005 that was over-subscribed at 1.8 times helped the airline raise 1,899 crore. Expansion followed but importantly, at this time the market dynamics were such that the only other competition was the state-run airline. The travel base was much smaller with a total of 1.52 crore domestic passengers taking to the skies. Air travel was largely for the business elite and a luxury at that. A concept of "rail-air" parity was unfathomable. Smaller airlines came and went while Jet continued to soar higher. But then, in 2005, a revolution began by way of arrival of low-cost carriers (LCCs).
FAILURE TO RECOGNISE LOW-COST AS A PHILOSOPHY
The LCC revolution began with a number of carriers launching in quick succession. Air Deccan was launched in 2003 to target mainly regional routes. SpiceJet which started as Modiluft, was launched in 2005 and was followed by GoAir. IndiGo followed in 2006. There was no looking back. The Low-Cost Carriers operated on a philosophy which stared squarely in the face of the Jet Airways business model. There was a single aircraft model, route networks were point-to-point, the offering was no-frills, no sales were extending on credit and it was a volume-based strategy. This not only started stimulating additional traffic, but also gradually ate into Jet's profits and market share.
Jet did attempt to respond, but not in a manner that struck at the heart of the disruption. The environment demanded a complete revisit on strategy and costs, but that did not happen. Jet Airways created barriers for the low-cost carriers often influencing policy towards creating a competitive barrier, made a highly questionable acquisition in purchasing Air Sahara for 1,450 crore; failed to focus on its balance sheet; flew a mixed fleet with cost and revenue impacts and continued aggressive international expansion in spite of mounting debt levels. The results showed in the numbers.
IMPACTED BY CHANGING MARKET DYNAMICS, JET BECAME A VICTIM OF ITS OWN SUCCESS
From having a 44 per cent market share in 2004, Jet Airways ended 2018 with only a 15.5 per cent market share. From a net profit margin of 4.5 per cent in 2004, the losses started in 2008, and never ceased, the exception being 2017 and 2018, where the airline benefitted due to extremely low fuel prices. Debt levels ballooned from 2,631 crore in 2005 to 14,280 crore in 2010, and 8,500 crore in 2018. The net worth of the airline turned negative in 2012, and it never recovered. During this period, the low-cost carriers flourished, registering cumulative profits, growth and strong cash flow.
FLYING WITH A COST BASE NOT COVERED BY REVENUES
For any sustainable business, revenues must be higher than costs. This is especially true for airlines in pricesensitive markets like India. For Jet Airways, its Cost per Available Seat Kilometre (CASK) exceeded its Revenue per Available Seat Kilometre (RASK) over a period of time. That is, Jet Airways was operating at a loss per seat. For instance, as of December 2018, the loss per seat kilometre was 77 paise. In other words, the airline lost 0.77 paise per seat per kilometre. So if a flight was 1,000 km, the airline would lose 770 per ticket. And this situation where the airline loses money on every kilometre flown, is not sustainable.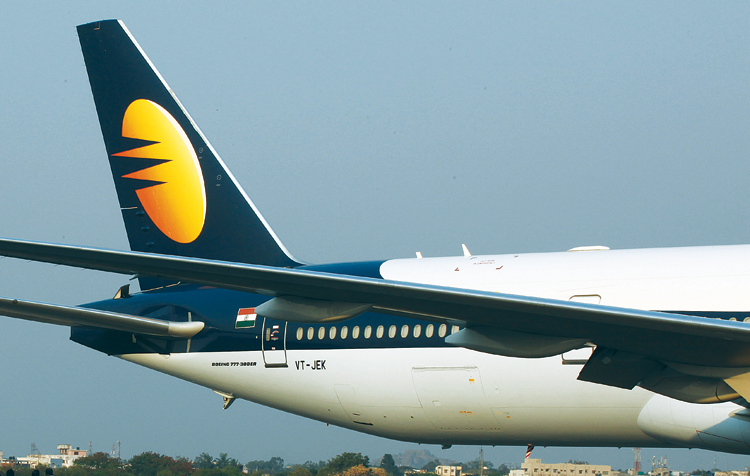 In trying to be all things to all people, Jet ended up as just another airline albeit with a much higher cost base
A cost comparison adjusted for stage lengths reveals that Jet Airways had a cost base that was 30 to 35 per cent higher than its low-cost competitors. But it was pricing at levels similar to the low-cost airlines. Thus, on the same fare levels, lowcost airlines could make money while Jet could not. Or in cases where Jet made money, the margins for low-cost carriers were much higher. Add to that ancillary streams that were a source of significant revenue such as buy onboard meals, charges for excess baggage, cancellation fees, seat-selection fees and special services. This is a stream that Jet did not have access to due to the nature of its business model. Former CEO of Aer Lingus – a carrier that successfully reinvented itself to compete with the low-cost revolution, once said, "Airline costs are similar to jogging. You have to focus on it regularly else you get fat." This is exactly what happened to Jet.
LACK OF BALANCE SHEET FOCUS: A RECIPE FOR DISASTER
Airlines are capital intensive and are exposed to a variety of risk factors. Thus, airline capitalisation and ensuring balance sheet strength is critical for success. It also positions the airline to withstand black swan events which in the airline business can have significant impact. In the case of Jet, one did not see this discipline. Despite IPO proceeds of 1,899 crore, the airline's debt doubled and then grew exponentially reaching 14,280 crore by 2010. 2014 brought some respite in that Etihad acquired 24 per cent stake in Jet Airways for 2,060 crore. The infusion was to help Jet bring down debt burden to approximately 9,000 crore. However, only 24 to 26 per cent of the equity infusion was utilised towards debt repayment with the rest being taken up by the enormous working capital requirements of the company. Reasons for this were many including short-term targets, lack of accountability and short management tenures.
| | |
| --- | --- |
| Year Ending | Net Income in crore |
| March 2014 | 4,130 |
| March 2015 | 2,097 |
| March 2016 | 1,212 |
| March 2017 | 1,499 |
| March 2018 | 636 |
| December 2018 | 3,319 |
| | |
| --- | --- |
| Year Ending | Net Debt in crore |
| March 2014 | 8.714 |
| March 2015 | 10,252 |
| March 2016 | 9,231 |
| March 2017 | 7,220 |
| March 2018 | 5,295 |
| December 2018 | 7,654 |
Additional financial structuring did reduce the debt burden. These measures included sale of redemption points from the frequent flyer programme, secondary lease of aircraft, sale and leaseback, selling of a land parcel and additional credit lines. But the cash-drain continued because operations were not profitable and the balance sheet was weak. Consequently, loan quality, liability structures, liquidity, capital structure and unencumbered assets – all were in question. The airline did not have adequate assets for financing even current operations, let alone for future growth. A shutdown thus became inevitable.
ABSENCE OF A COHERENT STRATE GY AND CLEAR VISION
Until its shut down, Jet was operating in one of the most lucrative aviation markets. With a 300-million strong middle class, low air travel penetration and an increasing propensity to spend, India is targeting 500 million passenger trips in the next 20 years. Forecasts estimate that India will be the third largest aviation by 2025. Yet, the fact that banks refused to lend and that Jet is still waiting for investors, is quite revealing on the size and depth of the challenges. As Jet faced challenges on all fronts, it was found wanting in a clear coherent strategy – whether this was on network, aircraft, financing, value proposition or costs. At various times, Jet positioned itself for various segments. It priced as a low-cost carrier while offering a full-service product. It inducted A-330s while having an all-Boeing fleet. It partnered with Etihad but re-allocated capacity to a competing alliance. It flew on routes to compete with Singapore Airlines and Emirates, but used a Boeing 737 which led to a vastly different product experience. The strategy was confusing to say the least.
AS JET FACED CHALLENGES ON ALL FRONTS, IT WAS FOUND WANTING IN A CLEAR COHERENT STRATEGY AND VISION
Jet's rise from a few aircraft to a 119-aircraft behemoth has lessons for airlines the world over. A clear coherent strategy is as much about 'what not to do' as it is about 'what to do'. And in that, a clear compelling vision aligns stakeholders towards a singular goal. In this case neither took place. In trying to be all things to all people, Jet ended up as just another airline albeit with a much higher cost base. And in doing so, it simply frittered its profits away.

The Author has served in a variety of positions within the aviation business, most recently, as the Head of Strategy & Planning at Go Airlines (India). Previously he was with CAPA where he worked with the Advisory and Research teams. He joined CAPA after a working through a merger and restructuring at a legacy US carrier. Having worked across four continents, he is an alumnus of the University of New South Wales and London Business School. He is also a certified pilot with Instrument rating.