According to the International Air Transport Association (IATA), India is set to be the world's third largest aviation market by 2024, behind China and the US, but recent developments may see this forecast pushed back.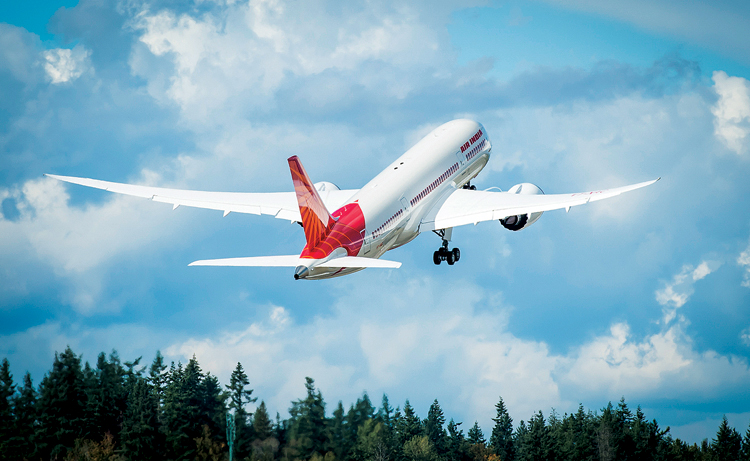 Airlines in India need to forget their feverish quest for growth and focus on passenger yields instead
Fifty-two continuous months of double-digit growth would be a dream run for any industry. Yes, that was the record of Indian commercial aviation as of December 2018. Over 138.9 million passengers caught domestic flights in 2018, up 18.6 per cent from 117.1 million in 2017. Hark back to 2013 when just 61.42 million passengers travelled by air, and the scale of the increase becomes clear. At the start of this year there was no reason to believe the party would end anytime soon. Yet the dream now seems to be turning sour.
Jet Airways which was struggling to survive for almost a year finally ran out of luck in April. The carrier which has been in operation since 1992 and whose 13.8 per cent market share last year placed it second in the pecking order was forced to announce a temporary halt to all operations on April 17 after a consortium of its creditors refused to provide it with emergency funding. Jet's 22,000 or so employees are pinning their hopes on a bidding process that may find a new owner by May 10. However, even assuming it does, the airline could take years to regain its erstwhile glory.
Other carriers too are experiencing varying degrees of financial distress. Air India, whose market share for 2018 shrank to just 13.3 per cent, is heavily on steroids. In 2012, it was rescued from dire financial straits by the government and provided equity infusion of 30,231 crore till 2021, subject to achieving certain targets. With practically all the money spent, very few of the goals achieved and a debilitating debt of over 55,000 crore, it is firmly on course to seek another bailout from public funds. In September 2018, the Sydney-based Centre for Asia Pacific Aviation (CAPA) estimated that the Indian airline industry as a whole would post losses of $1.65 billion to 1.90 billion in FY 2018-19.
What actually ails the airline industry?
UNSUSTAINABLE FARES
The carriers insist that high fuel costs, high airport charges and high taxes are responsible for their woes. They have a point, because aviation turbine fuel (ATF) that in India is taxed at possibly the highest rates in the world, spiked sharply in price in 2018. The airlines also suffer when the Rupee depreciates (it fell by almost 8.5 per cent in 2018) because lease payments, fuel and maintenance, among other items, are at least partly paid for in US dollars. However, some of the blame lies with the carriers themselves, because they routinely undercut each other's seat prices in a desperate effort to grab market share.
There are regular howls from passengers that they are being fleeced, and reactive instructions from the Directorate General of Civil Aviation (DGCA) to the airlines to keep fares "competitive". On the face of it the airlines are indeed profiteering from the departure of Jet Airways from the scene, because average fares have risen by around 30 per cent year-on-year. But what about the years that seats were being sold at 10 to 15 per cent discount on the average? Since all carriers were terrified of losing market share, they could not raise fares to more sustainable levels.
Indeed, every stakeholder seemed mesmerized by growth and reluctant to do anything to upset the applecart. The government boasted of the exponential growth in the number of passengers as an achievement. The airlines too argued that it was better to sell seats below cost rather than haul them around empty. The trouble is that passengers have now come to bank on low fares. They scour the internet for "offers" and low-priced seats and if they do not like what they see, they either postpone their travel plans or go by surface transport instead.
In addition state-owned Air India, despite being a full-service carrier, feels free to under-price even its low-cost competitors and thus distort the market, secure in the knowledge that a solicitous government will not let it sink. After the attempted disinvestment of Air India in May 2018 by the government failed to elicit any interest, there is talk of turning it around. However, such attempts have failed in the past and there is no reason to believe they will succeed in future.
INSUFFICIENT INFRASTRUCTURE
The huge growth in the number of air passengers has also placed tremendous strain on the country's airports and air services. The metro airports are choking and airports such as Mumbai just cannot accommodate any more flights. The government has plans to enhance airport capacity, but action in this direction is lagging well behind the passenger growth curve. Besides, the capital investment (not including cost of acquiring land) till 2040, is expected to be $40-50 billion and there are no clear indications where this money will come from.
CAPA estimates that latest by 2022, India is likely to exceed the maximum structural capacity of its airports. Thanks to the Regional Connectivity Scheme UDAN, many un-served and underserved airports across the country are being activated. These may decongest the metros to some extent. However, UDAN is itself slow in taking off and very few of the allotted routes are actually operational. Most operators on regional routes believe their profitability lies in connecting smaller airports to the metros. But Delhi and Mumbai airports insist they cannot "sacrifice" any more slots on the altar of regional connectivity, especially since regional operations usually involve small turboprop aircraft that take longer to takeoff and land than the big jets with hundreds of passengers.
FOCUS ON YIELDS
Apart from its financial troubles, the industry seems to trigger public dissatisfaction with depressing regularity. In December last year, a parliamentary panel pulled up practically all the airlines for various shortcomings including overcharging, misbehaviour by staff, unsatisfactory check-in facilities and poor baggage handling services. With the carriers trying desperately to reduce operating expenses, it is perhaps inevitable that there will be some short cuts with consequent implications for flight safety too.
THE HUGE GROWTH IN THE NUMBER OF AIR PASSENGERS HAS ALSO PLACED TREMENDOUS STRAIN ON THE COUNTRY'S AIRPORTS AND AIR SERVICES
The airline industry must be hoping that the adage "after the deepest darkness comes the dawn" will apply to it. Indeed, the sector has enormous potential considering that only about three per cent of Indians fly. According to the International Air Transport Association (IATA), India is set to be the world's third largest aviation market by 2024, behind China and the US. The Ministry of Civil Aviation is more bullish, predicting that this milestone will be achieved by 2022. However, recent developments may see these forecasts pushed back.
The woes of Jet Airways and grounding of 12 Boeing 737 Max jets from the SpiceJet fleet following the March 10 crash of an Ethiopian Airlines 737 Max has resulted in a drop of about 10 per cent in the total Indian commercial fleet. Although Jet Airways has ostensibly only suspended operations it is hard to see how it could resume flights in significant measure for months since most of its aircraft have been deregistered and its slots have been handed over to its competitors. Consequently, load factors and yields across the industry are expected to rise. In the short term, traffic growth may be in low single digits (it was just 0.14 per cent in March) or even negative, which is no great cause for alarm. In fact, analysts are practically unanimous in their view that the airlines need to forget their feverish quest for growth that trapped them for years in a deadly race to the bottom and focus on passenger yields instead. All they need to do is keep fares at financially viable levels. Question is will the Indian airline industry bite the bullet?