Passengers Utilise their time Gainfully During Flights for both official and Personal Work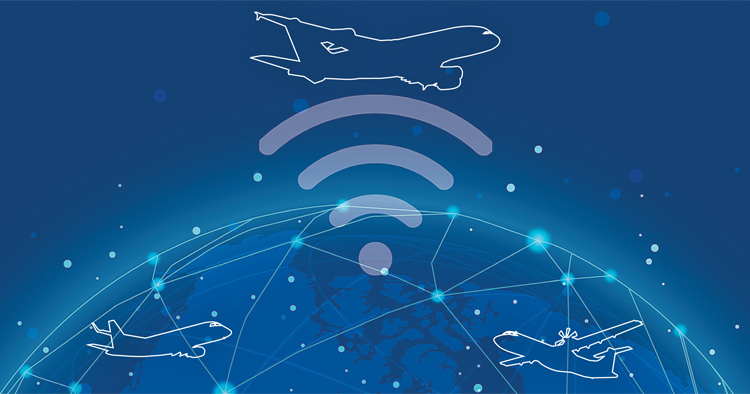 Usually the case has been, particularly in countries like India, that when you are on-board the aircraft of any flight to any destination; you cannot make a call and you cannot use wi fi for your electronic gadgets/laptops. In other words you are completely isolated even if you did not want to be into such a situation. This scenario is changing. Like many other countries, India is also likely to join the collection of nations which offer certain extent of connectivity on-board. For a common traveller, it is indeed a matter of excitement and joy. For a business traveller this becomes a boon. Credit goes to the technologies which continuously evolve and which relentlessly work towards the cause of human benefits. Credit may also be attributed to the evolving and developing countries' policy makers who, even if later, realise the need of the hour. It becomes all that great further as we start foreseeing such developments no more confined to business jets/ business aviation anymore.
CONNECTIVITY ON-BOARD INDIAN CARRIERS
Wi-Fi and cell phone services on board airliners are facilities that help air passengers remain connected with the outside world during their flight by airliners. This helps air passengers utilise their time gainfully during flights for both official and personal work. While these services are available in practically all countries across the world, airlines in India today, are lagging behind in this regard. This is despite the fact that the Telecom Regulatory Authority of India (TRAI) had cleared the proposal over three years ago. However, in 2018, the TRAI formally notified the Flight and Maritime Connectivity Rules, 2018 allowing airlines to enter into commercial deals with telecom players to offer in-flight telecom services. However, Indian carriers are still evaluating the cost implications and business potential of this facility. The leading players such as Air India and Vistara have welcomed the move by the government and even the Minister of Civil Aviation Suresh Prabhu has assured speedy implementation of the proposal. Hopefully, air passengers flying on board Indian carriers will soon get to use internet and voice services on mobile phones during flights in the Indian airspace. Till this happens, on board connectivity for people in India will remain a privilege confined to those who have the facility to travel by business jets.
TYPES OF CONNECTIVITY
The demand for in-flight connectivity thus now cuts across all operating levels, whether it is an aircraft owned by an airline, is leased for a specific period by the company or is a chartered aircraft hired for a specific journey. The number of commercial jets equipped with Wi-Fi has significantly increased. Most new business aviation aircraft come with facility of Wi-Fi as a standard fitment and the older aircraft fleets in this category are being retrofitted to meet demands from or expectations of customers for on board connectivity. The rate of growth in the fleets of Wi-Fi enabled aircraft is particularly high in the United States (US). In Europe, currently, the rate of growth in this segment is a little lower than that in the US, but is expected to catch up in not too distant a future.
THE AVAILABILITY OF FAST, EFFICIENT AND AFFORDABLE IN-FLIGHT CONNECTIVITY SERVICES BOTH ENHANCES THE TIME EFFICIENCY OF TRAVEL AND HELPS MAKE THOSE FLYING ON BOARD AN AIRCRAFT WITH INTERNET CONNECTIVITY FEEL FAR MORE SECURE
Internet connectivity on board an aircraft is provided either through satellites or ground based transmitters. Compared to ground based transmitters, the cost of satellite based internet connectivity is significantly higher. Today, there are different levels of satellite service offered via the L-band and Ku and Ka bandwidths. The bands refer to the radio frequencies used to deliver data to and from the satellite. L band uses the lowest frequency. Inmarsat offers its 432 kbps SwiftBroadband on the L-band service, as well as a lighter version 200 kbps SB200 service for business aircraft. The chart topper today is Ku-band, which is offered through a worldwide patchwork of multiple service providers, including television and other media.
Connectivity systems are pretty straightforward to install as they do not add much weight to the aircraft and can be installed nearly anywhere in the airplane. There is no need to sacrifice items such as cabin entertainment to install the systems. Traditionally, the high cost of equipment, installation and monthly service had limited connectivity technologies to larger aircraft. However, there have been a number of changes in the recent past that will allow operators of mid-cabin and smaller cabin jets and turboprops many of the same advantages that larger operators enjoy for significantly lower cost.
CONCLUSION
The availability of fast, efficient and affordable in-flight connectivity services both enhances the time efficiency of travel and helps make those flying on board an aircraft with internet connectivity feel far more secure. Connectivity inflight will be an ever-growing need for aircraft all over the world as the aircraft owners of the future, in all likelihood, would have realised the endless benefits of keeping their passengers connected in the air. This will pave the way for being connected in-flight to become something of an unwritten requirement. Owners and operators of business aviation aircraft are now witnessing the advances in technology that will allow them to have the same types of functionality that large airlines have for a fraction of the cost of equipment and installation. With more and more aircraft types having better as well as less expensive Wi-Fi options, aircraft operators have the increasing ability to take advantage and start increasing productivity for their businesses and key personnel. Companies dealing with the business of providing internet connectivity on aircraft, have understood that Wi-Fi connectivity is an ever-growing need for all aircraft around the world.
In-flight conectivity solutions from Collins Aerospace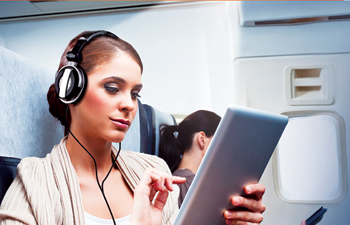 For more and more passengers, being connected in flight is no longer a luxury, it's a requirement. When they can access work, home, friends and entertainment, the result is a better travel experience. Collins Aerospace' CabinConnectTM wireless inflight connectivity solution allows airlines to keep passengers engaged, entertained, empowered and informed through all phases of flight. Aircraft manufacturers have recognized Collins Aerospace for excellence in in-service performance. As the provider of connectivity for more than 20,000 aircraft around the globe, they understand the importance of keeping your aircraft and passengers connected.
Collins Aerospace broadband connectivity, powered by Inmarsat's Global Xpress (GX) satellite network, provides the first seamless satellite communications service with greater performance consistency than any aviation global satellite service available today. This advanced designed network, specific for fast mobile users, is generations ahead of the complex stitched service networks found with Ku-band service. On offer is the high reliability of a single operator and network, in addition to the advantage of a more efficient and powerful Ka-band spectrum. Their global GX Ka-band cabin broadband connectivity service is available today for all aircraft types. They provide a broadband connectivity service that is flexible, scalable and easily upgradeable to meet the needs of airlines today and tomorrow.
The in-flight connectivity solutions, from Collins Aerospace engages the passengers before, during and after their flights, and tailors the travel experience to their unique interests.