The dream of getting an indigenously made civil aircraft has finally got the government to set up a task force to draw a roadmap, providing a major boost to the 'Make in India' programme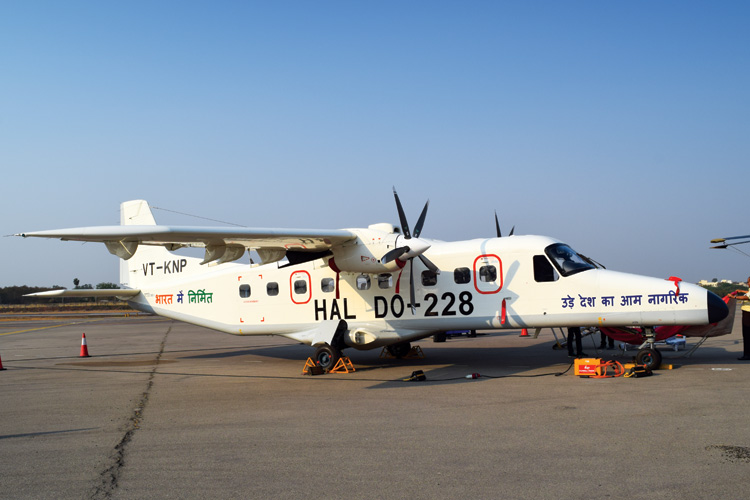 India is currently the ninth largest civil aviation market in the world with a market size of $16 billion. It is among the five fastest growing aviation markets globally, registering a growth rate of over 15.2 per cent year-on-year. The number of passengers carried by scheduled domestic airlines has increased from 103.7 million in financial year 2013-14 to 158.4 million in financial year 2016-17. Despite this high rate of growth, the country is one of the least penetrated air markets in the world with 0.04 trips per capita per annum compared to 0.3 in China and more than two in the US. With continued migration from conventional modes of transport, air travel is expected to witness a similar growth trajectory in the future. This rate of growth suggests huge investment in aircraft over the next few years. With 'Make in India' initiatives in this segment, it is estimated that such huge procurement costs can be significantly reduced. Additionally, this will enable building up of manufacturing capabilities spurring the much needed growth of the economy.
GLOBAL ENVIRONMENT
The global civilian aircraft manufacturing industry is currently an oligopoly, consisting of Airbus, Boeing, Bombardier, Embraer and Tupoloev. Of the five players, Airbus and Boeing command a lion's share. As a result of the huge investments required in this space, the number of players in the aircraft manufacturing industry is understandably limited. Additionally, production of a passenger aircraft is a complex, risky and a long drawn process. Technologically advanced regions such as the US and Europe have also taken 15 years to build their learning curves in this segment. As far as Indian capabilities are concerned, the nation currently imports most of its civil aircraft requirements. However, with its technology absorption capabilities, it is estimated that India can also build significant capabilities in aircraft manufacturing in the next 10 to 15 years. Currently, Indian operators control a fleet of approximately 450 aircraft. However, with growing passenger traffic expected over the next few years, it is imperative for the existing operators to add additional capacity. Accordingly, domestic players have a requirement of around 816 new aircraft to cater to the incremental demand. However, with no Indian player with the capability to manufacture airliners, domestic airlines have placed huge orders with global majors such as Boeing, Airbus and Bombardier. The total expenditure involved for acquiring these planes is projected at approximately $100 billion (7,00,000 crore). Several countries have aspired to build capabilities in this segment. China built its capabilities through creation of a state-controlled entity - Commercial Aircraft Corporation of China (COMAC), whereas Brazil initiated steps in this direction by privatising Embraer, the state-owned aerospace entity.
THE INDIAN ENVIRONMENT
India has made several attempts at skill development in areas of strategic or national importance. For example, to build capabilities in the defence manufacturing segment — aircraft, helicopters and missiles, the Government of India has hand-held defence public sector units for forging partnerships with global aerospace and defence majors. In some cases this has been achieved via licensed production of trainer aircraft, while in other cases, by manufacturing sub-systems, components and spare parts for helicopters and fighter aircraft. Domestic firms have contributed notably, gradually increasing their learning curves. As a result, the country today has built capabilities in important segments such as production of fourth generation fighter aircraft, advanced helicopters (Dhruv and Light Combat Helicopter) and best-in-class missiles (BrahMos). A similar approach is recommended in the civil sector for which pooling requirements of domestic players can be carefully considered. This sector is also likely to receive major support from other high-tech complimentary industries such as defence, space, IT etc where India has achieved reasonable success in the recent past. Such initiatives will not only open up business opportunities for large and medium enterprises; but also save substantial amounts of foreign exchange for the economy.
India has made reasonable attempts to build its own aircraft through substantial investments in infrastructure, capital and skill development. For example, the state-owned Hindustan Aeronautics (HAL) has manufactured indigenously in large numbers, the multi-purpose light transport aircraft — Dornier 228 aircraft. HAL bought the production licence for this aircraft from the German firm Dormer GmbH in 1983. The 19-seater aircraft is being currently used by defence forces. Recently, the Directorate General of Civil Aviation (DGCA) has given 'certificate of airworthiness' to this aircraft paving the way for its civil use. It is envisaged that the aircraft has substantial role to play in enhancing regional connectivity under the ambitious UDAN scheme.
INDIA HAS MADE REASONABLE ATTEMPTS TO BUILD ITS OWN AIRCRAFT THROUGH SUBSTANTIAL INVESTMENTS IN INFRASTRUCTURE, CAPITAL AND SKILL DEVELOPMENT.
The Indian market is currently under-served with less than four per cent of its population utilising air travel. The growing passenger numbers and a burgeoning middle class indicate the possibility of healthy growth in passenger traffic for major airlines in the future. A buoyant market growth rate coupled with the expansion of infrastructure, is likely to help the Indian civil aviation industry grow at an accelerated space. With large domestic and global opportunity, there exists a real case for building 'Make in India' capabilities in this segment. Industry veterans suggest that an aircraft could be developed indigenously in five to seven years at substantially lower costs by five per cent or even less. This is in comparison to the acquisition cost India will be incurring in aerospace and defence sectors in the next 10 years. The domestic manufacturing sector has received major impetus in the current policy regime via swift decisions and host of other policy initiatives from the government. Therefore, it is an opportune moment for domestic and global players to tap into this opportunity that has enormous potential. Global aerospace majors can set up facilities jointly with domestic players to leverage the low-cost engineering talent while the latter will accumulate the benefit of technical know-how. Similar steps taken in other sectors such as in auto and pharma, have resulted in huge capability-building in the country.
INDIGENOUS CIVIL AIRCRAFT
The dream of getting an indigenously made aircraft has finally got the government to set up a task force to draw a roadmap, providing a major boost to Prime Minister Narendra Modi's flagship 'Make in India' programme. The high-level task force will formulate a plan for the development of indigenous civil aircraft, helicopters and associated aviation equipment under the 'Make in India' initiative, encouraging aircraft makers to manufacture in the country. The project will also help in promoting India as an important investment destination and global hub for manufacturing, designing and innovation. "This is an idea which will actually change the manufacturing infrastructure," Civil Aviation Minister Suresh Prabhu said in the Rajya Sabha. "A special purpose vehicle (SPV) will soon be set up for the project which entails an investment of 10,000 crore".
Suresh Prabhu will head the task force which consists of 106 members from companies and organisations including Hindustan Aeronautics Ltd (HAL), National Aerospace Laboratories, ADA and DRDO for appraisal. A Committee of Secretaries will take the decision on forming an SPV. The panel has started working on the project and has already taken several steps, said Suresh Prabhu, adding that enough financial and administrative powers may be sought for the SPV to implement the project. He added that the government's focus is not only manufacturing through this project, but it also to encourage anyone who has capabilities to manufacture aircraft so that the gap that exists between the demand and supply can be filled.
In June 2018, Suresh Prabhu asked Airbus and Boeing, in a series of messages on Twitter, to participate in the push, while highlighting the growth potential of the booming Indian aviation market. He also said in one of the tweets that the Indian airline industry needs over 1,000 passenger planes and "many more" cargo planes.
MILITARY AND CIVIL AIRCRAFT MANUFACTURING CAPABILITY
Offsets. The Ministry of Defence introduced the offset policy following recommendations from a panel headed by former finance secretary Vijay Kelkar. The panel was tasked with suggesting measures to involve private players in defence equipment manufacturing under a public-private partnership model. After several rounds of revision, civil aerospace and internal security deals have also been brought under the offset policy. The offset limit has now been increased from 300 crore to 2,000 crore. The offset policy envisions leveraging big-ticket purchases in the defence space to cajole original equipment manufacturers into giving outsourcing orders, transferring technologies to Indian companies and investing here. The objective is to create a strong local ecosystem for defence manufacturing and step up exports.
India does have full scale aircraft manufacturing capability except for turbine engines. It has had production capability since the 1950's. Tracing its roots back to 1941, HAL now builds military trainer aircraft and has proposed some brand new fighter jet designs. It has also built helicopters, agricultural aircraft and has one of the largest maintenance depots and engineering services in the world. India could build an airliner if it choses to do so. However, the amount of investment is significant. HAL management has correctly assessed that entering into competition with Boeing, Airbus, Bombardier and Embraer would be a high-risk venture with no guarantee of profitability.
HAL and other aviation suppliers based in India are significant suppliers of aircraft components worldwide. Given the complexities and challenges associated with the aviation industry, India has done very well in this specialised area of engineering and manufacturing. Countries such as China are trying to come up with their own competitors to Boeing and Airbus. Comac, the Chinese competitor to these companies is first of all state-owned initiatives. The government is funding the R&D cost which will be in billions of dollars. Apart from that, China had been developing the C919 for over a decade and still there is more than a decade left before service entry. The C919 is years, if not decades, behind aircraft made by Airbus and Boeing that are cheaper to fly and easier to maintain. But, imagine the same amount of money being spent by Indian government for trying to build a commercial airline from scratch. Even if we do complete the design, there is no guarantee that any airlines will place orders large enough to recover the R&D expenses. First of all, we in India cannot force any airline, even Air India for that matter, to only buy indigenous aircraft else India will be facing lot of heat at global platforms for trying to protect our Industries and we Indians, compared to Chinese, need lots of support from other countries at global platforms like UN and other groupings. Secondly, even Air India is going to be divested to private investors, so, even using Air India for that matter is not an option. Thirdly, manufacturing commercial airlines requires continuous R&D and we cannot just keep selling a single aircraft forever unlike what we do with military aircraft wherein we still manufacture and sell fighters based-on 1990s design. Commercial market, unlike the military, has cutthroat competition and if we don't keep innovating, we will be left high and dry. But, by the time our first commercial aircraft design is ready, Boeing and Airbus will be many times better than our design and they will even have better competitiveness in other factors like mileage, etc,though our platform could be cheaper.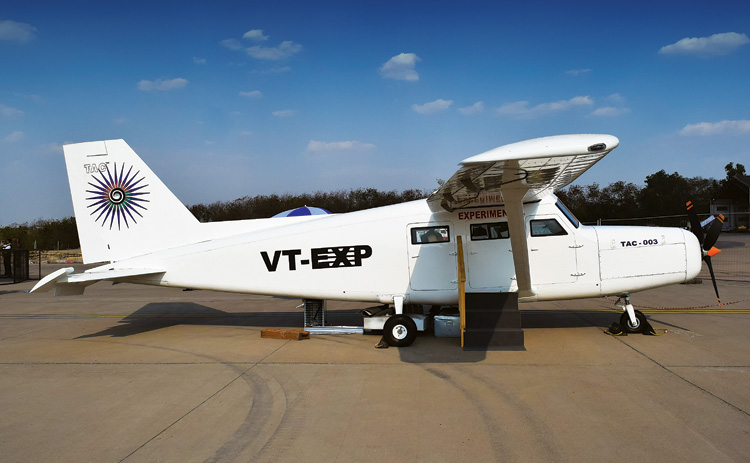 TAC-003 Thrust Aircraft built by Captain Amol Yadav
Our strength lies primarily in military aircraft and HAL has already established a good ecosystem for manufacturing these. We should use this to our advantage and start our commercial market entry with smaller aircraft like 18-seaters which can serve as charter aircraft and also can be used under UDAN scheme which is used to provide regional connectivity to non-prime airports. HAL manufactures the Dornier 228 which can be readily used to meet civilian requirements and we should try to compete in this category of aircraft rather than with Airbus and Boeing.
DORNIER 228 BY HAL
HAL and government of India have already indicated the plan to use Dornier 228 aircraft for civilian purposes and also, there is already demand from plane operators, both domestic and international, for the Dornier aircraft. Plus, India can provide such 18-seater aircraft at a lower cost than other manufacturers which is an advantage. Air India has indicated that it could initially acquire at least 10 such aircraft to operate regional routes. Pawan Hans, the state-owned helicopter company which plans to diversify into fixed-wing aircraft operations, is also said to be keen on acquiring the Dornier aircraft. Also, neighbouring countries like Nepal and Sri Lanka are also keen on using Dornier 228 for civil aviation purposes. Thus, we should spend our money on making Dornier better equipped rather than waste money trying to compete with Boeing and Airbus which will do anything to stop a new competitor. We are better off by upgrading the engines and trying to get better range (currently Dornier has a maximum range of 700 km) which could be increased with little R&D. The DGCA which is the civil aviation regulator in India, has already granted permission for using Dornier as a civil aircraft.
Apart from using HAL to manufacture Dornier 228 for civilian transport, we need to encourage other private manufacturers like Tata and Mahindra which also have similar 18 to 20-seater airplanes which could compete at global levels if given little government push. Indian government needs to encourage manufacturers with incentives to use such 'Made in India' aircraft for domestic purposes especially for UDAN scheme and also help these companies market them worldwide. Such small-size aircrafts can be used for charter which are also a bright market worldwide. Also, our start-up ecosystem can come to our aid and we have people like Captain Amol Yadav who have built such small aircraft right on the terrace.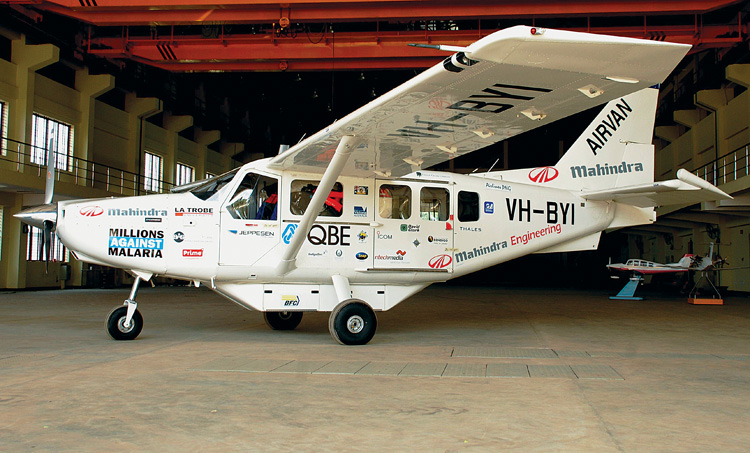 Mahindra's GA8-TC Airvan
HAL says that the aircraft has considerably lower list price, operational costs and can land at most regional/small airports in the country. For instance, the price of DO-228 is around 60 crore as compared to an estimated price of over 160 crore for ATR-72. IndiGo, the largest carrier in terms of market share, has signed agreement with French-Italian aircraft maker ATR for the purchase of 50 ATR 72-600s. IndiGo, which primarily operates narrowbody Airbus A-320s, will deploy ATRs for regional connectivity.
A large majority of airlines in India and even globally, don't buy aircraft. Instead they opt for leasing. If the cost of ATR is higher, its leasing cost will also be higher. HAL officials say that the operational cost of ATRs is over 2 lakh per flying hour in comparison to DO-228's 85,000 per hour. The operational expenses of aircraft includes crew cost, maintenance costs, airport infrastructure costs, marketing, landing and parking charges and distribution costs. HAL says that this aircraft is ideal for start-up carriers.
IN THE WAKE OF LIBERALISATION IN THE EARLY 1990S, PRIVATE PARTICIPATION IN THE SECTOR MADE MODEST BEGINNINGS AND HAS STEADILY GROWN SINCE THEN.
To cover these costs, ATRs need to have a minimum occupancy of 70 per cent. The typical seating plan of ATR 72-600 is 70 seats. The operators will have to sell around 50 seats per flight. DO-228, which is Made in India turboprop with some imported components and imported engine ( from Honeywell), has a seating capacity of 19. "It's not difficult to fill up those many seats. ATRs may not be profitable on regional routes as some operators are expecting," says a HAL official. According to HAL, the Dornier 228 aircraft requires runway length of 2,100 feet for takeoff and 1,800 feet for landing which makes it suitable to operate in almost 99 per cent of airports in India. There are an estimated 450 airstrips and airports in the country. HAL is currently in the process of acquiring certification from the DGCA which is expected by December 2018.
ENTRY OF PRIVATE SECTOR
In the wake of liberalisation in the early 1990s, private participation in the sector made modest beginnings and has steadily grown since then. Some of the prominent private companies that have entered the sector are:
Tata Advance Systems Ltd (TASL). Of all the contenders, TASL appears to be the one nearest to acquiring the capability to manufacture full aircraft, radars and unmanned Aerial Vehicles (UAVs). It has tied up with Airbus for the manufacture of C-295 transport aircraft, a replacement for Avro HS-748. Its partnership with Airbus for C-295 would include supply of 16 aircraft in fly-away condition and 40 to be built in India. This would be a major breakthrough for private participation.
Mahindra Aerospace. Mahindra Group entered the aerospace industry in 2008 through its new entity Mahindra Aerospace. In 2010, it acquired Australian entity's Gipps Aero and Aerostaff. It is the first Indian company to go into full aircraft production, albeit a small one and that too outside India. In 2010, this company began developing a 25,000 square metre facility outside Bengaluru to produce airframe parts and assemblies within the country. The facility was formally inaugurated in 2013 and is now delivering aerospace sheet metal parts and assemblies for global companies. The company recently signed a "Statement of Intent" with Airbus Helicopters for forming a joint venture to produce military helicopters in India.
Bharat Forge. This is another Indian company that Airbus is looking at to have some of its aircraft parts forged in India as the next logical step to expanding its supplier base and outsourcing activity in a fast-growing market. Bharat Forge is already having a similar arrangement with Boeing.
Reliance Defence Ltd. This is a wholly-owned subsidiary of Anil Ambani's Reliance Group. It has set up the Dhirubhai Ambani Aerospace park spread over 400 acres at Nagpur for the manufacture of aerospace components. It has entered into a joint venture with Rafael Advance Defence Systems Ltd, Israel. The initial outlay for the joint venture, excluding the technology cost, will be 1,300 crore. The company will be located at Pithampur near Indore, Madhya Pradesh and it will make air-to-air missiles, air defence systems and large air ships. As per the current guidelines of the Centre, 51 per cent holding in the company would be from Reliance Defence and the rest would be held by Rafael. The JV is expected to provide a big thrust for the indigenous development of high precision weapons system in India.
SUMMING UP
It is evident that lack of domestic manufacturing capabilities for almost seven decades, both in civil aviation and defence aerospace manufacturing, had remained a major worry till the early 1990s. After opening up of this segment to the private sector in the post-liberalisation period in 1990s, the sector has shown considerable progress. After the Make in India initiative announced by Prime Minister Narendra Modi in September 2014, there are signs that things are changing for the better. The aerospace sector in the country is at the inflection point, similar to the telecom and automotive sectors two or three decades ago. Hence it needs sustained government support to develop critical mass, skills and R&D to achieve its full potential. If things are done right, with the existing technology which is tried and tested, India can be a major player in the 18 to 40 seater aircraft market and can compete with other global players. Also, the large domestic market which is set to become the third largest in the world can play a key role in aiding the process. With the expertise obtained in R&D of the 18 to 40 seater aircraft, India can look at taking on Boeing and Airbus sometime later in the next decade. After all, Rome was not built in a day!