The week-long biennial event, being held from 16-22 July, is the perfect opportunity for veterans as well as newbies in the aerospace field. Over 1,500 trade exhibitors, 150 aircraft and 150,000 trade and public visitors are expected to visit the show this time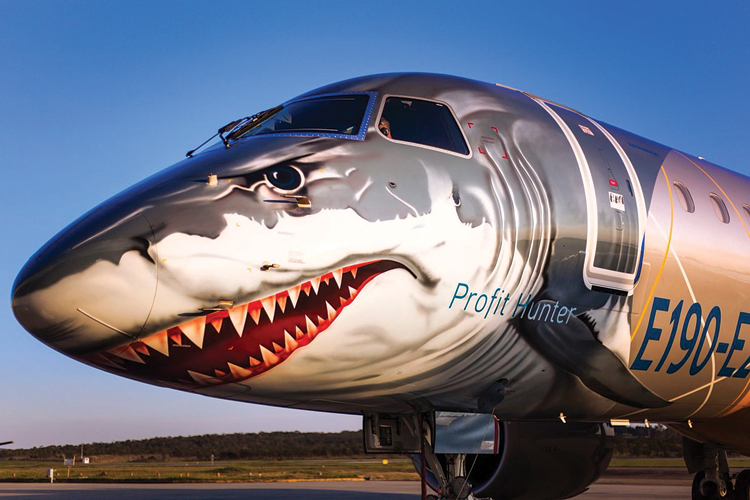 The Embraer E2 has a new look! A life-like image of a shark is painted on the nose of an E190-E2 that will be on display at FIA18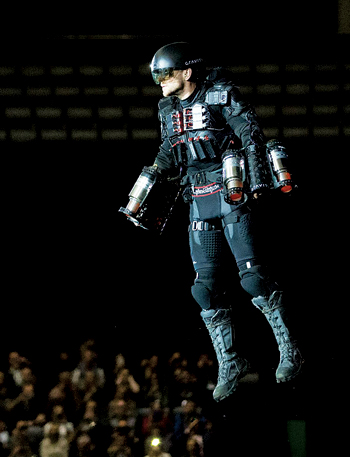 Real-life 'Iron Man', Richard Browning, will fly above the runway at the airshow on July 21 and 22, 2018
Though it comes second when it comes to airshow rankings, this time Farnborough International Airshow, the biennial air show of Britain, is all about firsts as a slew of aerospace brands are set to announce their latest ventures. Considered as one of the biggest events of the aviation world, with over 70000 sqm of exhibit space, it will witness more than 1500 exhibitors from 52 countries, out of which 71 per cent of exhibitors are from outside the UK. It will have 150 aircraft at display and is expected to see a footfall of around 150,000. The 2016 edition of the show had 82 of the top 100 aerospace companies participating and placed orders and commitments of around USD 124 Billion.
PREVIEW
Aviation giant Boeing is expected to arrive with a bang with the introduction of the 797, their new small twin-aisle aircraft, at the airshow. The Boeing VP Marketing, Randy Tinseth has reportedly confirmed that the 797 design is complete but the manufacturing plan needs more work. The aviation giant is also reportedly lining up cargo jet deals following their deal to sell 24 air cargo freighters to FedEx. The company is also set to showcase their concept for a hypersonic plane that could travel from Australia to Europe in just five hours.
Meanwhile Saudia, the Saudi Arabian Airlines, is expected to order about 20 Boeing wide body aircraft at Farnborough Airshow, according to weekly business magazine Arabian Business. Though the buzz is around the airline's interest in the superjumbo A380 but the Boeing 777X aircraft is also a strong choice.
European plane maker Airbus is also expected to use this opportunity to improve their mediocre spell. The company delivered only 303 planes in the first half of 2018, 76 A320neo planes and 34 of the larger A321neo, because of issues from engine suppliers for the single-aisle A320neo. The muchawaited C Series aircraft can also foresee major developments. Airbus has a majority stake in this joint venture with Bombardier for these jets. Airbus CEO Tom Enders reportedly said that "you will see the first results in the next couple of weeks as we go to Farnborough." There's also been talks about changing the C Series model names, CS100 and CS300, in accordance to Airbus' naming scheme. The production of the C Series for the American markets is set to commence in 2019 with the deliveries kicking off a year later.
In light of the recent Trump administration sanctions, Airbus is likely to be looking to bag orders at Farnborough. Especially since AirAsia has been pushing back delivery dates on its order for A330neo widebody jets to replace its older first-generation A330s. The airline is also in talks with Boeing regarding procuring the 787-10 jet as an alternative and a decision is expected later this year.
Ethiopian Airlines is also expected to narrow down on possible orders for Boeing 787 Dreamliner and smaller CSeries or Embraer E2 jets at the Farnborough air show as confirmed by the airline's chief executive Tewolde Gebremariam to Reuters.
Bombardier will also showcase a CRJ900 painted in Delta Air Lines' colours and equipped with the new Atmosphere cabin. The jet is among the 20 CRJ900s ordered by the airline, making Delta Airlines the first to receive an Atmosphere-equipped CRJ. So far, a mock-up of the new cabin has been public. The latest model has overhead bins on one side that are 50 per cent bigger than previous first-class cabin and also has a one-by-two seat layout. The bins in the economy class are also 40 per cent larger. The new cabin has a larger entranceway and includes a wheelchair-accessible lavatory apart from translucent cabin dividers, LED lights and in-seat electric power.
Talking about bigger cabins, Qatar Executive, the private aircraft charter division of Qatar Airways will also debut its Gulfstream G500. The jet is the first unit from a 2014 order for 30 Gulfstream business jets, including the larger, longer range model G600 and the flagship G650ER.
FLYING IN A DIFFERENT LEAGUE
Pal-V Liberty, world's first production flying car will also be on display at the airshow and is touted to be the star attraction. In development since 2001 by the Dutch company Pal V, Liberty is a three-wheeled automobile that converts into a two-seat gyroplane within 10 minutes.
According to luxury lifestyle magazine Robb Report, the Liberty will be cleared for takeoff by global aviation and transportation authorities by 2020, and the deliveries will begin shortly thereafter. It is available in two models: the fully loaded Liberty Pioneer Edition and the base model Liberty Sport. The magazine reports "a maximum speed of just under 100 mph in driving mode and a zero-to-60-mph time of less than 9 seconds. In flying mode, both will have a high cruising speed of nearly 100 mph and a range of about 250 miles with two people aboard and 310 miles with just a pilot. Pal-V recommends a runway—paved or level grass—of at least 900 feet for takeoff and a 100-foot strip for landing."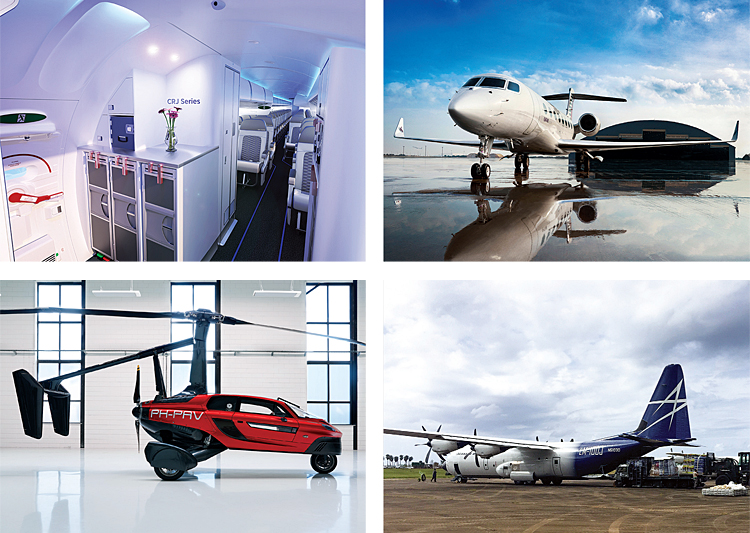 (Top) Delta Air Lines becomes launch operator of Atmosphere cabin with new order for 20 Bombardier CRJ900; Qatar Executive will display its Gulfstream G650ER along with other jets; (Above) Pal-V Liberty, world's first production flying car will be on display at the airshow; Lockheed Martin's LM-100J will also be on display at FIA 2018.
The real-life Iron Man, Richard Browning, will also jet in Farnborough. Browning will be flying above the runway in a jet suit that can produce 144 kg of thrust. The suit is made from small jet engines that are mounted on each arm and behind the back.
IN LIGHT OF THE RECENT TRUMP ADMINISTRATION SANCTIONS, AIRBUS IS LIKELY TO BE LOOKING TO BAG ORDERS AT FARNBOROUGH
Farnborough Airshow (FIA) is known for showcasing an excellent mix of commercial jets, cargo planes, fighter jets, military transport aircraft and UAVs to the latest aviation technologies. This year, from July 16-22, industry, users and members of the public will gather to view the latest in this eclectic combine of aircraft and aerospace technologies.
AEROSPACE 4.0
A host of companies will demonstrate how they can incorporate digital technologies into aerospace manufacturing. Concepts such as big data, 3D printing, mobile and edge computing, augmented reality, machine learning, and the internet of things (IoT) to make production cheaper will be addressed. Aerospace 4.0 will have a dedicated exhibition hall showcasing hundreds of innovative products and additions throughout the week.
CARGO VILLAGE
For the first time, a Cargo Village will be set up at the Farnborough Airshow as a dedicated static display area with around 20 exhibitors to carry out demonstrations and showcase capabilities in the air cargo sector. It will also host the 'New Routes to Market – The Future of Unmanned Aircraft' panel discussion.
FLYING DISPLAYS
The current restrictions on aerobatics will apply. A spokesperson for FIA said while the Red Arrows will conduct a fly past, there will be no aerobatics this year.