"Our strategy is to remain focused on bringing the 'new feeling of flying' to all our customers and continue finding various ways to do it." In a candid interview Sanjiv Kapoor, Chief Strategy and Commercial Officer, Vistara talks to Jayant Baranwal, Editor-in-Chief of SP's AirBuz. He adds: "Our approach to the market, as may be visible, is to bring back the charm of flying with a new-age outlook. At Vistara, just like any other start-up, we're fearless of taking risks or experimenting, which forms a company-wide culture of fostering innovation. This perspective has led to many industry-first initiatives. Whether it is pioneering the Premium Economy class in India or introducing the country's first and fastest frequent flyer programme, it is clear that our thought-process is different."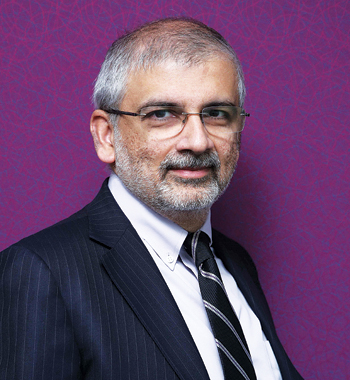 Sanjiv Kapoor, Chief Strategy and Commercial Officer, Vistara
PROFILE
Sanjiv Kapoor is the Chief Strategy and Commercial Officer at Vistara (TATA SIA Airlines Limited, a joint venture between Tata Sons and Singapore Airlines Ltd). In his role, he is responsible for the commercial success of the airline. He spearheads a wide portfolio of Vistara's commercial and planning functions, including strategy development, network planning, pricing and revenue management, sales and distribution, product development, branding, marketing and customer experience. He is also responsible for in-flight services and ground operations.
Sanjiv has over 20 years of experience in the airline industry, having worked with airlines in Asia, Europe, and the US in leadership and advisory positions. His last assignment was as the Chief Operating Officer at SpiceJet Limited.
Sanjiv is a graduate from Dartmouth College, USA with an MBA from the Wharton School of the University of Pennsylvania. His previous employers include Northwest Airlines, Bain and Company, Temasek Holdings (Singapore), GMG Airlines, and the BCG (Boston Consulting Group).
A native of Kolkata, Sanjiv presently lives in Gurgaon with his wife and two children.
SP's AirBuz (SP's): At Vistara, there are two legacies involved: Tata Group and Singapore Airlines. How easy or difficult it is to live up to the level of expectations given the histories of these two legacies?
Sanjiv Kapoor (Kapoor): Vistara is a fine manifestation of a long cherished dream of its two parent companies. Vistara's biggest strength is its enviable lineage of Tata Sons and Singapore Airlines, two global conglomerates respected for the highest standards of service excellence, hospitality and customer-centricity. While Vistara has inherited its values from both its parents, it stands with pride to have a distinctive culture of its own as an organisation. Simply put, we embrace the traditions and cultures of our parent companies and decorate them our way. And, when such strong ethos is upheld, the expectations from Vistara are always high, not just from our customers, but also from our parent companies. They believe in nothing, but the best, and that is naturally part of Vistara's DNA as well. That's why we train our staff to not blindly stick to the rule books, because we understand that response to human emotions and sentiments cannot be transactional or calculated always. Our frontline staff is trained to follow the mantra of 'do the right by the customer' and be intuitively thoughtful. It's as simple as that. Before Vistara entered the market, flying had become a chore for millions of travellers, and it only meant transportation from Point A to B, lacking the excitement associated with air travel. As a full service carrier, Vistara endeavours to transform that sentiment, and so all our efforts revolve around delighting our customers in every small or big way. We call this 'the new feeling' of flying.
SP's: What exactly is the USP of Vistara?
Kapoor: Vistara is unique in so many different ways. First, we're an extraordinary start-up. Typically, the start-up culture isn't something that one would associate with an airline formed by Tata and Singapore Airlines, but the beauty of Vistara's culture is that it blends heritage and novelty. Secondly, our approach to the market, as may be visible, is to bring back the charm of flying with a new-age outlook. At Vistara, just like any other start-up, we're fearless of taking risks or experimenting, which forms a companywide culture of fostering innovation. This perspective has led to many industry-first initiatives. Whether it is pioneering the Premium Economy class in India or introducing the country's first and fastest frequent flyer programme, it is clear that our thoughtprocess is different. Apart from several product and service differentiators, I'd just like to say that our intent and our point of view is our USP, which eventually helps us strike the right chord with the evolving travellers and global citizens of today. In the service industry, details do matter, and we take care of them. We believe in taking care of the small things for the big ones to fall in place.
SP's: In 2006, Kingfisher did come up with full-frill airline equipped with even inflight entertainment. Around that time, the airline was overwhelmingly received well. However, for some unknown/dicey reasons India lost the continuity of this airline. Afterwards we saw an ocean of growth of low-cost carriers in terms of numbers and the market share. Do you think today market in India is able to welcome a full-frill airline like yours whole-heartedly and there is a sustained or rather growing demand of a full-frill airline?
Kapoor: India is already the world's third largest domestic aviation market that flies more than 100 million passengers every year, and the opportunities for the sector only multiply from here. As India's middle-class continues to rise and air travel increasingly becomes more accessible to people beyond the major cities, we observe a significant increase in demand for finer experiences – flying is definitely one of them. Today's travellers' view travelling as an important contributor to their personal growth, and not just a luxury. While much of the market is price sensitive, there is a growing segment that tends to choose experiences over 'things', as they gain more affluence especially in a rapidly developing economy. They value a seamless and personalised travel experience that complements their evolved lifestyles, and are happily willing to pay a little extra for a lot more, as the market is now driven by value-for-money. Vistara, hence, is a popular choice among such travellers, as they feel empowered with more choice and flexibility with our differentiated products.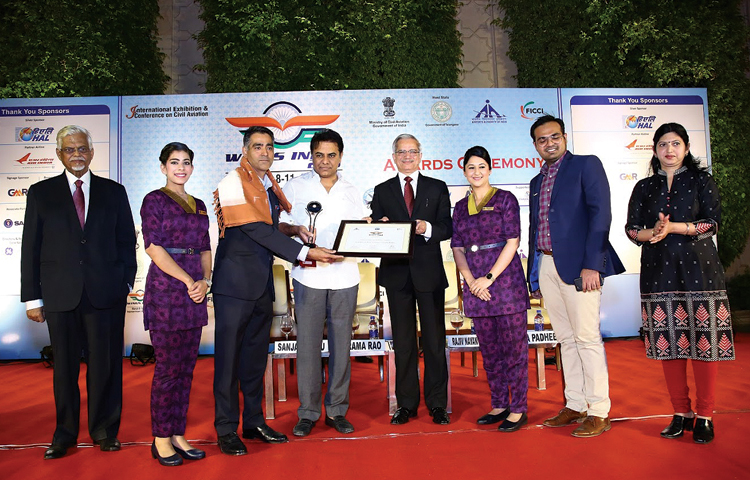 The Vistara team receives the award for the 'Most Passenger Friendly Airline' in India from Telangana IT and Industries Minister K.T. Rama Rao at the Wings India 2018 awards held in Hyderabad.
We see a clear demand in India for a better flying experience and we aim to bring in best global practices driven by innovation, integrated processes and technology. Our strategy is to remain focused on bringing the 'new feeling of flying' to all our customers and continue finding various ways to do it.
SP's: What is the size of your current fleet? What is it going to look like for next five and next 10 years?
Kapoor: At present, Vistara has a fleet of 20 aircraft, including 13 A320ceo and 7 A320neo. We expect to add two more aircraft to our fleet by June 2018 in preparation of the launch of our international operations. At present, we are reviewing the type of aircraft we'll need to support our future international expansion plans.
SP's: What kind of expansion plans do you have, also to cater to international operations you seem to be going ahead in a big way?
Kapoor: We are gearing up to launch our international operations in the second half of this year with destinations within the flying range of our existing fleet of A320 aircraft. We will continue to keep a sharp focus on the expansion of our domestic footprint in order to scale up our operations on both fronts. We also plan to start operating regional short-haul routes medium haul routes (between 5-9 hours) after launching the regional short-haul routes.
'WE ARE GEARING UP TO LAUNCH OUR INTERNATIONAL OPERATIONS IN THE SECOND HALF OF THIS YEAR WITH DESTINATIONS WITHIN THE FLYING RANGE OF OUR EXISTING FLEET OF A320 AIRCRAFT. WE WILL CONTINUE TO KEEP A SHARP FOCUS ON THE EXPANSION OF OUR DOMESTIC FOOTPRINT IN ORDER TO SCALE UP OUR OPERATIONS ON BOTH FRONTS.'
In preparation of our international operations, we're establishing partnerships with international airlines to be able to offer our customers an extended worldwide network through codeshare, interline and through check-in agreements. We already have 24 interline/through check-in partnerships with leading global airlines, as well as a codeshare agreement with Singapore Airlines and SilkAir. We will continue to explore more potential opportunities as we spread our wings further.
SP's: Domestically, you seem to have lesser number of frequencies for certain destinations. How do you plan to address these limitations?
Kapoor: The number one feedback we at Vistara get from customers and the general public is that we need to grow our network and fly to more places. That is something that we are keen to do too, and will do at a pace that can be absorbed by airport capacity growth. The two largest airlines in India alone control over 55 per cent of the slots in the six metro airports, and we are keen to get our fair share of slots so that customers can have more competition, quality, and choice when it comes to flying, and so that more people can experience the Vistara difference!
'WE VIEW THE CIVIL AVIATION POLICY AS PROGRESSIVE, PRO-BUSINESS AND PRO-CONSUMER, WHICH WILL SIGNIFICANTLY FUEL THE GROWTH OF THE INDUSTRY OVER THE NEXT FEW YEARS'
Having said that, in a short span of three years and with amidst infrastructural constraints, we have grown our network significantly. With a limited scale and size, we fly to 22 destinations across India and operate more than 730 flights a week. The government's vision of handling a billion trips a year reflects its focus on expanding capacity across airports, and makes us very hopeful of being able to further grow at a healthy pace.
SP's: Which all international destinations you plan to cater to, in first phase? Presumably during the second half of this year?
Kapoor: In the first phase we plan to operate to select routes that are within the range of our A320 aircraft, which means routes within about 4 hours flying time of India.
SP's: How do you find the civil aviation policy of the government of India?
Kapoor: The aviation landscape in India is very challenging and competitive. The opportunity is massive and there is great potential for growth. At the same time, the industry grapples with several issues, such as inadequate airport infrastructure, runway shortage, slot constraints, crowded terminals, high cost of aviation fuel and state taxes, high parking cost among other challenges. The new civil aviation policy (NCAP) duly recognises some of these challenges and the stakeholders across the aviation ecosystem are working together towards addressing them under the government's guidance. We view the civil aviation policy as progressive, pro-business and pro-consumer, which will significantly fuel the growth of the industry over the next few years.
SP's: Do you see any connect with the regional connectivity (RCS) scheme of the government of India? If yes, what your plans could be?
Kapoor: At present, we don't have any plan to operate under RCS simply because we don't have the right type of aircraft required to support the initiative. However, we are in the midst of chalking out our growth plan for the next five years, and we do not rule out the possibility of inducting aircraft that could operate RCS routes.
SP's: Internationally, with the scheduled operators whether Qantas or to ANA to Emirates, we do see the induction/fleet of even business jets to meet some specific market requirements. Do you think Vistara will be open to such potentials too?
Kapoor: We do not have any such plans at the moment.
SP's: Around what time you will take to reach the level of global leaders in airline industry, say within first four or so?
Kapoor: Vistara's vision from day one has been to be a global airline esteemed for its exceptional customer service, and our focus remains to be that. With a relatively smaller scale and size, Vistara has etched a unique space for itself in the domestic market, and our approach to going global will be the same in essence. Being recognised with numerous 'best in industry awards' and be known as the best airline in the country by several organisations mirrors our passion for delighting customers. As long as we're able to do that, we're confident of hitting a sweet spot beyond the Indian borders as well.
SP's: You indeed are the emerging leader in the India's commercial aviation market. Would you like to comment on the regulation process of Indian authorities? What kind of changes/improvements you would like to see on this front?
Kapoor: It is important to remember that India has some of the lowest average airfares and highest costs, especially fuel costs, airport fees, and taxes, in the world. Due to the operating environment, maintenance costs for airframes and engines also tend to be high. It is a tough place for the airline industry. Volatility in fuel prices combined with the high tax on aviation turbine fuel and other related issues continue to challenge the sector. While some states such as Andhra Pradesh, Telangana and West Bengal have lowered the state tax on ATF, several others still have not, which remains to be a cause of concern for airlines. Airlines face heavy tax burden in India, including those for overnight parking charges and global distribution systems. High airport charges, levy of development fees and intervention in pricing by the regulator hamper the success of any airline. India is a price sensitive market and price is often the main determinant of demand. In such a scenario, high airport charges limit passenger demand which is then captured by other modes of transport.
'BESIDES, HAVING LOWER CHARGES, MANY COMPETING GLOBAL AIRPORTS ENCOURAGE ENTRY AIRLINES BY OFFERING INCENTIVES FOR LAUNCHING NEW ROUTES OR MULTIPLYING FREQUENCY. THIS IS AN APPROACH THAT IS NOT ACTIVELY CARRIED OUT BY MOST INDIAN AIRPORTS.'
An analysis by airport operators reveals that some of India's metro airports are relatively more expensive when compared to major hubs in the region such as Singapore and Dubai. Besides, having lower charges, many competing global airports encourage entry airlines by offering incentives for launching new routes or multiplying frequency. This is an approach that is not actively carried out by most Indian airports.
We are happy that some of these issues are being duly addressed by the respective government bodies and that airlines' viewpoints are being considered to make amendments or in devising new regimes. We are committed to contributing to India's aviation growth story, and will support the government in bringing about necessary changes.