Nearly a decade since its inauguration in May 2008, Kempegowda International Airport (KIA) or Bangalore airport is today India's third busiest. The airport handled 25.04 million passengers in 2017, recording a growth of 12.9 per cent YoY. It is connected to over 60 destinations within the country and globally by 43 scheduled carriers. Registering a growth of of 20 per cent in 2017 over the previous year, it is also the fastest growing airport, globally. In an exclusive interview to Manish Pant of SP's AirBuz, Javed Malik, Chief Operating Officer of Bangalore International Airport (BIAL), the public-private consortium that operates it, says that on completion of the second terminal in 2021, the airport's handling capacity would exceed 65 million passengers per annum (MPPA). Efforts are also underway to create connectivity to destinations in East & North-East Asia and Africa.
Brief Profile of Javed Malik
Javed Malik, COO, Bangalore International Airport Ltd (BIAL) is a seasoned aviation executive and has served in various leadership roles in airlines, ground handling and airport operations. As COO for BIAL, he is tasked with ensuring operational excellence at the existing airport as well as help in building and developing the new terminal and runway. He is focused on bringing a customer-centric and digitally enabled airport user experience to life and on driving innovation across the entire airport ecosystem.
Prior to joining BIAL, Malik spent over 22 years at Qatar Airways, British Airways and WFS (one of the world's largest ground handlers) across sales, operations, customer experience and IT systems. In his previous assignments, he did stints in Australia, Thailand, Singapore, Hong Kong, Mainland China, Middle East and the UK.
SP's AirBuz (SP's): You cater to a metropolis that is not only India's undisputed IT hub, but of late has also emerged as a leading start-up centre. Tell us how you are using technology to enhance passenger experience at KIA?
Javed Malik (Malik): Customer experience is a key driver for all our technology-led initiatives. At Bangalore International Airport (BIAL), we are constantly working towards simplifying the passenger travel experience through the introduction of various technologies deployed at our airport. Ultimately, we aim to offer passengers a natural, easy experience, while they transit through KIA. We are already witnessing many adoptions in this space.
We are committed to a futuristic and innovative vision of a 'Smart Airport', or a digitalised, seamlessly connected, intuitive airport. BIAL's ambitious plan to transform the Bangalore airport into a Smart Airport is strongly supported by its thrust on digital technologies that include internet- of-things (IoT), people, services and data. As the outcome of a tie-up with Accenture, Bangalore airport will tap into a variety of new and emerging technologies, creating a roadmap for a digital and technologically forward airport. The pilot projects for pioneering initiatives such as Aadhar-enabled boarding to enable quicker passenger verification and deployment of automatic tray retrieval system for faster baggage clearance were first run at the Bangalore airport. Through various digital initiatives, the airport constantly engages with its customers, providing integrated services across various touch points.
More specifically, the Bangalore airport uses technology to manage growth and ensure efficiency. This is the outcome of the deployment of technology across processes. The intent is to provide all passengers enhanced levels of service making use of that ecosystem. Bangalore airport was among the first in the country to offer our airline partners a plug and play model. When the airport became operational in 2008, some of the path breaking services included common user check-in for all airlines (CUTE), common user self-check-in (CUSS), baggage reconciliation (BRS), among others. During the enhancement of the terminal in 2013, we had a very clear focus to take technology to the next level, with sustainability being a key operational factor.
Going forward, with the development of new infrastructure that will create a larger airport, every effort is being made to include enabling technologies to the extent possible as well as ensure that there is scope for adoption of new technologies.
According to Centre for Asia Pacific Aviation (CAPA) India, availability of slots at BIAL is becoming tighter, while congestion is becoming increasingly visible in the terminal and access roads. Since the traffic growth has been faster than anticipated, what are some of the important amendments that you have made to your proposed expansion that commences this year?
Bangalore's economy continues to be on the growth path, mostly due to the high quality of talent available in the city. Consequently, Bangalore Airport is experiencing huge demand. Anticipating growth in passenger traffic, work on the second runway–New South Parallel Runway –is underway and scheduled to be ready by late 2019. The new runway will have CAT III B instrument landing system (ILS) to enable it to cater to all types of aircraft, including the A380, in all weather conditions. This will also have an associated parallel taxiway, two cross field taxiways on the east connecting the new runway to the existing north runway and Teriminal-1 (T-1) apron.
Initial work on Terminal-2 (T-2) which began in 2017 will escalate this year, with 2021 as the target for completion. Designed by US architecture firm Skidmore, Owings & Merrill (SOM), T-2 will be constructed in two phases: the first, which will cater to 25 million passengers annually (MPA), while the second phase of the project will add another 20 million passenger-capacity. It is estimated that on completion of T2, BLR Airport's overall capacity would breach the 65 million-mark.
While work on the larger infrastructure continues, we are constantly upgrading the existing terminal and runway with additional bus bays, gates, rapid exit taxiways (RET), additional parking, etc., for optimal use of space and to ensure that the passenger experience continues to be superlative.
SP's: Unavailability of landing and parking slots at Mumbai and Chennai airports has reportedly worked in Bangalore's favour. It is already AirAsia India's first base. How aggressive are you about pitching it as the primary gateway into the region to other carriers?
Malik: Bengaluru attracts a large amount of investment in the fields of IT, machinery, BPO, biotechnology, medical tourism and educational institutions. With the added advantage of geographical positioning, KIA has seen phenomenal growth over the past few years. A growth of 20 percent YoY positions this airport not only as India's third largest and South India's busiest, but also the fastest growing airport, globally.
Air travel is largely dependent on the macro-economic factors of a country. Resurgent growth translates into the need for new routes and addition of aircraft to the existing base. Domestic passenger traffic at Bangalore airport is witnessing a surge, which vastly surpasses its international traffic, creating a huge opportunity to increase global connectivity. We are working towards achieving this growth through a multi-pronged approach. While proactively engaging with the state government on the one hand, BIAL is also actively involved in implementing changes to existing air service agreements (ASA), making it conducive for airlines to deploy flights through a prism of risk mitigation, thereby establishing a win-win partnership with them. The introduction of digitally advanced, innovative services and products at the airport ensures that airline partners have the advantage of future forward technologies, in a seamless operating environment.
MANAGING OPERATIONS AND CUSTOMER SERVICE IN REAL TIME AND EXPANDING THE AIRPORT INFRASTRUCTURE TO MANAGE THE FAST GROWTH OF THE SECTOR ARE CRITICAL IMPERATIVES FOR ALL AIRPORTS IN INDIA TODAY
Given the prevailing economic environment, BIAL is also optimistic about domestic growth. The central government's accelerated focus on regional connectivity will propel growth by expanding routes to the hinterland. The year 2017 brought significant development in the growth of BIAL's international network plan. Currently, our concerted efforts are targeted toward seven to eight global markets, including East & North-East Asia and Africa, with the aim to create connectivity to these destinations over the next three to four years. The identified markets have shown positive growth over the last year and a detailed study of these routes looks very promising. While there may be a few challenges, BIAL is very positive about tapping these markets. Ultimately, our aim is to enable the expansion of Bangalore airport as a gateway to India.
SP's: You have also finalised the blueprint for the significant expansion of your cargo infrastructure. What are some of the main highlights of the programme?
Malik: As the world's second-largest start-up ecosystem, fuelled by IT and ITES sectors and to a certain extent, the manufacturing industry, Bengaluru has witnessed rapid growth as one of the major contributors to India's spectacular economic growth. Bangalore Airport has contributed to the growth of the southern region. The cargo business at Bangalore Airport contributes 11 per cent of Karnataka's GDP (approximately 12,500 billion), which is substantially higher than the global average of 2-3 per cent. Besides improving connectivity, BIAL's concerted effort has also been to strengthen its cargo operations combined with road feeder network, transport infrastructure and geographical location support.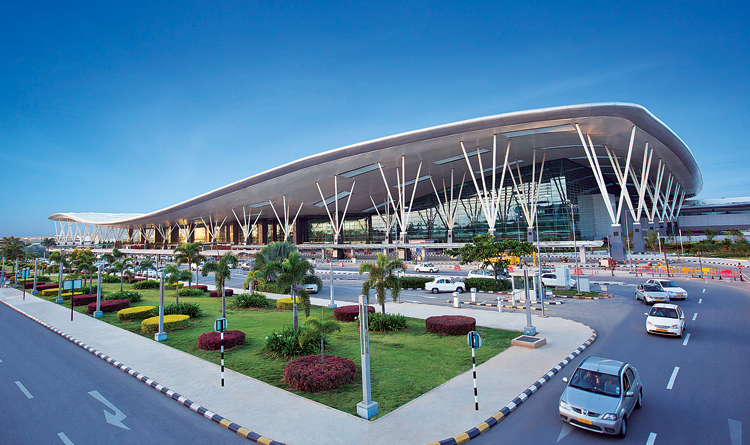 View of Kempegowda International Airport terminal in Bengaluru
To sustain this growth in the long term, BIAL continues to enhance and build on its world-class infrastructure, standards and best practices ensuring that they consistently raise the bar in easing the movement of goods and products to and from South India. With seven dedicated freighter aircraft bays and facilities to handle a wide range of goods, including life-saving drugs and temperature-controlled products, Bangalore airport has made its mark in efficiency, speed and introduction of new initiatives. The present design capacity of the combined cargo terminals is at 350,000 million tonnes (MT), catering to both international and domestic air cargo traffic, with the option to scale up infrastructure and support systems, as and when required.
Besides seeing incremental growth in the overall business, 2017 saw the introduction of a bonded trucking service that connects Coimbatore and Tirupur to Bangalore airport via road. The airport also accounts for highest exports of roses and mangos in their respective peak seasons from South India.
In terms of immediate expansion, we are working on a courier terminal that is expected to become operational in 2019.
SP's: BIAL is also looking at developing a free trade area (FTA) or a special economic zone (SEZ) at the site. As a concept, this would be among the first in the country. What are some of the industries that you might want to be a part of this opportunity?
Malik: The creation of an FTA or SEZ on the campus is an effort to make the airport a cargo hub for the region. While we have identified and earmarked the area for this and begun discussions with various government bodies, as with any project of this magnitude a feasibility study will be conducted before any work begins.
SP's: Despite the recommendations made in the National Civil Aviation Policy (NCAP), 2016, the maintenance, repair and overhaul (MRO) is one area where it is said that things haven't moved much on the ground. Is BIAL making any special efforts to also position Bengaluru as an important MRO hub in the country?
Malik: Bangalore airport has a robust vision to achieve our business plan. Our road map envisages a comprehensive set of activities for the proposed MRO facility. Given the strategic location of our airport, it serves additional advantage for becoming an MRO hub. While we have the intention to set up an MRO, it is still early days.
SP's: How are you going about ensuring specific as well as adequate infrastructure for general aviation in view of the demands of that industry?
Malik: We aim to be the engine of economic growth for the region by connecting Bengaluru to the world and evolving into a central business district (CBD). The master plan of the airport has been created for holistic airport development and we are implementing it in a phased manner to ensure there is no inconvenience caused to passengers. The airport is growing at a phenomenal rate, serving over 25 million passengers, annually. With the surge in traffic there is an immediate need to expand the existing facility.
Until the second terminal is ready, we are expanding the current facility to cater to nearly 85,000 passengers who travel through the airport each day. We have already embarked on the plan for T-2, which is expected to be ready in 2021, and the second runway, which will be operational in December 2019. A comprehensive review of the master plan has been completed. Once T-2 is completed in two phases, Bangalore airport will have the capacity to handle 65 MPPA. We envisage a seamless expansion in size and capacity of the airport facilities over the next 10 to 15 years, based on the projections for passenger and cargo growth.
SP's: Airport operators in India often express concerns over the shortage of skilled manpower. What are your own views on the subject?
Malik: Bangalore Airport is a greenfield airport built on the PPP model. Our ecosystem is a mix of aviation, infrastructure, retail and hospitality sectors. Thus, the talent across our ecosystem is hired from public sector as well as other industries. Managing operations and customer service in real time and expanding the airport infrastructure to manage the fast growth of the sector are critical imperatives for all airports in India today.
Experienced talent for airport operations and development is scarce given the specific nature of the job as well as regulatory requirements. We compete for talent globally. BIAL's philosophy is to mould our internal teams to rise to the requirement and, subsequently, acquire external talent on a need basis. We also work with various skill development councils to identify, develop and nurture talent.
SP's: Given the disruptions that are happening across industries due to increasing use of big data analytics and artificial intelligence, do you foresee any transformation in the profile of manpower employed at airports going forward?
Malik: Technology will serve to enhance our business, rather than disrupt it. I believe that while the introduction of digital technologies will simplify the travel experience and reduce human interaction, this will not be at the cost of manpower.
At the core of our business lies a service mindset that requires human interaction; we are an "airport that cares". Bangalore Airport will continue to operate in an advanced environment with continuous human intervention.