As all the airliners are procured from abroad, it is the airlines' economic models, operations and marketing strategies to attract and retain customers, are factors that make the difference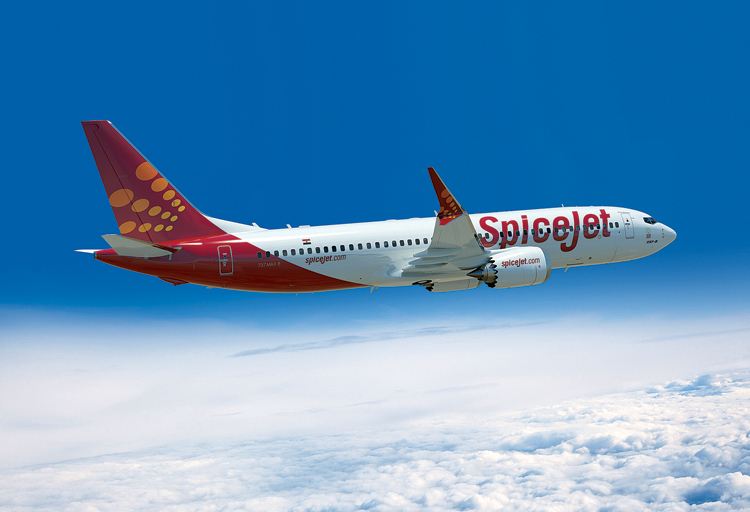 SpiceJet is also exploring the feasibility of launching last mile connectivity by introducing amphibious aircraft
It is amazing to note that India has 13 scheduled airline operators. As per statistics on the website of the Directorate General of Civil Aviation (DGCA), in 2017, 81.5 per cent of the air passengers in the domestic segment, patronised four major airlines. 39.6 per cent of the travelers flew IndiGo, 15.4 per cent patronised Jet Airways, Air India's share was 13.3 per cent and SpiceJet had 13.2 per cent of the market share. AirAsia did well by cornering 3.5 per cent of the market share. It can be seen that most of the operators are almost neck-on-neck in the race for market share. As all the airliners are procured from abroad, it is the airlines' economic models, operations and marketing strategies to attract and retain customers, are factors that make the difference. Hence, it will be interesting to study their operational differentials that set these airlines apart.
OPERATIONS
As per its annual report 2016-17, SpiceJet turned itself around by leveraging its strengths, punctuality, ensuring 90 per cent occupancy, apart from inculcating corporate citizenship and fraternity in its staff. It deployed Boeings on long-haul as well as to Tier-I and -II destinations. For short haul flights to some Tier-II and -III destinations, it deployed Bombardier aircraft to optimise financial surpluses. SpiceJet targets the youth, corporates and builds brand awareness while ensuring customer retention through data analysis and offering ancillary services. Thus, its cost-per-ticket sale is less owing to repeat sales. It attempts to enhance its share in sectors where it is strong. This airline has recently got three years exclusive flying rights to small towns under the UDAN scheme and also concentrates on international flying. SpiceJet optimised its route based revenue and expenditure too. At one time, it even offered a daily charter flight to ferry soldiers between Srinagar and Delhi. This was an excellent venture.
Air India connects to even the remotest corner of the country. Hence, it has some limited revenue generating routes too. However, it is under the process of rationalisation of certain loss-making routes to reduce its expenses. It prides itself on its flawless safety and MRO capability as also availability of standby aircraft. As per its annual report for 2013-14, the airline is easing out its old machines that incur high maintenance costs. It has introduced modern aircraft such as the Boeing 787 Dreamliner to thrill its patrons and deploying the same on international and popular long duration flights in India. This is indeed a pragmatic decision that also offers a wow factor to go with it as it appeases its customers. The airline uses Quickwin IT solutions, SAP-ERP software throughout its network to optimise its resource deployment, expenditure reduction and fund control. Air India has recently resorted to lease back system of its aircraft, especially, the Boeing 787. It bought these aircraft and then resold them to a vendor who further leased them back to the airline for a period of 12 years. This strategy will cost the airline more comprehensively; but its capital outgo at one instant is avoided. Air India has established an Air India Engineering Service as a subsidiary to infuse efficiency in its operations. This entity can also offer its services to other users too, to increase its revenues.
AIRASIA INDIA, WHICH IS ONE OF THE SMALLEST LOW-COST CARRIERS, DRAWS STRENGTH FROM ITS ABILITY TO REDUCE COSTS AS ALSO INCREASE ITS REVENUES BY SCALING UP
As per its annual report for the year 2016-17, IndiGo prides itself on low-cost, courteousness, customer-friendly flight schedules and punctuality. It obtained favorable rates as it placed bulk orders for aircraft. The airline prefers to fly its aircraft till the end of their useful life, but, simultaneously states, that it keeps a young fleet to reduce maintenance costs, which is strange. It prefers young staff from small towns and gives wider representation to women. IndiGo targets the growing middle class, leverages the UDAN scheme and the economic growth of the country to increase sales. It has a nominated risk management committee to check losses.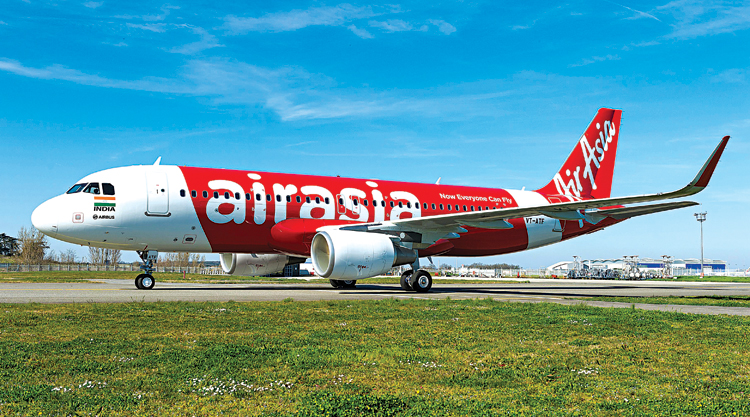 AirAsia India with a fleet of 30 aircraft, is also becoming a reckonable player
AirAsia India with a fleet of 30 aircraft, is also becoming a reckonable player. It positions itself as an airline for fun loving Asian youth. AirAsia India, which is one of the smallest low-cost carriers, draws strength from its ability to reduce costs as also increase its revenues by scaling up. This airline in its annual report for the year 2016 articulates that a mere acquisition of two additional aircraft in 2016, enabled it to enjoy a 56 per cent increase in capacity. AirAsia has increased its ancillary services-based revenues too by introducing choice seat selection, meals, merchandise and wifi facilities. It intends to enhance the spectrum of its marketable services and merchandise to increase its revenues. With a fleet of eight aircraft in 2016, AirAsia carried 25 lakh passengers operating on 15 routes and got three percent share of domestic and ten percent international passenger traffic.
As per GoAir's annual report for 2016-17, it had placed an order for 144, A320neo airliners. It has already received five machines for $200 million. This airline stresses on fuel saving and risk management. It opts to reduce all-up weight of its aircraft by optimising the on-board water quantity for passengers and reducing in-flight magazine. This is so because additional weight on account of these two items, does not fetch incremental revenues, but does consume extra fuel increasing operating cost. The airline uses external power source when on tarmac instead of its onboard auxiliary power unit to cut fuel consumption. It believes in keeping the aircraft on ground for the minimum possible time to save on opportunity costs and airport parking charges. Fuel is also saved by exploiting single-engine taxiing, executing core engine and external wash of the airplane as also the use of E-tugs for luggage at select airports to save on fuel costs.
FINANCE
SpiceJet prides itself as a lowcost airline and hires staff with associated exposure. This ensures cost optimisation and a financial surplus. SpiceJet is also exploring the feasibility of launching last mile connectivity by introducing amphibious aircraft. It has conducted trials in Guwahati and Nagpur. In order to broad base its revenues, SpiceJet has launched SpiceStyle fashion venture to generate new revenue streams and offer a unique experience to its patrons. It also optimised fuel costs by hedging and direct import for self consumption and for sale at opportune moments. This company renegotiated MRO and other outsourcing contracts to reduce cash outflows and ushered in maximum in-house work. It reduced costs by training their staff through subsidised distance learning courses on multi-tasking in multidimensional realms. Such things do reduce costs; but the efficiency reduces. SpiceJet's thrust on succession planning ensured that the chosen policies continued with the new staff. SpiceJet is indeed a company that has recovered from being a loss-making venture with innovation and strategy changes.
AIR INDIA HAS A FINANCIAL RESTRUCTURING AND A TURNAROUND PLAN IN PLACE TO IMPROVE FINANCIAL AND OPERATIONAL EFFICIENCIES
Air India is returning some of its ageing leased machines to eliminate high maintenance expenditure. Air India is also reducing its contractual employment and outsourced agency work to cut costs. It has also established a fuel council headed by a fuel manager who analyses the fuel consumption on each flight. After all, additional fuel burnt is money burnt and lost profit. Air India has gone a step ahead by implementation of IATA recommendations on Fuel Efficiency Gap Analysis to decrease its bottom lines. It also has a financial restructuring and a turnaround plan in place to improve financial and operational efficiencies.
IndiGo realises that extra weight on board costs money. Hence, it has done away with in-flight entertainment and other non essential items to reduce all-up weight. Furthermore, to reduce fuel expenditure, IndiGo flies at optimum cruising speeds, follows a continuous descent approach to land, does not use onboard auxiliary power units, but ground-based equipment and uses one engine while taxiing.
GoAir serves 23 destinations. In the year 2016-17, 93.62 per cent of its revenue came from passengers. The airline saw a decline of 58.7 per cent in forex earnings in 2016-17 over the previous year and an increase in forex outgo by 15.13 per cent for the same period under reference. GoAir has a risk evaluation and management approach. The airline identifies the risks, analyses and prioritises them, formulates and launches the risk mitigation plan.
MARKETING
SpiceJet competes on the basis of its low ticket costs. It encourages onboard sale of merchandise, preferred seating, cargo, cab and lounge facilities to attract customers. This airline offers light, heavy, handbag only and additional leg room options along with fixed and flexible flying date choices to attract customers. It also offers premium check in, car and hotel tie ups to attract and retain flyers.
Air India has become a part of the elite star alliance code share agreement. As per their annual report, this alliance fetches them additional revenue of up to four per cent apart from getting flyers of other associated airlines. The loyalty based mileage points of their patrons can be redeemed within the star alliance partners on lounges and flights. Air India also offers corporate packages. This airline has launched an aggressive sales and marketing strategy to attract additional passengers, cargo and excess baggage options for revenue generation. It has even set up a separate cell to attract government traffic apart from offering apex fares for leave travel concessions available to the government servants. This airline offers free companion schemes, preferred agent partnership, web booking and holiday packages to attract customers.
AirAsia established an air bridge between Bengaluru and Guwahati. It attracted the people of that area who are used to air travel within the Northeast by offering direct flight between their home state and Bengaluru. The airline offers typical Indian cuisine onboard as a means to attract customers.
GoAir uses its website, self-check in facility, communication through face book and twitter to speed up ticketing process and also reduces human interface-related costs and problems. It uses cloud for data-based work. Hence, its sales process can be handled from diverse locations. Thus it's ticketing time and per-ticket sale cost goes down.
TECHNOLOGY TRENDS
Air India and SpiceJet have started data mining to retain customers and ensure a resell. SpiceJet plans to introduce artificial intelligence to analyse its customer database and offer a new experience to them to enhance their sales. Air India analyses each aircraft's flight fuel consumption database and plans optimum aircraft deployment to minimise operating costs.
IndiGo uses software, digital maps, weather data and traffic congestion data to carry minimum fuel on board and plans the best route to minimise costs. It uses lighter seats to reduce all-up weight apart from sharklets on wings, aero engines Select One technology for aerodynamic efficiency that reduces fuel consumption.
AirAsia has a unique advantage of its multinational presence. It draws on the diverse databases of passenger preferences of its Asian clients and offers its customers new, thrilling experience to enhance its market share.
Several airlines are contemplating offering onboard internet services. It involves installing receivers that reduce available revenue generating capacity and power. Moreover, such installations need approval of the original equipment manufacturer and from the DGCA. Such equipment will depend on satellites to acquire internet data which will be costly. However, the airline that provides internet facilities first on its long-haul flights will get a clear advantage.
Navstik Labs, Pune has produced Nanopilot, a navigation and control module that reduces the all-up weight by miniaturisation of components. A company named Intech – DMLS has introduced 3D printers to provide aeronautical components in situ, eliminating the need to incur stocking cost and loss of shelf life. All these developments reduce costs that results in increased profitability.
Airlines today are vying with one another to offer the most thrilling customised flying experience in air travel while offering last meter connectivity and pampering to the customer's need for merchandise to woo them for repeat sales.