India has great potential in the civil aviation domain,but the need exists for the establishment to seriously address some of the impediments to India achieving a podium position globally
The year gone by saw a lot of bustle in Indian civil aviation sector. A report by the International Air Transport Association (IATA) released at the beginning of this year, declared that Indian domestic market had posted the fastest full-year growth rate of 17.5 per cent in the world in terms of Revenue Passenger Kilometres (RPK) for the third consecutive year running albeit with the sobering caveat that the overall rate had slowed down as compared to the previous year. The predominant factors helping India in this direction have been the dominance of the low fare model, low fuel costs, ambitious plans of airlines in terms of aircraft acquisition, the cut throat competition in air ticket pricing and ongoing government efforts to increase the number of city pairs connected by air through a Regional Connectivity Scheme (RCS).
GROWTH OF THE INDUSTRY
India is now the third largest domestic aviation market in the world and is projected by international consulting entities to become the overall third largest aviation market within the next decade or less. The growing spending power of the middle class and the emergence of the low-cost model as the predominant one since Air Deccan's meteoric rise in 2003, have provided strong impetus to the airline industry, domestic and international. The total number of passengers carried by domestic airlines during January 2018 was 114.65 lakh, a growth of 19.69 per cent over January 2017. Airlines have been registering high Passenger Load Factors (PLFs) with SpiceJet having achieved over 90 per cent PLF for 34 consecutive months. IndiGo, GoAir and JetLite have also been enjoying PLFs of close to 90 per cent. In terms of market share, IndiGo leads at 39.7 per cent, followed by Jet Airways (14.3 per cent), Air India (13.3 percent), SpiceJet (12.6 per cent), and GoAir (9.6 per cent). The smaller shares are AirAsia India at 4.3 per cent, followed by Vistara (3.6 per cent), JetLite per cent (2.3 per cent) and Trujet (0.3 per cent). The overall cancellation rate for domestic airlines is just over one percent, but the On Time Performance (OTP) figures are depressing with IndiGo leading at an abysmal 75.4 per cent. Perhaps the OTP figures are a reflection of the infrastructure woes that afflict Indian civil aviation. With the restriction on five years of domestic operations before flying international having been waived, the only requirement now is to own 20 aircraft to be eligible. With IndiGo, SpiceJet, GoAir, Jet Airways and Air India already qualifying and others striving hard to achieve the 20 aircraft fleet strength, international operations by Indian carriers can be expected to pick up pace rapidly. IndiGo and SpiceJet have already announced plans to induct long-haul aircraft in the near future while Jet Airways and Air India already fly long-haul flights.
REGIONAL AVIATION
Various policies by Directorate General of Civil Aviation (DGCA) since 1994 to promote regional and remote area connectivity including a Route Dispersal Guideline issued in 2007, have had unimpressive results. The NDA government brought out a Regional Connectivity Scheme (RCS) as part of the New Civil Aviation Policy in 2016 bringing about motivational guidelines to incentivise flights to unserved and underserved airports. Launched with fanfare, the scheme used the catchphrase Ude Desh Ka Aam Nagraik (UDAN) and, in its first stage, awarded 128 RCS routes involving 31 unserved airports, 12 underserved airports and 27 functioning airports. Theoretically, 13 lakh seats per year were to be added as a result. However, UDAN has remained stunted; a large number of the air routes were awarded to Air Odisha and Air Deccan, which have largely failed to begin regional operations. The first Air Odisha flight took off only in February this year! National airlines were roped in to participate in RCS thus leading to a watering down of the basic policy of having smaller regional operators and subsidising their operations. In the second stage, 325 routes were awarded to 17 operators including SpiceJet (20), IndiGo (20) and Jet Airways (4). 70 per cent (31 out of 56 cities) will be served by helicopters. The subsidy cost of the second phase of UDAN will be around 620 crore for 325 routes as compared to first round that required 213 crore for 128 routes. Major Indian airline operators have placed orders for additional aircraft, IndiGo for 50 new ATR72 and SpiceJet for 50 Bombardier Q400 planes. However, neither of these are ideal for RCS. Short Take Off and Landing (STOL) aircraft with up to 20 seats would be more aligned with the spirit of UDAN. The long distance of most airports from the small towns they serve, is another impediment to UDAN's growth. As an illustration, the subsidised fare on the Delhi-Shimla air route is just over 2,000; but the cab fare from the airport to the town exceeds that figure. The general consensus at the moment is that UDAN is yet to takeoff meaningfully. Another depressing aspect of UDAN is that the flights will have to connect Tier-II/III city airports to others in the same category as the metros have no time or place for them.
GENERAL AVIATION
Growth of general aviation, the step child of Indian civil aviation, has been stunted due to regulatory policies and is constantly trying to struggle to keep afloat. In this regard, the unswerving endeavours of Business Aircraft Operators Association (BAOA) to sensitise the Ministry of Civil Aviation (MoCA) and the DGCA about the problems being faced not just by business aviation, but by general aviation as a whole, have been of immense benefit to all stakeholders in the general aviation space. A mind-set of the establishment eyeing general aviation as a luxury rather than a contributor to economic growth needs to change before general aviation can exploit its full potential.
IMPEDIMENTS EXPLOITING THE POTENTIAL
Geographically, India is suitable for becoming an international aviation hub. Moreover, growing spending power of the middle class has fuelled outbound tourism. However, some factors inhibit the exploitation of the full potential of Indian aviation. One major factor is that the infrastructure growth is not commensurate with the domestic airline proliferation. The metros are already distended to full capacity. Mumbai recently touched 980 arrivals and landings in a single 24 hour period. Other metros are also reaching saturation point rapidly and according to one projection, the largest forty of Indian airports are likely to exceed their designed traffic handling capability within the next decade or so. Thus the domestic air passenger growth is likely to plateau out in the near future. There are safety implications too in the overcrowding of airports with air traffic management issues aggravating to the problem.
A MIND-SET OF THE ESTABLISHMENT EYEING GENERAL AVIATION AS A LUXURY RATHER THAN A CONTRIBUTOR TO ECONOMIC GROWTH NEEDS TO CHANGE BEFORE GENERAL AVIATION CAN EXPLOIT ITS FULL POTENTIAL
Sadly, the DGCA is short of qualified staff and lacks the basic respect it should have commanded amongst civil aviation stakeholders. It is headed by a generalist with little knowledge of aviation matters. The MoCA also has no aviation specialist with professional standing and knowledge on its rolls. For two decades, there has been a proposal for replacement of the DGCA by a Civil Aviation Authority (CAA) with complete autonomy and financial powers; but this is yet to be implemented.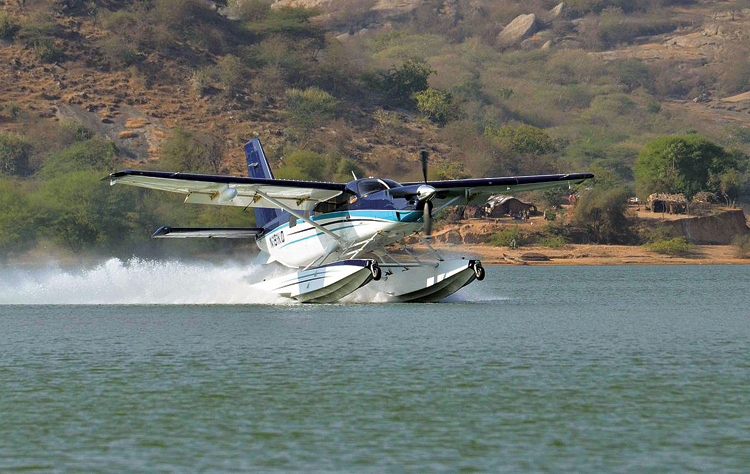 Seaplanes will contribute to regional connectivity especially in coastal areas and towns near large water bodies
The Finance Minister's recent budget speech mentioned that the government was developing 56 unserved airports and that the government intended to bring Indian airports tally from the present 124 to five times that number. However, financial experts point out that the budgetary allocation for this purpose was inadequate. Importance is also being given to seaplane operations with Union Minister Nitin Gadkari reportedly stating that India was aiming for 10,000 seaplanes. That figure appears to be an incredible one, but seaplanes will contribute to regional connectivity especially in coastal areas and towns near large water bodies. The privatisation of Air India is expected to brighten up the scheduled airline space as some of the bilateral air services agreements that were mismanaged by Air India could come back to Indian carriers, most of whom are raring to jump on to the international flights bandwagon. Telecom Regulatory Authority of India has recommended that telephony and internet services be permitted for all flights in Indian air space and that will make Indian aviation more attractive. A huge fillip could be given to civil aviation if the long standing demand of the industry to place aviation fuel under the gambit of declared goods is met. Perhaps there was an opportunity to meet that demand somewhat by including it under the GST regime. For the time being, that opportunity appears to have been squandered.
SADLY, THE DGCA IS SHORT OF QUALIFIED STAFF AND LACKS THE BASIC RESPECT IT SHOULD HAVE COMMANDED AMONGST CIVIL AVIATION STAKEHOLDERS
To conclude, India has great potential in the civil aviation domain but a need exists for the establishment to seriously address some of the impediments to India achieving a podium position globally. If that does not happen, it is quite possible that in a year or two, Indian civil aviation will plateau out. Re-launching it will take much more effort than giving it the required push now.