With addition of heli-services in the scheme, UDAN is going to make journeys to the hills much faster and comfortable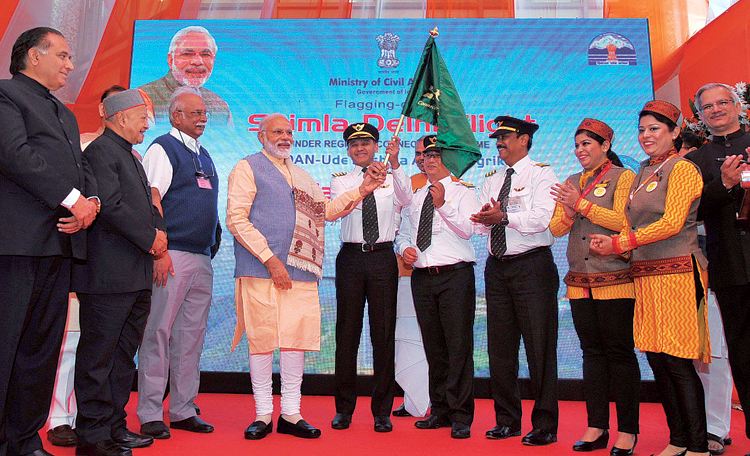 The Prime Minister Narendra Modi launching the UDAN RCS for Civil Aviation by flagging-off the first UDAN flight from Shimla on April 27, 2017. The Union
On January 24, 2018, the Ministry of Civil Aviation (MoCA) crossed another milestone in its efforts to bring the smaller cities of India on the aviation map. Minister of Civil Aviation P. Ashok Gajapathi Raju, along with Minister of State (MoS) Jayant Sinha, awarded the contracts for the second round of Regional Connectivity Scheme (RCS) UDAN. Speaking on the occasion, Gajapathi Raju said, "Udan-II has addressed the problem of air connectivity in the difficult areas which are basically areas with hilly tracks, where road connectivity is low or probably has no train connectivity. We will connect 29 unserved airports, 13 underserved airports to 36 served airports and 31 helipads."
He also stated that in the initial round, proposals for 48 RCS routes and for 50 RCS routes in the counter bidding round, were without Viability Gap Funding (VGF). "This tells us that probably the scheme is getting the desired results and will not require any form of subsidy after sometime and is moving towards self sustainability," the Minister added. In the first round of the scheme, 128 regional routes were awarded to five airlines – Alliance Air, SpiceJet, Turbo Megha Airways (TruJet), Air Odisha and Air Deccan (Deccan Charters).
UDAN – Ude Desh Ka Aam Naagrik – Regional Connectivity Scheme (RCS) of the MoCA was launched by the Minister of Civil Aviation P. Gajapathi Raju on October 21, 2016, and had immediately commenced the e-bidding process to select airline operators for mounting RCS operations. This innovative scheme aims to create affordable yet economically viable flights on regional unserved or underserved routes. It is a market-based scheme in which airlines bid for seat subsidies.
Building upon the Minister's statement, Jayant Sinha, in his opening statement, said, "UDAN-I was outstandingly successful." On the first round of the scheme, Jayant Sinha said that with about 30 new airports and funding of about 213 crore, the scheme had already demonstrated a real revolution in regional connectivity. "In UDAN-II, not only have we built on that tremendous start, we have in fact enhanced it even more. So, in 16 months of UDAN, we are going to have 56 unserved airports and 31 unserved helipads that are going to be added to the aviation network. In UDAN-II we have 29 airports, in addition to the airports we had in UDAN-I, as well as 31 helipads that are going to be added to the aviation network." Expressing his pleasure on the success of the scheme, Jayant Sinha said, "This is an astounding increase in the regional connectivity and really demonstrate the revolution aviation is turning out to be for the people of this country." The proposals with lowest VGF were selected.
The Scheme
As reported earlier by SP's AirBuz, the airfare cap under RCS-UDAN for fixed-wing aircraft ranges from 1,420 for 151 km to 3,500 for above 800 km. The MoCA has signed a memorandum of understanding (MoU) on RCS-UDAN with 16 state governments/union territories to provide concessions as mentioned in the RCS scheme. The UDAN scheme offers 50 per cent subsidy to airlines on these routes, route monopoly for three years and a host of other concessions at landing airports. It expects the airlines to cap fares at 2,500 for one hour flight on regional routes. The scheme that would be funded through the Regional Connectivity Fund (RCF) created from levy of 7,500 and 8,500 charged to the airlines on a per-flight basis, could see unserved airports such as Jaisalmer, Bikaner, Jalgaon, Akola, Kunj Vihar and others being connected through scheduled flights.
THE UDAN SCHEME OFFERS 50 PER CENT SUBSIDY TO AIRLINES ON THESE ROUTES, ROUTE MONOPOLY FOR THREE YEARS AND A HOST OF OTHER CONCESSIONS AT LANDING AIRPORTS
To make it commercially viable for airlines to operate flights to these airports at fares capped at 2,500 for one hour flight, the government has committed to cover any shortfall in operational cost through VGF and has also offered a three-year exclusivity to airlines on the RCS routes. Besides these, it will also offer concessions on other services and tax relief on aviation turbine fuel (ATF) at underserved and unserved airports. The government is looking to create an RCF of 500 crore for VGF of 12 months and any shortfall would be met by Airport Authority of India (AAI), which would be later recovered through a levy. The UDAN scheme is a key component of the National Civil Aviation Policy (NCAP) which was released by the MoCA on June 15, 2016.
The UDAN-II
To expand remote area connectivity, the scheme in its second leg is focusing on the priority areas covering the States of Jammu and Kashmir, Himachal Pradesh, Uttarakhand, North Eastern Region, Andaman and Nicobar Islands and Lakshadweep Islands. In this leg of the scheme, MoCA has made provision for 'Priority RCS Route' in which at least one of the origin and destination airports is an RCS airport- underserved Airport or unserved Airport under the scheme located in priority area(s). Any airport with no more than 14 scheduled commercial flight departures per week, is known as 'Underserved Airport'. Minimum three flights in week with VGF and a maximum can go up to 14 departures per week from the same RCS Airport. RCS Flights are operated on at least three days of the week. The Priority RCS routes will only have Category-1A aircraft (passenger seats less than nine) will be allowed to fly on the priority RCS routes only.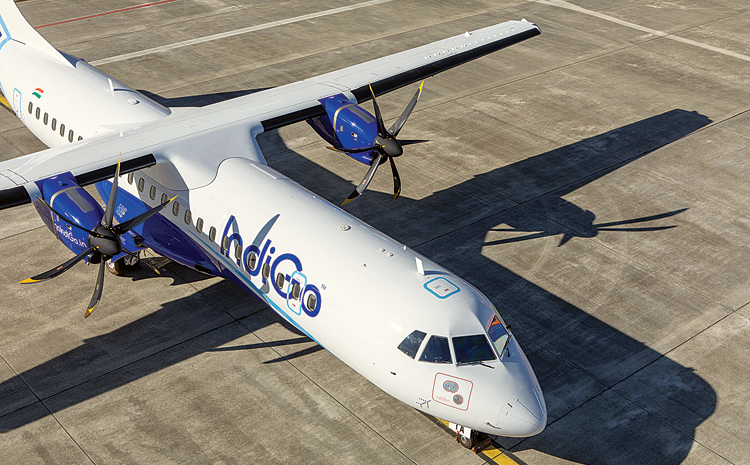 ATR 72-600 IndiGo on the ground at the ATR Delivery Centre
The highlight of the second leg is the introduction of the helicopter service on the priority areas. The number of RCS seats cannot be more than 13 in an RCS flight irrespective of the seat capacity of the helicopter. Up to ten percent of the estimated annual inflows in the RCS will be through helicopters. The second round saw 141 proposals (including 33 for helicopters) from 17 applicants. AAI, the implementing agency, has issued Letter of Awards for 90 proposals. The UDAN-II is expected to add 26,50,000 seats, through fixed-wings aircraft, to be covered by airfare cap of 2,500 for one hour of flying and around two lakh RCS seats per annum are expected to be provided through helicopter operations. The execution of these proposals will required VGF estimated at 487 crore per annum for fixed-wing operations and 130 crore per annum for helicopter operations in the priority areas.
"Till about one and a half years ago, in our country, only 76 cities were connected through schedules operations. This meant that in seventy years since independence 76 airports getting connected meant roughly adding one airport per year," Rajiv Nayan Choubey, Secretary, Civilian Aviation said. "In last one and half years of UDAN, we have suddenly added 56 more airports," he added. The Secretary also mentioned the cities which are the highlight of the project such as Kargil which will have air connectivity for the first time. Hubli, in Karnataka, is going to be connected to nine other cities in the country. The greenfield airport of Kannur in Kerala will be connected to eight cities on its inauguration. Similarly, Allahabad is getting connected to 12 cities in the country.
THE UDAN SCHEME IS A KEY COMPONENT OF THE NATIONAL CIVIL AVIATION POLICY (NCAP) WHICH WAS RELEASED BY THE MOCA ON JUNE 15, 2016
The Government has approved a grant of 4,500 crore for the upgrade or revival of airports in India. Currently, under UDAN-I, around 25 airports are being upgraded through an investment of 250 crore. The 56 unserved airports/helipads will also be covered under this scheme. To ensure flow of fund for the scheme, AAI will transfer 200 crore out of its dividend to be paid to the Government of India, directly to the RCF which will meet this year's requirements for the scheme. The same exercise will be carried out in the next financial year so that there is no additional burden on the airlines or passengers. For the next financial year the requirement for the scheme is around 500 crore. Government has decided that no airlines will be allowed to be out of pocket on the account of VGF not being released.
Since the flagging off of the first UDAN flight under RCS on Shimla-Delhi sector by Prime Minister Narendra Modi, on April 27, 2017, flights under UDAN-I have commenced from 16 RCS airports namely, Agra, Bhatinda, Gwalior, Kadapa, Kandla, Ludhiana, Mysore, Nanded, Pondicherry, Porbandar, Ozar (Nasik), Shimla, Vidyanagar, Bikaner, Jaisalmer and Jalgaon. Simultaneously, Prime Minister Modi also flagged off the inaugural UDAN flights on Kadapa–Hyderabad and Nanded-Hyderabad sectors. Airline will have to start their services within six months for all the locations awarded under UDAN-I except for the airports which are undergoing or requiring expansion.
Airports/Helipads in Priority Areas
S.N.
State/UT
Helipad/Airport (Underserved/Unserved)
Arunachal Pradesh

Daparizo
Itanagar
Passighat (FW)
Tezu (FW)
Walong
Yinghiong
Tuting
Ziro

Assam

Jorhat (FW)
Lilabari (FW)
Nagaon
Rupsi (FW)
Tezpur (FW)

Himachal Pradesh

Kasauli
Manali
Mandi
NathpaJhakri
Rampur
Shimla

Jammu and Kashmir
Manipur

Jiribam
Moreh
Parbung
Tamenglong
Thanlon

Sikkim

27
28
29
30
31
32
33
34
35
36
37
38
39
40
41

Uttarakhand

Almora
Chinyali Saur
Dharchula
Gaucher
Haldwani
Haridwar
Joshimath
Mussoorie
Nainital
New Tehri
Pithoragarh
Pithoragarh (FW)
Ramnagar
Sahastradhara
Srinagar
24 unserved helipads
7 unserved airport through helicopter
2 unserved airports (Teju and Passighat) through helicopter/fixed wing
1 underserved airport (Shimla) through helicopter
3 underserved airports (Jorhat, Lilabari, Tezpur) through helicopter/fixed wing
4 unserved airports through fixed wing
Total No. of Airports/Helipads
| State | Airports/Helipads (Underserved or Unserved) |
| --- | --- |
| Arunachal Pradesh | 8 |
| Assam | 5 |
| Bihar | 1 |
| Gujarat | 3 |
| Haryana | 1 |
| Himachal Pradesh | 6 |
| Jammu and Kashmir | 1 |
| Jharkhand | 2 |
| Karnataka | 2 |
| Kerala | 1 |
| Maharashtra | 4 |
| Manipur | 5 |
| Punjab | 1 |
| Rajasthan | 4 |
| Sikkim | 1 |
| Tamil Nadu | 2 |
| Uttar Pradesh | 9 |
| Uttarakhand | 15 |
| West Bengal | 2 |
| Total | 73 |
VGF in UDAN-II
| | |
| --- | --- |
| Fixed-Wing Aircraft | 490 |
| Helicopters | 130 |
| Total | 620 |
VGF for UDAN-I – 213 crore
Total VGF (UDAN-I and II) – 833 crore
Applicants and Proposals
S.N.
Applicant
Proposals awarded:
Fixed-Wing
Proposals awarded:
Helicopter
1
Airline Allied Services Limited
4
–
2
AAA Aviation Pvt Ltd
1
–
3
Ghodawat Enterprises Pvt. Ltd.
1
–
4
Heligo Charters Pvt. Ltd
–
1
5
Heritage Aviation
4
6
6
Interglobe Aviation Ltd
20
–
7
Jet Airways India Ltd.
4
–
8
Maritime Energy Heli Air Services Pvt Ltd
1
–
9
Pawan Hans Ltd
–
11
10
Pinnacle Air Pvt Ltd
1
–
11
Skyone Airways
–
5
12
SpiceJet Ltd
17
–
13
Turbo Aviation Pvt. Ltd
2
–
14
Turbo Megha Airways Pvt Ltd
4
–
15
Zoom Air
6
–
Under Scrutiny
2
–
Sub-Total
67
23
Total
90