The credibility of UDAN is now fairly well established and once Round Two is implemented, it will add about five per cent to the total passenger trips in the country
The Union Minister for Civil Aviation P. Ashok Gajapathi Raju (right) addressing a press conference on the award of the Regional Connectivity Flight routes after first round of bidding under RCS-Udan in New Delhi on March 30, 2017. The Minister of State for Civil Aviation Jayant Sinha was also present on this occasion.
The Indian aviation industry is busy setting one record after another. After many years of being a bit player in global aviation, the country is now poised for the big stage. It is already the world's third largest domestic aviation market and will become the third largest market overall by 2020, according to some estimates, and latest by 2025, according to the International Air Transport Association (IATA). Figures from the Directorate General of Civil Aviation (DGCA) show that for the first time ever, the country's domestic carriers flew over ten million passengers in a single month – May 2017 – and repeated the feat in November 2017. The year 2017 was also the first when the 100 million passenger mark was breached – domestic traffic was 117.18 million against just 99.89 million in 2016. The National Civil Aviation Policy (NCAP) of June 2016 predicts some 300 million air travellers by 2022 and 500 million by 2027.
Besides these impressive figures, it is heartening that the passenger profile is gradually changing from the overwhelmingly bigcity types to include significant numbers from Tier-2 and Tier-3 locations that were hitherto considered commercially unattractive. This is thanks in large measure to the Regional Connectivity Scheme (RCS) also known as Ude Desh ka Aam Nagrik (UDAN), that was formally launched in October 2016.
UDAN Unveiled
The UDAN scheme that flows from the NCAP aims to speedily revive existing airports, both un-served (no flights) and underserved (that operate less than seven flights a week). A subsidized fare of 2,500 is specified for a one-hour journey on fixed-wing aircraft (half an hour on helicopters) with proportionate pricing for routes of other duration. Each flight must have a minimum of nine and maximum of 40 low-priced UDAN seats (limited to 50 per cent of the aircraft's capacity). The operator is free to fix fares for the remaining seats.
Apart from various concessions, a crucial element of the scheme is Viability Gap Funding (VGF). The central government provides 80 per cent of the VGF amount to the operator, while the states contribute the rest. The VGF corpus is partly funded through a levy of 5,000 per flight on key metro routes. In January 2018, the GST Council approved a three-year GST exemption for VGF. So far, there have been two rounds of bidding and allotment of UDAN routes. The winners, with exclusive rights to each route for three years, were those that sought the lowest VGF per seat.
Round One
In the first round, five operators were allotted 128 routes connecting 70 airports, out of which 31 were un-served and 12 were under-served. The first UDAN flight was launched in April 2017 and TruJet, Alliance Air and SpiceJet gradually commenced services. However, only 15 routes were activated by the stipulated deadline of September 30, 2017.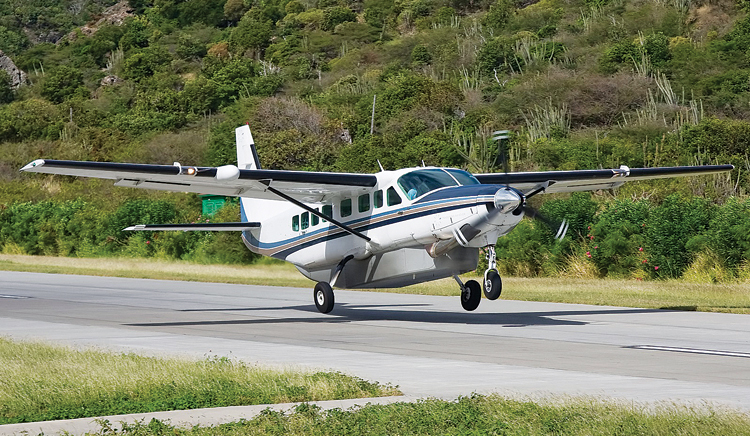 Air Odisha
Strangely enough, Air Odisha which bagged the maximum number of 50 routes and Air Deccan which got 34 were unable to takeoff. The government took a rather lenient view, ostensibly because the fault lay partly with itself for not making some of the promised airports ready in time and for failing to secure necessary operating slots particularly at Mumbai and Delhi. Subsequently, Air Deccan and Air Odisha agreed to combine operations and obtain economy of scale in order to improve efficiency. Air Deccan launched its first flight on December 23, 2017, while Air Odisha missed several deadlines and finally did so only in February 2018. They plan to operate 108 daily flights from 67 airports with a combined fleet of twelve 19-seat Beechcraft B-1900D aircraft.
THE DORNIER-228 IS THE FIRST CIVILIAN AIRCRAFT MANUFACTURED IN INDIA TO GAIN DGCA APPROVAL AND COULD CORNER A SIZEABLE SHARE OF THE REGIONAL AVIATION MARKET
As of February 1, 2018, about 40 per cent of the allotted UDAN-I routes have been activated and it is expected that the round will be completed only by the end of 2018.
Round Two
Bidding picked up significantly in the second round and on January 24, 2018, 90 proposals for 325 routes were awarded to 15 operators. Of these, 129 routes are to hilly and remote areas. The flights will connect 78 airports, of which 29 are un-served, plus as many as 31 helipads. There is a big jump in the requirement of VGF from about 213 crore per annum for Round One to almost 620 crore for Round-II. Surging oil prices which account for about 45 per cent of airlines' operational costs, could raise the VGF further.
SpiceJet participated enthusiastically in both rounds and feels that many RCS routes have significant profit potential, even with zero VGF. According to aviation analyst Amber Dubey of global consultancy KPMG, SpiceJet's is a smart strategic move that enhances its chances of winning key routes and gains for it all the fiscal and monetary benefits of UDAN. These include no airport charges and a three-year exclusive operating right on each route. This time IndiGo and Jet Airways too have been allotted RCS routes.
Small Planes Rule the Roost
One issue that is being addressed is the shortage of small aircraft suitable for regional operations. SpiceJet, with 22 Bombardier Q400 turboprops, has ordered another 25 with option for 25 more. Market leader IndiGo (39.6 per cent market share), which now logs over a thousand flights daily, has started inducting 21 new ATR-72-600 aircraft out of a term sheet of 50. Alliance Air too is adding to its fleet of 15 ATRs.
For destinations where the runway cannot take even ATRs or where passengers are insufficient, Hindustan Aeronautics Limited has just come out with a civilian version of the Dornier-228, which it manufactures under licence for military customers. It is the first civilian aircraft manufactured in India to gain DGCA approval and could corner a sizeable share of the regional aviation market on account of its indigenous origin and small size.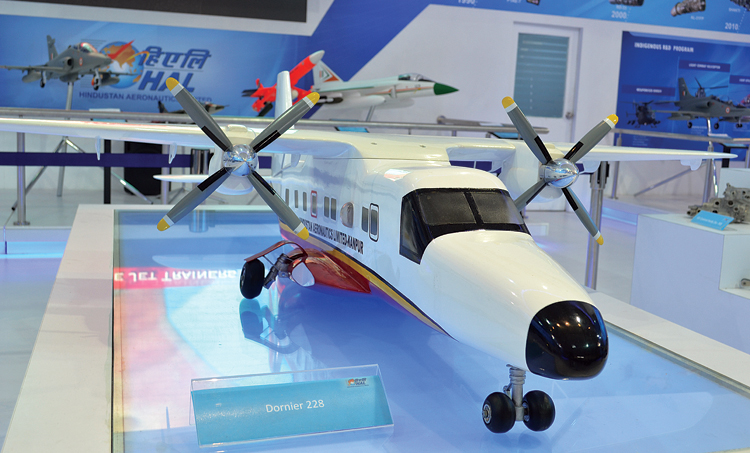 Dornier-228
SpiceJet is also exploring the possibility of amphibian planes – a first for Indian aviation. If the government can address the issue of safety clearances and identify sufficient suitable water bodies to operate seaplanes, it would open a whole new avenue for expansion of regional services. The expectations are that the first seaplane service could takeoff in a year.
Crises and Credibility
With a combined fleet of about 500 aircraft and another 920 on order, India's airline industry is growing rapidly. However, domestic air traffic growth, which reduced to 17.3 cent in 2017, could plunge to 12 per cent in 2018. The main reasons are increased airfares and the unsustainably high growth rate of 20-25 per cent in 2015 and 2016. The pricesensitive Indian market could also suffer as rising aviation turbine fuel (ATF) prices trigger another round of fare hike.
More worryingly, the next few years are expected to witness severe airport congestion. The six largest hub airports that handle around 65 per cent of air traffic are already bursting at the seams and will soon run out of bays and slots for aircraft operating under RCS. Airports are often reluctant to accommodate UDAN flights because their zero parking charges prevent them from being remunerative. Regional airlines which should be the main source of regional aviation services are also languishing, with Air Pegasus, Air Costa and Air Carnival ceasing operations since June 2016.
UDAN IS THE MOST CREDIBLE ATTEMPT YET TO TAKE AVIATION TO THE REMOTE REACHES OF THE COUNTRY AND MAKE FLYING AFFORDABLE FOR THE PERSON IN THE STREET
The government hopes to rapidly provide many no-frills airports at a cost of about 100 to 200 crore apiece and claims that against just 75 airports nationwide before UDAN, another 80 airports will be made functional in just 18 months. But bedevilled by land issues, local opposition and limited funds, some projects could get bogged down for years.
Regional aviation is one answer, albeit a partial one, to deal with the impending congestion crisis by weaning traffic away from the metros. The UDAN scheme is the most credible attempt yet to take aviation to the remote reaches of the country and make flying affordable for the person in the street.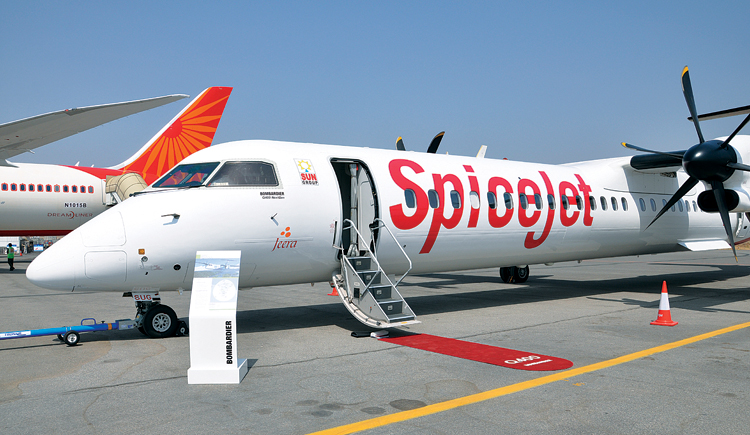 Currently, three aspects are particularly heartening. First, that helicopter operators have entered the fray, because many remote areas cannot be linked by fixed-wing flights. Second, that the major carriers are now actively involved, which gives a significant boost to the RCS. Third, that some carriers such as SpiceJet and IndiGo do not want VGF. Sooner or later, subsidies must be withdrawn and the operations need to be self-sustaining.
The credibility of UDAN is now fairly well established and once Round Two is implemented, it will add about five per cent to the total passenger trips in the country. It is a small beginning, but not bad for a scheme that has been only a year in operation.