Global aviation sector continued its good run in 2017. With economic growth across the board worldwide, lower transport costs and improved connectivity, this year proved to be yet another successful year for the airlines and the aviation industry in general. Passenger traffic grew by 7 per cent and cargo by 9 per cent showing growth at a steady pace.
While the two giants – Boeing and Airbus continued their battle to pick up substantial orders from across the globe, especially for their latest airplanes on offer, regional aircraft manufacturers like Embraer and COMAC also made significant inroads with airlines preferring to "right size" their fleets. Here is a snap-shot of the major aviation events during 2017.
JAN 2017
Boeing, SpiceJet Announce Deal for up to 205 Airplanes
Booked at the end of 2016, the announcement includes 100 new 737 MAX 8s, SpiceJet's current order for 42 MAXs, 13 additional 737 MAXs which were previously attributed to an unidentified customer on Boeing's Orders & Deliveries website, as well as purchase rights for 50 additional airplanes.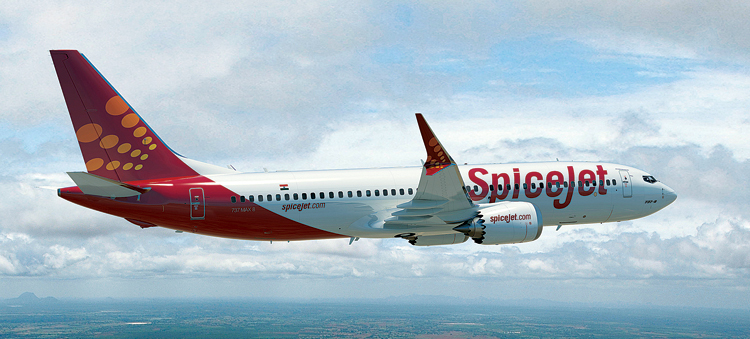 FEB 2017
Lockheed Martin Rolls Out First LM-100J Super Hercules Commercial Freighter
Lockheed Martin officially introduced the world to the latest member of the C-130J Super Hercules family: the LM-100J commercial freighter. Lockheed Martin announced its intent to manufacture and market the LM-100J in February 2014.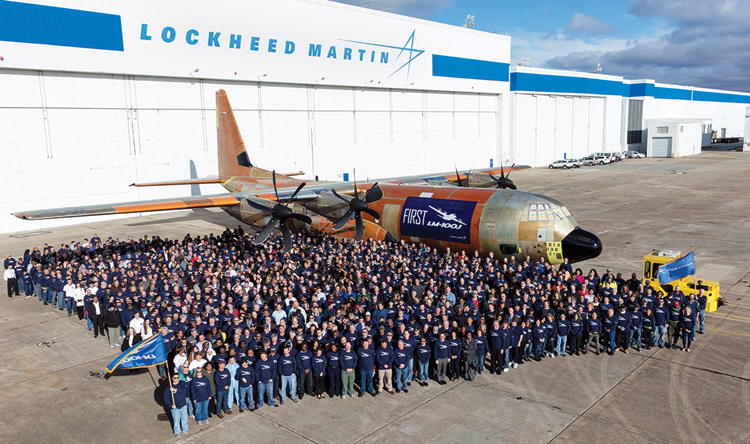 Boeing Debuts 787-10 Dreamliner
The Boeing 787-10 Dreamliner, the third member of the 787 Dreamliner family, made its debut at Boeing South Carolina. The 787-10, built exclusively at Boeing South Carolina, will now be prepared for its first flight in the coming weeks. Boeing will deliver the 787-10 to airlines in 2018. The airplane has won 149 orders from nine customers across the globe.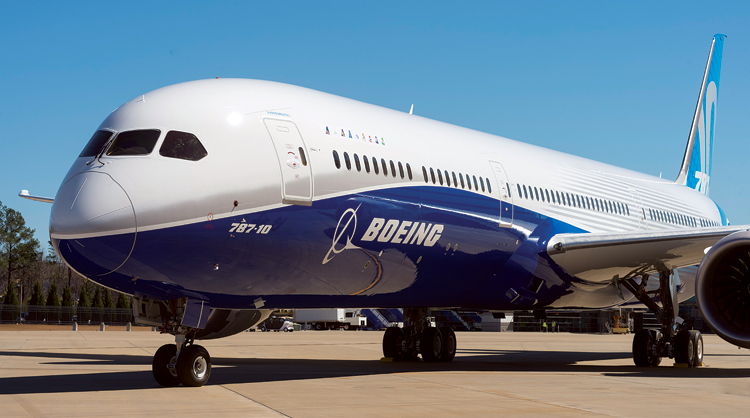 MAR 2017
Airbus A319neo takes to the skies
The first Airbus A319neo performed its maiden flight. The smallest member of the A320neo family, powered by CFM International LEAP-1A engines took off from Hamburg and landed in Toulouse after a 5 hour flight. The A319neo is the smallest member of the A320neo Family; it offers its operators superior short field performance in hot and high conditions. It can accommodate up to 160 passengers without compromise on the comfort.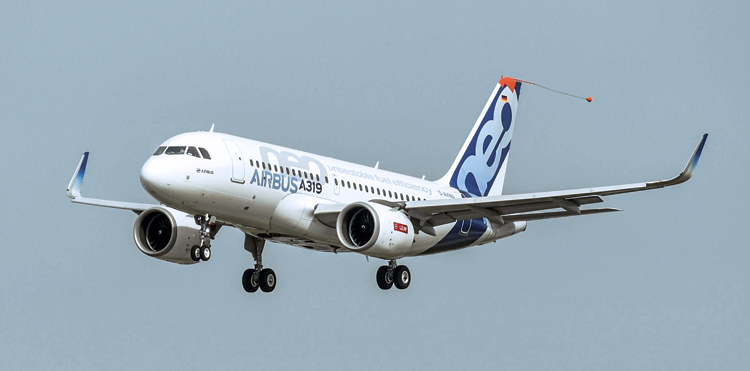 Boeing Celebrates Rollout of First 737 MAX 9
Boeing marked a milestone as the first 737 MAX 9 made its debut in front of thousands of Boeing employees. The 737 MAX 9 is the second member of Boeing's industry leading 737 MAX family, with a maximum capacity of 220 passengers and a range of 3,515 nm. The 737 MAX 9 is scheduled to enter service in 2018.
Minister for Civil Aviation Dedicates First Integrated Heliport to the Nation
After inaugurating the facility at the Rohini Heliport in Delhi, the Minister for Civil Aviation Ashok Gajapathi Raju said that the heliport was an excellent infrastructure and added that the facility will keep the cost under control as MRO facility has been incorporated.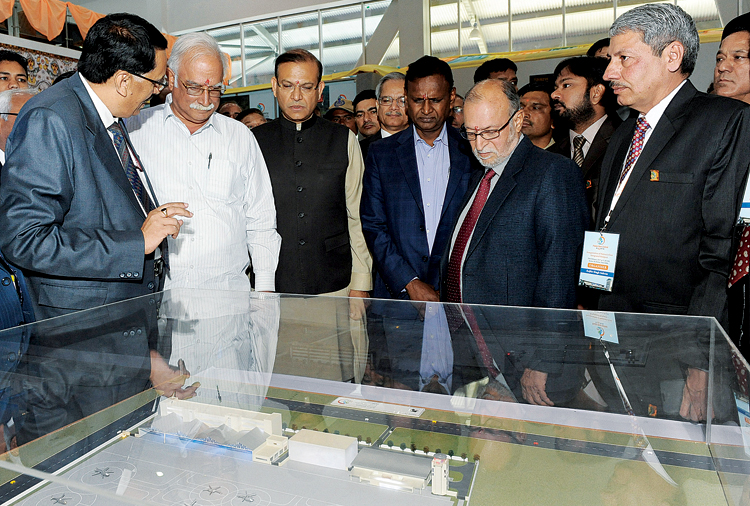 APR 2017
PM launches UDAN – Regional Connectivity Scheme for Civil Aviation
Minister Narendra Modi launched UDAN – the Regional Connectivity Scheme for civil aviation, from Shimla Airport. Mentioning the scheme name – UDAN – Ude Desh Ka Aam Naagrik – he said that the new civil aviation policy marks an opportunity to cater to the aspirations of the people of India. He said Tier-II and Tier-III cities are becoming growth engines, and enhanced aviation connectivity between them will be beneficial.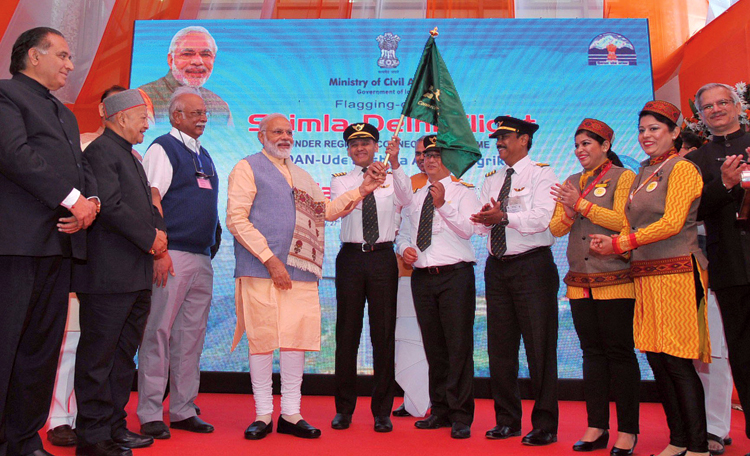 JUN 2017
Paris Air Show showcases the 'Profit Hunter'
Embraer displayed its E195-E2 as a hunter, the 'Profit Hunter' at the show. The display which was quite a unique depiction of the aircraft ability, received spectacular attention from the show visitors. The Embraer E-195-E2, the newest member of the Brazilian firm's family of regional jets and made its first international appearance in Paris decked out in a Golden Eagle livery to drive home the point that it is a 'profit hunter'.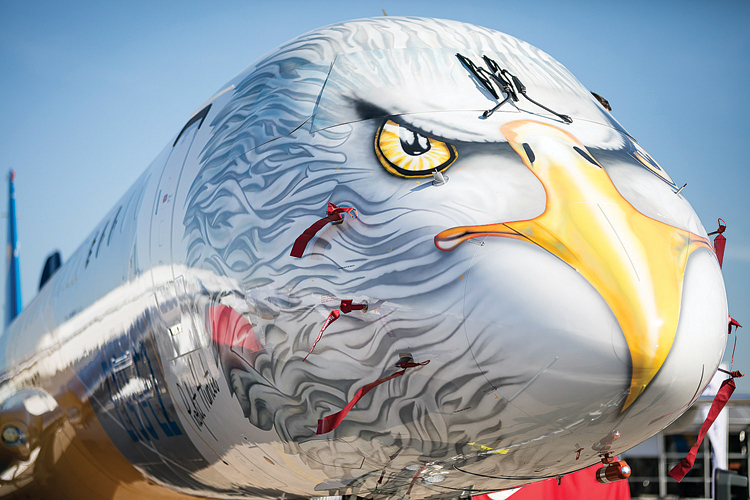 C919, the first aircraft independently developed by China, commences its maiden flight in Shanghai Pudong International Airport successfully on May 5, 2017
C919 aircraft is the first single-aisle trunk liner developed by China completely in accordance with the airworthiness standards and the prevailing market standards. C919 aircraft is designed to be the most popular 150-seat single-aisle aircraft in the air transport market. The baseline version has a standard range of 4,075 km and an extended range of 5,555 km, with seats for 158 passengers in hybrid configuration and seats for 168 passengers in all economy-class configuration.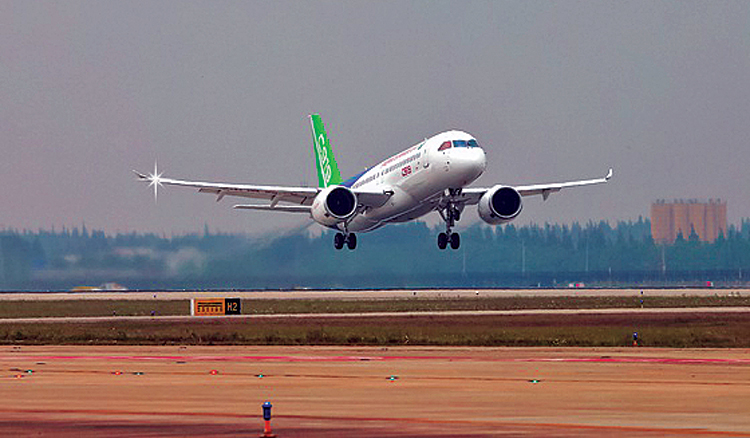 OCT 2017
President Ram Nath Kovind inaugurates the newly-built airport at Shirdi
This was followed by a commercial flight to Mumbai, operated by Alliance Air. The airport, located in Shirdi, has come as a major boon to the pilgrims. The aerodrome is owned and developed by Maharashtra Airport Development Company (MADC). Constructed at an investment of around 350 crore, including 50 crore from the Shri Saibaba Sansthan Trust, the airport, with a 2,500 metre-long runway, is capable of handling single narrow-body aircraft, such as Airbus A320 and Boeing 737s.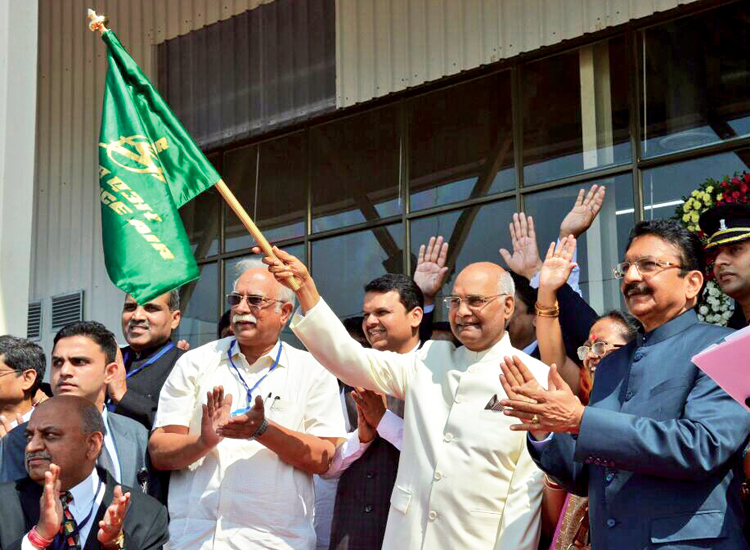 NOV 2017
Emirates welcome 100th A380 to its fleet
Emirates celebrate the milestone delivery of its 100th Airbus A380 aircraft at a special ceremony with Airbus. His Highness Sheikh Ahmed bin Saeed Al-Maktoum, Emirates' Chairman and Chief Executive officiated the ceremony. The Emirates A380 programme creates and supports manufacturing jobs across the global aircraft manufacturing supply chain. Airbus estimates that Emirates' A380 orders alone support 41,000 direct, indirect and induced jobs in Europe, including some 14,500 in Germany alone. These are high-skilled jobs and impact a high-value supply chain, creating a significant multiplier effect in the countries where Airbus has aircraft production facilities.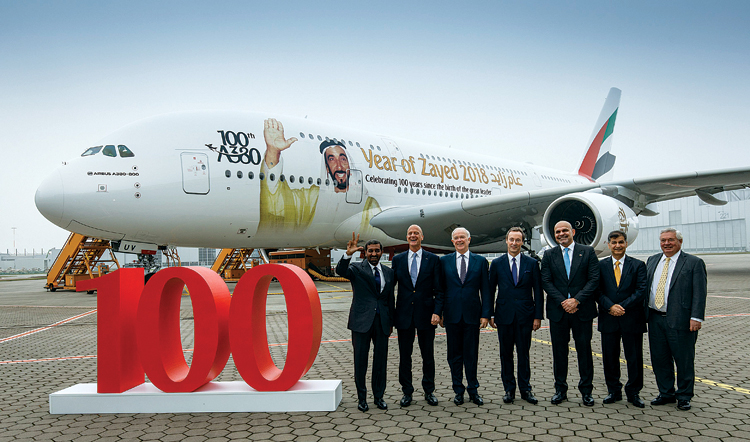 KLM Cityhopper welcomes newest Embraer 175+
KLM Cityhopper welcomed its latest Embraer 175+ at Amsterdam Airport Schiphol. This is KLC's 11th E175+, bringing the total Embraer fleet to 41, which includes 30 E190s. KLC's fleet now consists entirely of Embraer and currently has Europe's largest Embraer fleet. At the end of 2018, the KLC fleet will include no fewer than 49 aircraft built by the Brazilian manufacturer.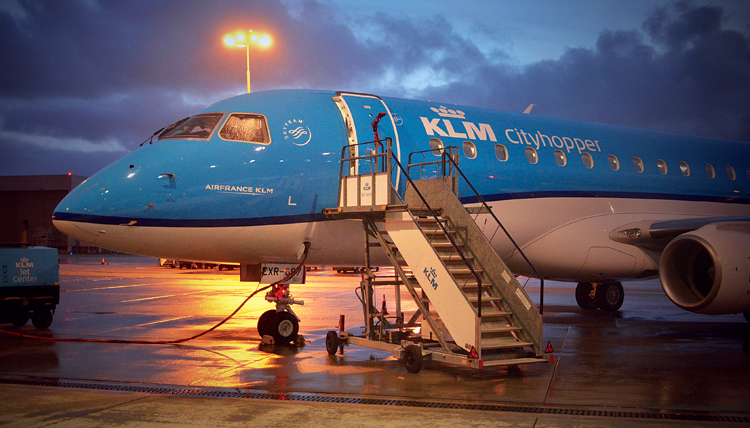 IndiGo takes delivery of its first ATR 72-600
The largest Indian carrier by market share will use its new fleet of ATR-600s to substantially expand its regional network. The airline and ATR announced earlier this year an agreement for the acquisition of 50 ATR 72-600s. This delivery represents a major step in the airline's ambitious plan to further develop its fleet with the introduction of fuel-efficient and cost-effective ATR 72-600s.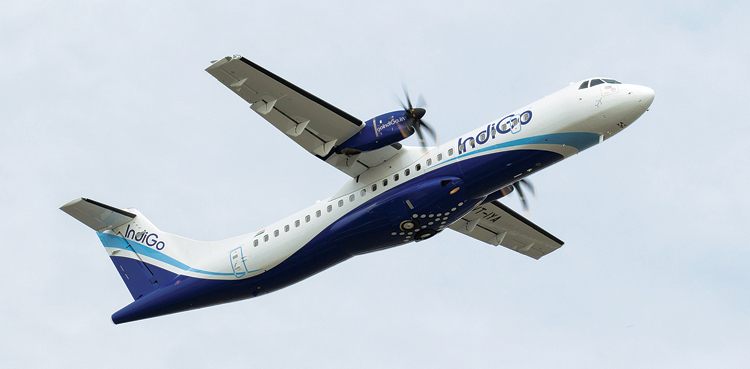 IndiGo Partners doubles existing A320neo Family order with commitment for additional 430 aircraft
Airbus, IndiGo Partners' four portfolio airlines have signed a MoU for the purchase by the four airlines of 430 additional A320neo Family aircraft. The aircraft will be allocated among the ultra low-cost airlines Frontier Airlines (United States), JetSMART (Chile), Volaris (Mexico) and Wizz Air (Hungary) upon the completion of final purchase agreements between Airbus and the four airlines. The 430-aircraft commitment, comprised of 273 A320neos and 157 A321neos worth $49.5 billion at list prices, Airbus' largest single announcement ever.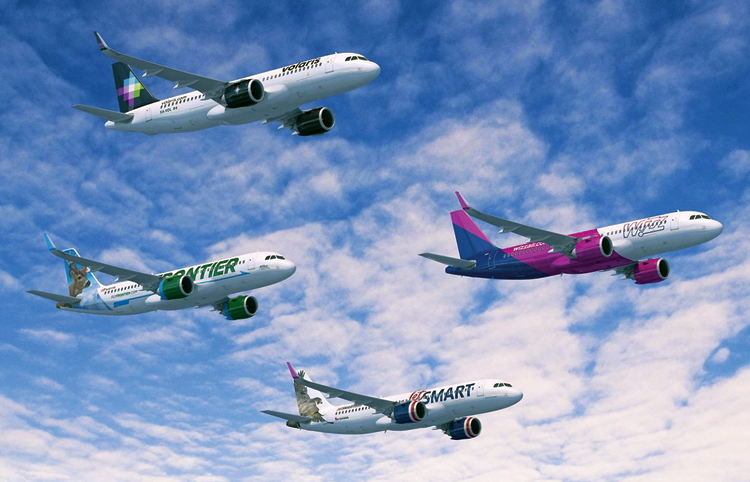 First A330-300P2F enters service with DHL
DHL Express has become the first operator to take delivery of the A330-300 Passenger-to-Freighter (P2F) converted aircraft from Elbe Flugzeugwerke (EFW), the joint venture between ST Aerospace and Airbus. DHL Express has firm orders for eight A330-300P2F units in total, with additional options to receive another 10.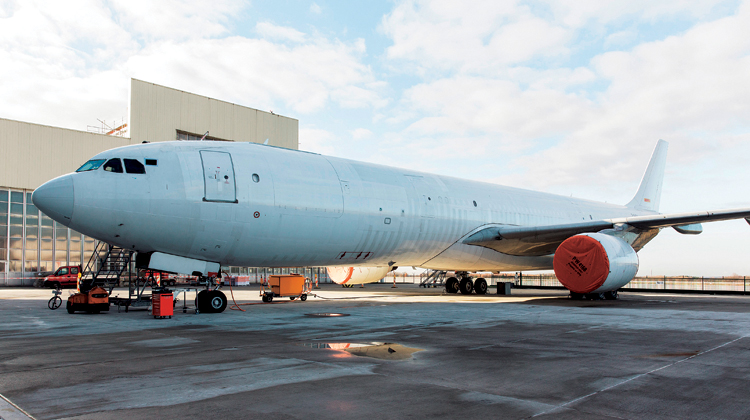 Embraer delivers 1,400th E-Jet to American Airlines
Embraer celebrates the delivery of its 1,400th E-Jet, an E175. American Airlines took delivery of this milestone aircraft and selected Envoy Air, a wholly owned subsidiary of American Airlines Group Inc., to operate the aircraft. Since American Airlines has been a customer of Embraer for nearly 20 years, subsidiary Envoy is one of the original ERJ operators and currently has over 100 ERJs in its fleet.
Textron Aviation Unveils New Large-utility Turboprop, the Cessna SkyCourier
Textron Aviation announced its new twin-engine, high-wing, large-utility turboprop –the Cessna Sky Courier 408. FedEx Express, the world's largest express transportation company and longtime Textron Aviation customer, has signed on as the launch customer for up to 100 aircraft, with an initial fleet order of 50 cargo aircraft and options for 50 more. Entry into service for the clean-sheet design Cessna SkyCourier is planned for 2020.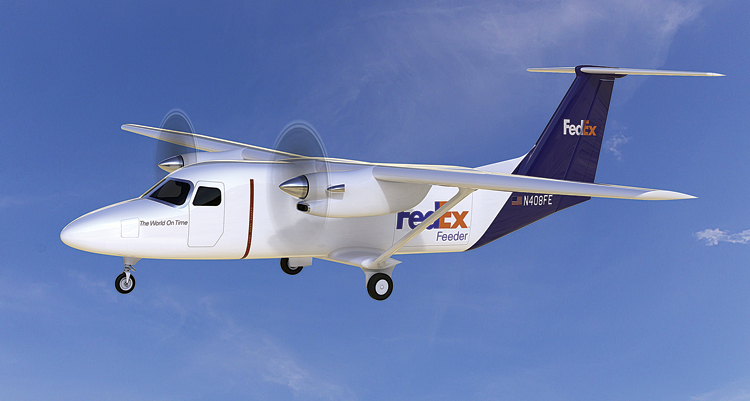 —Compiled by Rohit Goel