In the recent past, small airports, some new, some upgraded are coming up fast, thus connecting the vast hinterland of India with regional aircraft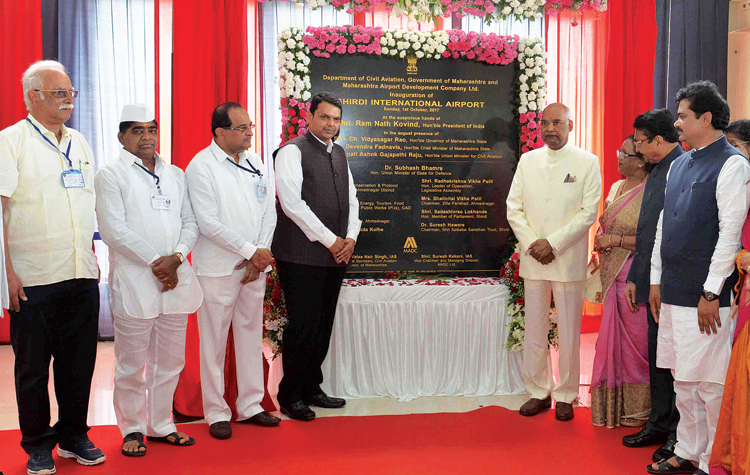 President Ram Nath Kovind inaugurates Shirdi International Airport and flags off inaugural flight from Shirdi to Mumbai
On October 1, 2017, the honourable President of India Ram Nath Kovind, inaugurated the newly-built airport at Shirdi in Maharashtra's Ahmednagar district. This was followed by a commercial flight to Mumbai, operated by Alliance Air. The airport, located in the temple town of Shirdi, has come as a major boon to the pilgrims who belong to all faiths. Air connectivity was a must and it has happened.
The aerodrome is owned and developed by Maharashtra Airport Development Company (MADC), a special purpose vehicle (SPV) to develop airports in the state. Constructed at an investment of around 350 crore, including 50 crore from the Saibaba Sansthan Trust, the airport, with a 2,500 metre long runway, is capable of handling single-aisle, narrow-body aircraft such as the Airbus A320 and the Boeing 737.
Belagavi airport operational
Earlier on September 14 this year, the upgraded Belagavi Airport under the Airports Authority of India (AAI), was inaugurated by the Karnataka Chief Minister, Siddaramaiah in the presence of the Minister of Civil Aviation, P. Ashok Gajapathi Raju. The ceremony took place in the presence of Union Minister of Chemicals & Fertilizers and Parliamentary Affairs, Ananth Kumar; the Karnataka Minister for Large and Medium Industries and Infrastructure Development, R.V. Deshpande; Karnataka, Minister of Energy, D.K. Shivakumar; Karnataka Minister for Co-operation and Belagavi District Incharge Ramesh L Jarakiholi and other dignitaries.
Belagavi is one of the 20 Indian cities to be transformed into Smart Cities in the first phase of Smart Cities Mission. The upgraded airport is part of the Smart Cities plan.Belagavi is the second capital of Government. of Karnataka having Suvarna Vidhana Soudha for the winter session of the State's Legislative Assembly. Nestled in the foothills of the Western Ghats, Belagavi enjoys a cool, salubrious climate and is surrounded by natural beauty in the form of rivers, hills and dense evergreen forests. The city is 502 km from Bengaluru and 200 km from Goa Airport.
The new terminal, a centrally air-conditioned building, with an area of 3,600 square metres has a capacity to handle 300 peak hour passengers at a time. It has all essential passenger-friendly amenities and conveniences and is provided with CUTE-enabled check-in counters, baggage conveyors, elevator, public address system, fire fighting and fire alarm system, flight information display system (FIDS), CCTV, baggage scanners and vehicle parking.
Belagavi being developed as 'Smart City'
While inaugurating the upgraded terminal building, Ashok Gajapathi Raju, Union Minister of Civil Aviation said, "Belagavi is an important city in the state of Karnataka. With the upgraded airport, the city is amongst the first 20 cities being transformed into Smart Cities, this was a much needed development."
"It is a matter of pride for all of us that Belagavi is on the path of being developed into a Smart City. This upgraded airport will play an important role in that transformation. The airport building is well attuned to the future growth and requirements of the city," said Siddaramaiah, Chief Minister of Karnataka.
The upgraded terminal building has many green features such as double insulated roofing system, provision of sky light system for energy savings, part LED lighting, low heat gain glazing, energy efficient chillers, usage of fly ash bricks, sewage treatment plant, re-use of treated water for horticulture purposes, variable frequency drive high capacity motors, all the green features aptly seconding the Government's initiatives towards 'Green India.'
Mysuru-Chenai; Vidyanagar-Hyderabad goes live
On September 20 this year, the Minister of State for Civil Aviation, Jayant Sinha flagged off the inaugural flight from Mysuru to Chennai under Ude Desh ka Aam Naagrik (UDAN) scheme. The following day, he flagged off the inaugural flight from Vidyanagar Airport in Karnataka to Hyderabad.
The inauguration at Mysore Airport was attended by RV Deshpande, Minister for Large and Medium scale Industries and Infrastructure Development; Dr H.C. Mahadevappa, Minister for Public Works Department and District In-Charge, Mysore District; Pratap Simha, Member of Parliament (Lok Sabha) and GT Devegowda, Member of Legislative Assembly apart from other senior officials from the Airports Authority of India.
THE UDAN SCHEME AIMS TO MAKE FLYING AFFORDABLE FOR THE MASSES AND INTENDS TO CONNECT UNDER-SERVED AND UN-SERVED AIRPORTS WITH THE REST OF THE AIRPORTS IN INDIA
The flagging off ceremony at Vidyanagar Airport was held in the presence of R.V. Deshpande; Santhosh S. Lad, Karnataka Minister of Labour and Skill Development; B. Sreeramulu, Member of Parliament (Lok Sabha) and E. Tukaram, Member of Legislative Assembly.
Earlier, on April 27 this year, Prime Minister Narendra Modi inaugurated the first flight under RCS from Shimla to Delhi, along with flagging off flights from Kadapa to Hyderabad and Nanded to Hyderabad through video link.
Affordable flying
The UDAN scheme aims to make flying affordable for the masses and intends to provide connectivity to under-served and un-served airports in India. Under the scheme, nearly 50 per cent of the seats on every flight will cost 2,500 per seat. This will be applicable for flights where the distance is less than 500 km and the flight duration is up to one hour. The regional connectivity scheme offers subsidy to airlines on these routes through Viability Gap Funding (VGF), route monopoly for three years and a host of other concessions at the landing airports.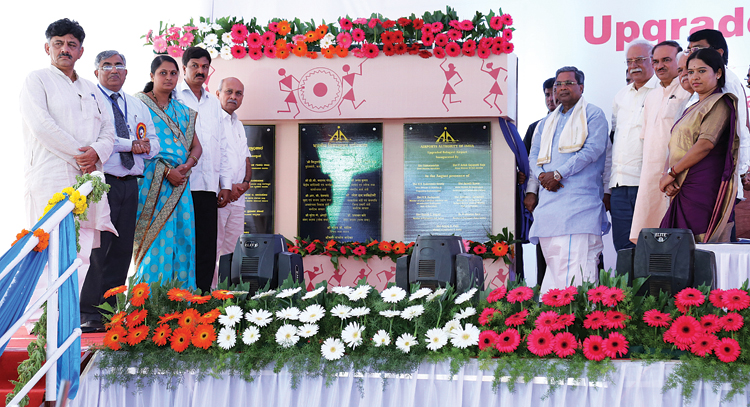 Minister of Civil Aviation Ashok Gajapathi Raju and Chief Minister of Karnataka Siddaramaiah at the inauguation of Belagavi Airport upgraded terminal building
The Airports Authority of India is the executing agency for RCS - UDAN scheme. It will connect 22 airports under the scheme in the first phase, including one in Andaman Nicobar Islands, three in Assam, two each in Gujarat, Uttar Pradesh, Punjab and Rajasthan. AAI would invest 17,500 crore in upgrading airport infrastructure over a period till 2019-20.
RCS will be applicable on route length between 200 to 800 km with no lower limit set for hilly, remote, island and security sensitive regions. The central government will provide concessions to the tune of two per cent excise on Value Added Tax (VAT) and service tax at one tenth the rate and liberal code-sharing for airports under RCS.
A Regional Connectivity Fund (RCF) will be created to fund the scheme via a levy on certain flights. States are expected to contribute 20 per cent to the fund. For balanced regional growth, allocations will be spread equitably across the five regions – North, West, South, East and North East with a cap of 25 per cent.
Market-based reverse bidding mechanism will be made to determine least VGF to select the airline operator with the right to match to the initial proposer. The government said VGF will be reduced if passenger load factor remains high and will be discontinued after three years when a route becomes self sustainable.