In BizLab, Airbus found an opportunity and zeroed in on India and Bengaluru was selected as its base as it is home to a well endowed ecosystem for entrepreneurs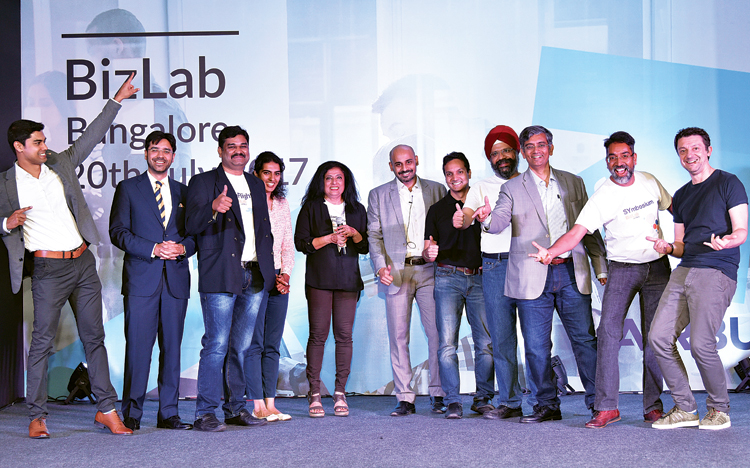 Since the late 1990s, Airbus as a European consortium and the American aerospace giant Boeing, have been engaged in a duopolistic rivalry in the large airliner space in civil aircraft manufacturing industry. The quantum of orders they bag every year match each other; so do the accusations they exchange about unfair state patronage from their respective 'protectionist' governments. Both have presence in India, with the Airbus A320 family enjoying huge popularity with airlines that have come up since the new low-cost airline wave ushered in by Captain Gopinath's Air Deccan in 2003. Needless to say, both Airbus and Boeing are constantly vying with each other to innovate and steal a march over the other. Airbus, in an endeavour to exploit creative and inventive ideas from within its own dominion as also from customers, partners and industry resources, launched its own aerospace business accelerator in September 2015 at Toulouse, the company's headquarters. India has been one of the early beneficiaries of Airbus BizLab, the name given to this initiative.
Airbus BizLab
BizLab's modus operandi is to seek applications from entrepreneur and startup companies for the acceleration programme. Airbus employees, termed 'intrapreneurs', are also invited to participate by sending in proposals for innovation. The support offered over a six month "acceleration programme" provides extremely valuable exposure to coaches, mentors and industry professionals in the areas that a startup struggles to sustain itself. This includes relevant technology, legal issues, protection of Intellectual Property (IP) rights, marketing, communication, pitching for funding, finding a test environment for a new product and, in some cases, even finding customers. In short, BizLab provides the much-needed assistance to a fledgling company right when it needs it most.
The acceleration programme is based on the lean startup methodology of figuring out the problem that needs to be solved and then developing a minimum viable product (MVP) to begin the process of learning as quickly as possible.and the programme is premised on three pillars: customer desirability (market study & benchmark, value proposition, customer experimentation), solution feasibility (proof of concept, product functionalities definition, MVP) and business viability (business model, risk assessment, cost benefit analysis). All companies may not need to go through these three loops to achieve deliverables decided during the programme. All participants also get an opportunity on a 'Demo Day' at Toulouse to present their projects to Airbus decision makers, venture capitalists, customers and partners of Airbus.
BizLab in India
After launching BizLab in Toulouse and then setting up another unit in Hamburg, Airbus zeroed in on India and Bengaluru was selected as the most suitable city as it is home to a well endowed ecosystem for entrepreneurs, especially those involved in Information Technology (IT) or aerospace. Referred to as the Indian Silicon Valley and the aerospace capital of India, Bengaluru was the ideal choice for locating BizLab. The unit was collocated with the biggest French business accelerator NUMA, described by its official site as a neologism made up by 'numérique' standing for digital and 'humain' standing for human. The idea was to exploit the synergy thus created between NUMA and BizLab especially in what they can share in terms of experts, mentors, investors, legal entities and so on. Reportedly, Bruno Gutierres, Head Airbus BizLab declared at the time of setting up the Bengaluru unit that, "With the Airbus BizLab Bengaluru we are broadening our horizons and we aim to accelerate the rise of an Indian aeronautical entrepreneurship."
The first season in 2016 saw four companies, three from India and one from the US, selected out of a total of 80 applicants from seven countries. Two of these had direct aviation related products under development: Blue Morfo from India which was developing a mobile application to detect and prevent specific corporate health related issues, such as exposure of airline crew to jetlag, cabin pressurisation etc and Shoonya Games, again from India, which was proposing interactive gaming solutions for training and marketing purposes through the use of Virtual Reality and 3D technologies embedded in a mobile device.
AIRBUS ZEROED IN ON INDIA AND BENGALURU WAS SELECTED AS THE MOST SUITABLE CITY AS IT IS HOME TO A WELL ENDOWED ECOSYSTEM FOR ENTREPRENEURS, ESPECIALLY THOSE INVOLVED IN INFORMATION TECHNOLOGY OR AEROSPACE
Applications were invited for the second season in Bengaluru in November 2016 asking for projects including the development of a product, a service, an application related to augmented reality, as well as data analysis, internet of things and digitalisation, which could be used in the aeronautical industry. 137 hopefuls were in the fray of which seven were selected based on their potential to innovate in the realm of aerospace. EFlight has services that offers flight planning and trip support for operations conducted by small aircraft operators in India. Neewee is an Industrial Analytics company focused on Internet of Things and Procurement Analytics. Neewee offers extensive use of Artificial Intelligence and Machine Learning algorithms to detect and diagnose issues with industrial assets. Stelae Technologies has created Artificial Intelligence software which transforms unstructured content (PDF, Word, ASCII, etc.) into structured, searchable and indexable output. This output can be injected into Content Management, Big Data & Analytics and Content Mining solutions. The software is currently implemented at major enterprise and public sector entities across many verticals such as laws and legislation, media/publishing, financial services, e-commerce, and since 2014, in the aerospace and defence sectors. SYmbosim leverages state-of-the-art mathematics, rigorous science, cloud computing and engineer-friendly interfaces for design of composite materials and structures. Their solution drastically reduces the time and cost from ideation to market. Earth2Orbit creates GeoIntelligence data products that leverage satellite imagery to provide location- specific commercial, economic, environmental and social intelligence in a cost-effective manner. All five companies mentioned above are from Bengaluru. Accelo from Nagpur is an Artificial Intelligence-based Internet of Things startup with the vision of ensuring road safety in India by providing preventive solutions to drivers as well as accident response time management. Innovative Binaries from Singapore offers an Artificial Intelligence platform which provides the quickest way for operators to leverage benefits of their aircraft sensor data. Among other services the platform provides predictive maintenance, inventory optimisation and fuel optimisation. Users of the platform include aircraft operators, MROs, aircraft and component OEMs and commercial drone operators. As can be seen, the Airbus philosophy of innovating and contributing to aerospace sector underlies BizLab programme.
The first four companies listed above finally completed the accelerator programme successfully between January and July this year. Of these, Eflight (new name Ghagane Aviation) is of direct interest to Indian civil aviation as it aims to solve a perpetual problem of small aircraft operators namely Non-Scheduled Operator Permit holders, privately held business aircraft owners and state governments. While the small aircraft operators have to meet all requirements for dispatching an aircraft that a scheduled airline does, there is a stark contrast in the manpower that a small operator and an airline can afford and field. Thus in the case of the former, the pilot ends up performing a large number of tasks that, in an airline, would have been performed by other functionaries at the departure and arrival stations. These include flight planning, airport clearances, refueling, ground handling, hotel bookings and crew transportation. But General Aviation Pilots tend to do all these tasks as companies do not want to employ extra hands as there's no fixed schedule and manpower cost in Aviation is also high. So to reduce cost, most of the times the Pilots end up spending 30 minutes before each flight for planning all these tasks. Eflight is the only one in India with a website that is connected to Airport Authority of India's network allowing pilots to file flight plans online and obtain airport clearance number through SMS thereby avoiding the need to fax flight plans or visit Air Traffic Control to obtain clearance. The website also permits electronic calculation of Flight Duty Time Limitations and flags any possible violations at the time of planning a flight. Eflight has an impressive list of satisfied clients and is looking for growth through its association with Airbus BizLab.
Conclusion
The third season has been announced and the process is on to select the beneficiaries for the season begining end of this year. India is fortunate to be one of the countries that gained from Airbus Bizlab. While Airbus motivation behind Bizlab is to commercialise innovative ideas harvested from industry, India found in it an opportunity for aviation-related startups to secure sustenance needed during fledgling days of existence.