Honeywell is betting big on an estimated $7 billion market opportunity globally in 'Connected Aircraft' business offering services that cost much less than in-flight entertainment today. On board the avionics maker's Boeing 757 test aircraft, we experience blazing fast Internet that could be a game changer in the airline market.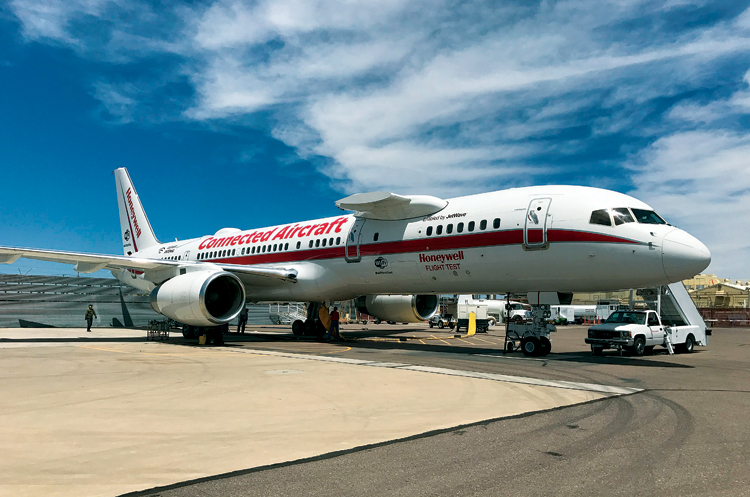 Honeywell International, brought in a 'connected aircraft', a Boeing 757, for the first time to India to showcase their connected aircraft technologies and services which can help airlines to reduce fuel consumption, maintenance cost and provide high-seed Wi-Fi on board. Pilots will be able to avoid clear air turbulence thanks to realtime weather information, while passengers can download movies at least as quickly as they can at home, all thanks to Honeywell's Connected Aircraft concept. Estimating the market for connected aircraft to be $7 billion globally and that there would be rapid adoption of such technologies, Honeywell forecasts that by 2025, an estimated 25,000 planes will be equipped with Wi-Fi with consumer demand making airlines invest in such technologies.
A 'connected' aircraft can reduce fuel cost and emission by 5 per cent, can receive, transmit, analyse and share data enabling more informed decision-making, help reduce operational costs and offer an improved flying experience. Honeywell estimates that flight delays worldwide cost airlines about $25 billion and a grounded commercial jet, while being worked on, can cost up to $10,000 an hour. A connected aircraft can help avoid all that, the company said. The amount of data generated by a flight is breathtaking. "A single twin-engine aircraft can generate up to 844TB of data from 12h of flight, which is approximately 27,000 32GB iPhone 7s," Honeywell says. An Airbus A380 is fitted with as many as 25,000 sensors. Leveraging new technology and much more reliable high-speed Wi-Fi connections, the Connected Aircraft connects an airplane's components and equipment, enabling each to immediately send, receive and analyze data thereby improving fleet management, flight safety, passenger experience, maintenance, flight operations, aircraft turnaround time and costs.
The GoDirect Flight Preview application gives pilots a highly accurate, three-dimensional preview of the runway and surrounding terrain before they take off to enable preparation for difficult or unusual approaches. This technology gives pilots confidence to land at new airports and optimize route selection for faster, safer and more efficient flights. Adjusting to the right flightpath using GoDirect Fuel Efficiency software reduces the amount of fuel pilots use as it collects, monitors and analyses data to help operators optimise fuel efficiency and select the most fuel-efficient flightpaths. With GoDirect Connected Maintenance, airlines can be more efficient and predictive in the way they maintain their fleets. They proactively troubleshoot mechanical issues to avoid aircraft downtime.
On board the connected aircraft, GoDirect Weather gives pilots real-time weather data on the flightpath, allowing them to plan the safest, most efficient routes possible. A new connected radar function will provide crowd sourced weather information from other aircraft in the sky and share that information through an app, giving an accurate view of the weather around the world.
Also, the aircraft can provide 10 to 100 times faster Wi-Fi speeds while ensuring a secure communication link to and from the aircraft. Passengers will get on-board internet at speeds that will be as good, if not better than at home with speeds in excess of 30mbps. The system, called JetWave has seamless global broadband access to the Inmarsat GX satellites. You can download your movies from your seat and no longer have to do it before you board. With more than 1,000 deliveries to date, Honeywell is advancing in-flight Wi-Fi around the globe. Leading global airlines have adopted the technology, namely, Lufthansa Group, Singapore Airlines, Qatar Airways, Vietnam Airlines, Air Caraibes, Air New Zealand, Sri Lankan Airlines, Ethiopian Airlines, Norwegian Air Shuttle and Air Astana.
The connected aircraft using big data, analytics and secure communications technology can now better anticipate opportunities ensuring smooth experience for passengers while aircraft technicians can get to know what parts of the aircraft need repair before the flight arrives, helping in faster turnaround times.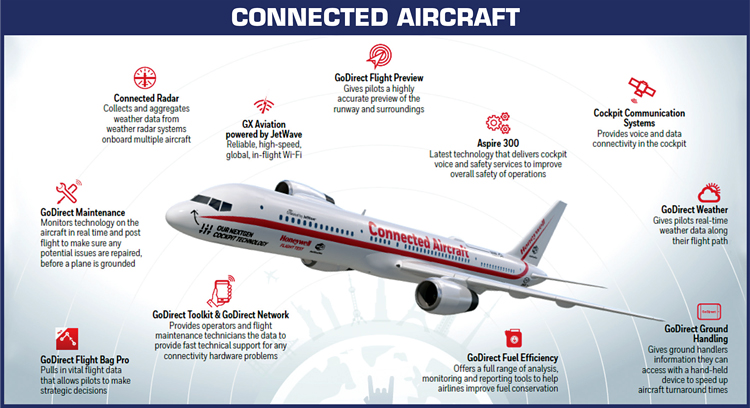 The Benefits of Connected Aircraft
Fleet Management
Reduces fuel costs and emissions by up to 5 per cent
Reduces operational disruptions by up to 35 per cent
Cut down Inoperative Equipment by up to 86 per cent
Passenger Experience
Provides 10-100X faster Wi-Fi speeds
Offers high speed connection with fewer drops
Facilitates smoother and safer flights
Flight Operations
Cuts the cost of network disruption
Saves up to 5% in flight time with ATC priority
Improves arrival times and dispatch speed
Ground Operations
Reduces "grounded" time
Avoids costly hazards
Cuts troubleshooting time by up to 25 per cent
Access to high-speed connectivity has the potential to bring about a revolution in aircraft operations unlocking critical data like weather information, engine usage, maintenance reporting and more that can be better shared and analyzed to help operators improve efficiency and reduce costs. Enhanced passenger experience on the plane would be an added benefit.
Reiterating Honeywell's commitment to India, Neelu Khatri, President, Aerospace, Honeywell India said "As one of the world technology leaders in reliable, global and high-speed connectivity solutions, Honeywell supports the local authority's vision for India's airlines to offer in-flight Wi-Fi on all flights. Honeywell is dedicated to government initiatives such as 'Make in India' and 'Regional Connectivity Scheme', and our focus on developing strategic relationships and investments in high-growth regions supports India's growing aerospace and defence industries".