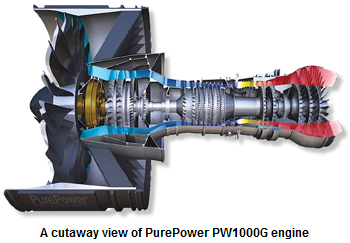 Building on its over half a billion hours of experience on turboprop engines, Pratt & Whitney has now donned the role of world leader in geared aircraft engine technology. US-based Pratt & Whitney has invested over $10 billion and 20 years in perfecting the Geared Turbofan engine and the dividends are paying off. With flight testing of the first two engine series well underway, the PurePower PW1000G engine with Geared Turbofan technology delivers game-changing reductions in Fuel burn; Environmental emissions; Engine noise; and Operating costs.
In the PurePower PW1000G engine family, a state-of-the-art gear system separates the engine fan from the low pressure compressor and turbine, allowing each of the modules to operate at their optimum speeds. This enables both an increase in the diameter of the fan and the low pressure compressor and turbine to operate at a high speed. The increased efficiency is also enhanced by having 2,000 fewer airfoils and six fewer stages – hot section parts that traditionally require more maintenance.
Next-gen engine
The PurePower PW1000G engine's fandrive gear system is just one component of this next-generation engine. The PW1000G engine also incorporates advances in aerodynamics, lightweight materials and other major technology improvements in the high-pressure spool, low-pressure turbine, combustor, controls, engine health monitoring and more.
Pratt & Whitney now has three certified PurePower Geared Turbofan (GTF) engine variants. The engine family entered customer service on January 25, 2016 with the PW1100G-JM engine.
Savings to airline business
The PurePower PW1000G engine improves fuel burn — gate-to-gate — by 16 per cent versus today's best engines. With the benefits of a new, advanced airplane the fuel burn benefit can be even greater — over 20 per cent versus today's best aircraft. That can be a significant savings to airline business.
Over the 60 years that jet engines have been used on commercial flights, fuel-burn efficiency has improved at 1 to 1.5 per cent every year, says Pratt & Whitney's Chief Engineer Michael Winter. "The GTF engine, in one fell swoop, improves efficiency by over 15 per cent." The drastic increase is made possible by the engine's turbine and fan spinning at more optimal speeds, and by increasing the bypass ratio. The incoming air is being routed around rather than through the engine, which adds thrust to the aircraft without burning extra fuel.
Eco-friendly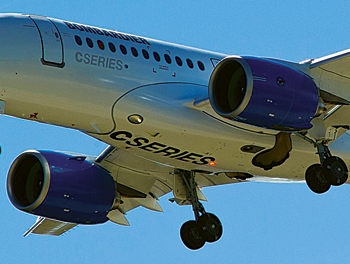 The reduction in fuel consumption per aircraft each year, Winter notes, translates to 3,000 fewer tonnes of carbon dioxide (CO2) released into the atmosphere, "comparable to the amount of CO2 displaced by 9,00,000 trees in the same amount of time." Nitrogen oxide, a major greenhouse gas and air pollutant, is also reduced to 50 per cent below the most rigorous standard set by the United Nations' International Civil Aviation Organisation. Decreased fuel consumption benefits not only the environment but also commercial airlines' pocketbooks. "Fuel savings with this technology comes to about $1.5-million per aircraft every year," Winter says. "It's a key reason for why we've already sold over 5,500 GTF engines to major and regional airline companies all over the world."
Significant noise-reduction
Another main benefit is noise reduction. The annoying whine and piercing roar from current engines during take-off have been reduced by slowing the velocity of the exhaust gases exiting the engine and reducing the fan rotation speed.
The company has slowed the fan blades in its GTF to where the noise footprint has been reduced by up to 75 per cent. Not only will the decreased noise pollution benefit communities situated near airports and flight routes; air travel could become more flexible and efficient. Airports will be able to consider longer operational hours, and flight routes designed for noise abatement around intercity airports can be replaced with more direct routes.
IN THE COMING YEARS, OTHER GTF ENGINE MODELS WILL OFFER EVEN GREATER FUEL-BURN EFFICIENCY AND NOISE REDUCTION
In the coming years, other GTF engine models will offer even greater fuel-burn efficiency and noise reduction, thanks to the ongoing ERA project collaboration between the company and NASA. A third partner, the Federal Aviation Administration (FAA), is also providing funding and guidance through its Continuous Lower Energy, Emissions, and Noise programme. "We're working together to improve all elements of the engine, from the fan and compressor to the combustor and turbine, and even some of the external flow around the nacelle," Winter says, referring to the housing that holds the engine's components.
Pratt & Whitney stated in June this year that the PW1100GJM engine is fully certified and meets performance and contract specifications, delivering 16 per cent better fuel efficiency, 50 per cent reduction in overall emissions, and 75 per cent reduction in noise footprint while yielding 99 per cent reliability rate.
The Pratt & Whitney PW1100G-JM engine has been delivered to three airlines, including to GoAir in June 2016, and is in revenue service today on two continents. Pratt & Whitney PurePower engine family has completed more than 58,000 cycles and 35,000 hours of testing to date and is meeting or exceeding all its performance specifications at entry-into-service. We have resolved the very few initial teething items airlines have experienced. Production engines shipping today to Airbus already include hardware and software improvements.
EASA certification
On May 18, the PW1500G engine received certification from the European Aviation Safety Agency (EASA). The PW1500G powers the Bombardier C Series aircraft family. The EASA certification covers the PW1519G, PW1520G, PW1524G and PW1525G engine thrust variants. The engines were certified by Transport Canada in February 2013 and are assembled at Pratt & Whitney Canada's Mirabel Aerospace Centre in Mirabel, Quebec. UTC Aerospace Systems provides the nacelle system.
"The EASA validation of the PW1500G type certificate is a key programme milestone enabling Pratt & Whitney to deliver engines for our EIS customer Swiss Airlines," said Graham Webb, Vice President, Commercial Engines 17/24K programmes.
The PurePower Geared Turbofan Engine family has more than 8,400 orders, including announced and unannounced firm and option engines, with more than 80 customers from about 30 countries. GTF engines have earned more than 30,000 revenue hours and 20,000 take-offs and landings.