Diamond Aircraft offers you time-saving and quality ensuring advantage of a single point of contact offering a complete, most modern fleet of jet fuel piston aircraft with the best flight training performance characteristics and safety record in the industry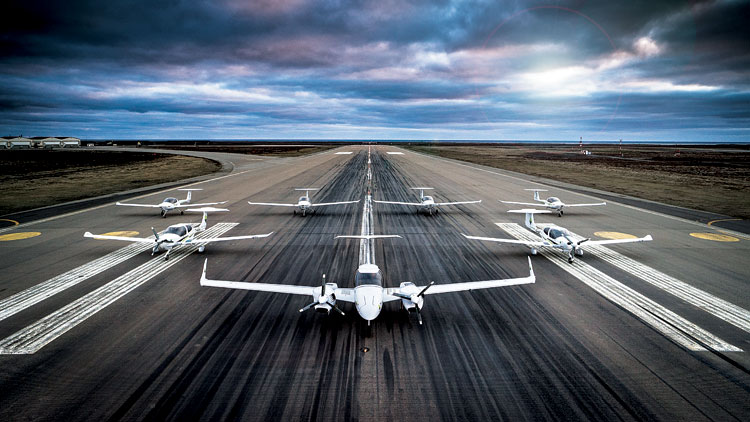 Diamond's dedication to flight training has shaped its product line of modern fuel-efficient aircraft, each with a specific training application in mind. With its complete line of piston aircraft including a dedicated flight training concept with Single Engine Piston (DA40 NG) and Multi Engine Piston (DA42-VI) trainers, along with typespecific flight training simulators and proprietary jet-fuel engines, Diamond Aircraft is the only sole source provider in the fleet training market. The DA40 NG is an effective training platform for commercial cross-country navigation and instrument approach/landing procedures. Currently more than 2,240 types of this aircraft are in worldwide operations.
The thought process behind the approach of the company for their Flight training solutions is reflected by Liqun Zhang, CEO, Diamond Aircraft, who says "We have the most sophisticated flight training tools on the market today. It perfectly shows that Diamond's approach to offer the most complete and modern piston training aircraft fleet, ranging from single engine basic to advanced multi-engine trainer aircraft, is one of the major drivers for the success of a flight school".
DESIGN AND SAFETY
Diamond aircraft offers the ultimate in durability, aerodynamic and safety compared to traditional aluminum airplanes. Made out of robust, and at the same time, strong glass and carbon fiber composite material, their safety cell meets high standards that are unique in the industry. These aircraft, made out of ductile composite materials, allow superior aerodynamically surfaces and sturdy designs proving that performance and efficiency can also be stylish. The primary design goal is to build aircraft that are a pleasure to fly, yet forgiving and safe, while offering maximum protection in case of an accident.
MODERN AVIONICS
Back in 2001, Diamond Aircraft was the first to commit to GARMIN's – then top secret – fully integrated G1000 glass cockpit. The today's GARMIN G1000 NXi offers unparalleled situational awareness and flight monitoring, reduced pilot workload and safer flying and reduced transition times because of airliner like cockpits.
ENGINE
Diamond and Austro Engine invested a lot of time and money to bring new engines into aviation, which are environmentally acceptable. Compared to conventional piston aircraft engines running on AvGAS, AUSTRO jet-fuel engines burn up to 50% less fuel at equal power, produce significantly less exhaust emissions and are exceptionally silent.
Diamond Aircraft offer a complete, most modern fleet of jet fuel piston aircraft with the best flight training performance characteristics and safety record in the industry. Over the last one-year, they have received the support of several major training schools from across the globe.
NIGERIAN COLLEGE OF AVIATION TECHNOLOGY
Under the patronage of Sen. Hadi Abubakar Sirika, Minister of Aviation of the Federal Republic of Nigeria, NCAT accepted their six new airplanes at Diamond Aircraft Austria. This delivery was a part of the re-fleeting program of the Nigerian College of Aviation Technology (NCAT) that includes 20 Diamond airplanes (five twin-engine DA42-VI and 15 single-engine DA40 NG) over the upcoming years.
AIRWAYS AVIATION ACADEMY, EUROPE
With seven first class academies located across France, the UK, Spain, Montenegro, and three in Australia, Airways Aviation today boasts the largest privately-owned group of multi disciplinary aviation academies of its kind. The Airways Aviation Group currently owns and operates the largest fleet of Diamond DA40 and DA42 pilot training aircraft in Europe.
OMAN AVIATION ACADEMY
Oman Aviation Academy (a CAE Authorized Training Center) signed a contract with Diamond Aircraft for the purchase of eight airplanes – including six single-engine DA40 NG and two twin-engine DA42-VI – with an option to add 16 more.