As airport privatisation and modernisation continue, there is an urgent need to focus on driving additional efficiency from existing airports, opening new lowcost airports, encouraging airport competition, and focus on driving down costs while also comprehensively planning for the next fifty years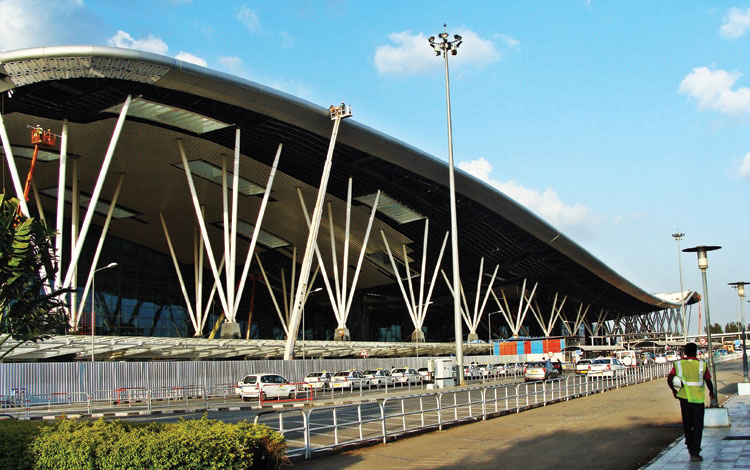 The Government of India continues its drive towards privatisation of airports. The beginning of the year saw ˜48 per cent of domestic capacity under PPP airports. This figure is now at 60 per cent after the successful bid by Adani Airports for six airports. Another six airports may soon be bid out bringing the total airport capacity under PPP models to 65 per cent. Currently, private airports in India have the majority of the passenger share. At over 35,000 crore, this amount is likely to double over the next decade towards capturing the market potential. Because with a 300-million strong middle class, low air travel penetration and an increasing propensity to spend, India is targeting 500 million passenger trips in the next 20 years. Forecasts estimate that India will be the third largest aviation market within the next six to seven years.
Forecasts estimate that India will be the third largest aviation market within the next six to seven years
Because airports are guaranteed a monopoly status coupled with long term concession periods, this essentially translates to low competition, stable cash-flows and a captive consumer base. The monopoly status gives existing airports immense market power and makes for a compelling case for investment. Currently, PPP airports are guaranteed a return on equity of 16 per cent. This is made possible by means of charges borne by the flying public. The process involves the airports submitting to the regulator, traffic projections along with operating expenses, taxes, the cost of capital, subsidies received and capex plans. A target revenue figure is calculated and the gap between the target revenue and actual revenue is recovered from the passengers via the levy of User Development Fee (UDF). That's not all, in cases where the airport is unable to secure adequate financing for capex, the funding gap between the financing secured and required, is again borne by the passengers via Airport Development Fees (ADF).
The terms of privatisation over the years have seen several changes and tweaks. While Cochin was the first PPP airport where the concession period was not defined and the revenue share was in the form of a dividend to the government, Hyderabad and Bengaluru terms stipulated a sixty-year concession with a four per cent annual concession fee. When it came to Delhi and Mumbai, the revenue share was 46.99 per cent and 38.7 per cent respectively and the concession terms were 30 + 30 years in the case of Delhi, and 30 + 10 years in the case of Mumbai. Later airports such as Goa had a 40 + 20 year concession period with a revenue share of 36.99 per cent but a five-year revenue share holiday. Most recently, contracts for the six airports won by Adani Airports have 50-year concession periods and per passenger payments to the government instead of the earlier revenue share agreement.
Interestingly, as one looks back, the Delhi and Mumbai agreements were signed in 2006, and the regulatory model was only established in 2009, along with the creation of the Airport Economic Regulatory Authority (AERA). The mandate of AERA was to ensure tariffs and fees charged to airports and passengers, and to monitor the quality of service. AERA passed its first tariff order in 2012. But the jury is out on how effective AERA has been. In several cases, its decisions are disputed and airports have indeed taken the legal route to challenge AERA's decisions when not in their favour. Most recently, in 2019, the Regulatory Act was amended and AERA now only regulates airports which have an annual passenger capacity of 3.5 million and above.
The economic regulatory model for the country is one where the burden falls on the consumer. Consider these numbers: the Delhi airport's final project cost was 3.8 times the initial estimate and in the case of Mumbai, it was 1.7 times the initial estimate. The burden of these cost overruns has to be covered by the flying public. Both airports were allowed to levy development fees to the tune of nearly 3,400 crore. The contribution via fees levied on passengers being 1.2 to 1.4 times the equity contribution in the case of Delhi and 3.0 to 3.2 times in the case of Mumbai. Given that the recent expansion at Bengaluru airport is estimated to cost in excess of 10,340 crore, and a similar situation for the preliminary numbers being floated for Jewar and Navi Mumbai airports, a similar outcome may be assumed.
The economic regulatory model also leads to perverse incentives for airports towards spending more because of how the returns are guaranteed based on the regulated asset base. Thus, airports continue to be built. Unfortunately, most of the focus has been on terminal buildings. Because construction of runways requires land and given the challenges with land acquisition, airports simply take the easy way out and build fancier terminals. This is highlighted by the fact that while investment in excess of $5.5 billion has gone into airports, 55 to 70 per cent of the total project cost for airport development have gone to terminal buildings. The design and utility of these buildings clearly demonstrate that they are geared towards driving capex rather than driving aviation growth. Airports make the case that the terminal construction costs are capped and regulated, but the argument is flawed on many counts.
DETAILS OF MAJOR AIRPORTS IN INDIA
| Airport | Operator | Year |
| --- | --- | --- |
| Cochin | Consortium | 1998 |
| Hyderabad | GMR | 2002 |
| Bengaluru | GVK | 2004 |
| Delhi | GMR | 2006 |
| Mumbai | GVK | 2006 |
| Mopa (Goa) | GMR | 2016 |
| Navi Mumbai | GVK | 2017 |
| Nagpur | GMR | 2018 |
| Bhogapuram | Under review by State Govt. | 2019 |
| Lucknow | Adani | 2019 |
| Trivandrum | Adani | 2019 |
| Mangalore | Adani | 2019 |
| Ahmedabad | Adani | 2019 |
| Jaipur | Adani | 2019 |
| Guwahati | Adani | 2019 |
| Jewar (Greater Noida) | Zurich Airports | 2020 |
Source: MoCA, Industry research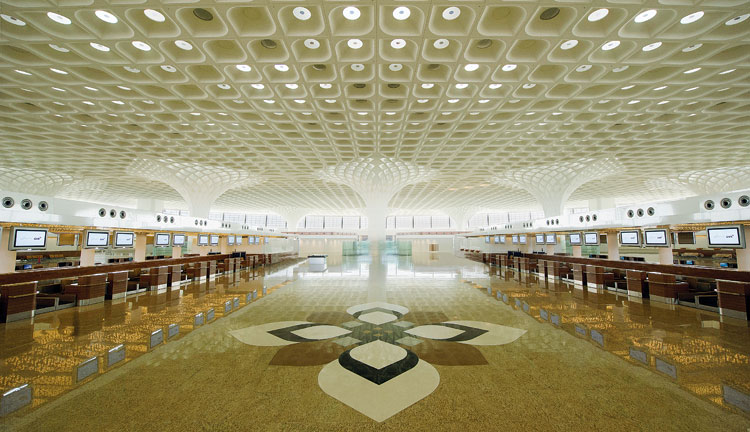 BEST THAN THE REST: The new look of Mumbai International Airport T2
When it comes to airport modernisation, several initiatives are underway. But where it matters the most, namely on the airside capacity, the initiatives have been found wanting. The country is crying for airside capacity and very little progress has been made on this front. Other modernisation initiatives include technology, talent, sustainability, security and connectivity initiatives. Whether it is cross-linking of terminals, enhancing taxiways towards efficiency gains or inter-modal transfer, these are required for the long term success of the transport system. Bengaluru airport has tried test projects on digi-yatra where passengers can be automatically processed based on facial recognition system at check points. Sustainability initiatives include the move away from single use plastic, energy efficient buildings, bio-toilets and ecological terminals with extensive greenery in and around airports. Connectivity initiatives have also seen progress with new metro-rail projects that will in the future, connect to airports.
The country is crying for airside capacity and very little progress has been made on this front
But modernisation initiatives also are challenging in that the Indian market characteristics are very different and unique. The market reality is one where of a population of 1.3 billion, 84 per cent survive on a per capita income of less than $1,200. And within the remaining segment that flies, 80 per cent of the traffic is now on low-cost airlines. These passengers demand efficient airports that are low cost but high quality and enable passengers to fly in and out while minimising time. Demand patterns are also witnessing a gradual change. While metros will always be key to demand, the compounded annual growth rate of traffic in non-metro cities for the last decade has been 14.5 per cent, albeit a lower base. Airport operators in these cities will face a challenge as the non-aero revenue potential may not be as high as in the metros and thus unique solutions will have to be ascertained.
Finally, India, like many growing economies, is looking at a trend of urbanisation. In fact, the United Nations' World Urbanisation Prospects indicates that amongst all countries, India will see the highest increase in urban population. It is estimated that by 2050, India will add more people to its cities than are currently residing in them. And this is already being witnessed in cities such as Delhi which have grown to include Gurugram and NOIDA as parts of the National Capital Region or cities like Mumbai that are expanding northwards to Malad and eastwards to Navi Mumbai. The expansion of these cities essentially is a dispersal of the population and requires new airport capacity to come up. The question is whether these airports can come up soon enough.
EXPANSION PLANS AT MAJOR AIRPORTS
| Airport | Expansion at Current Airport | New Airport and Issues |
| --- | --- | --- |
| Delhi (DIAL) | 4th Runway by 2021 | Jewar airport – in Uttar Pradesh. Awarded to Zurich Airports. Target date 2023 |
| Mumbai (MIAL) | Not possible | Navi Mumbai airport – underway. Challenges remain. Likely completion 2024. Navi Mumbai awarded to existing airport operator – thus will not lead to additional competition |
| Bangalore (BIAL) | 2nd Runway by end 2019 | None planned. Should be evaluated including opening up HAL airfield which is not available for commercial flights per agreement with airport operator |
| Kolkata | Efficiency improvement project underway | Extreme challenges with land identification (and acquisition) for a second airport |
| Hyderabad (GHIAL) | 2nd Runway to be commissioned. Date not determined | Existing second airport not available for commercial flights per OMDA with airport operator |
| Chennai | Not possible in current scenario | Two sites identified. Consultants to be appointed. Completion date in 5 – 7 years |
| Pune | Not possible in current scenario | Site identified in Purandar, no clarity on land acquisition and timelines |
| Ahmedabad | Not possible in current scenario | Second airport to come up in Dholera with a target completion date of 2022 |
| Goa | 2nd Airport by 2020 | New airport at Mopa awarded to GMR. Target date 2022 |

MODERNISATION ON THE WAY: (Left) Jaipur International Airport Terminal and (right) Guwahati Airport.
Looking ahead, Indian aviation will require solutions that are built for purpose. Airport development has to be aligned with the market demand. Building fancy shopping areas with jet bridges attached simply does not cut it. Similarly, lounges, large floor areas, artwork, expensive parking and the 150-rupee cups of "Chai" are items simply not aligned to the market demand. Rather, these epitomise a mindset where Western models have been force-fit in the Indian context. A mindset that completely ignores the market reality!
As airport privatisation and modernisation continue, there is an urgent need to focus on driving additional efficiency from existing airports, opening new low-cost airports, encouraging airport competition via multiple airport systems and focus on driving down costs while also comprehensively planning for the next fifty years. The country needs a long-term comprehensive transport and development plan within which airports are the connectivity links.

The author is an India market expert and has held a variety of positions within the aviation industry. His roles include working as the Head of Strategy & Planning at Go Airlines (India) and with CAPA (Centre for Asia Pacific Aviation) where he led the Advisory and Research teams. He joined CAPA after working through a merger and restructuring at a legacy US carrier. Having lived and worked across four continents, he is an alumnus of the University of New South Wales and the London Business School. He is also a certified pilot with an Instrument Rating.