While aviation industry is not having the best of its time in India, IndiGo has reported a huge profit for the third quarter of 2019 but Air India has invited bids for privatisation of the national carrier.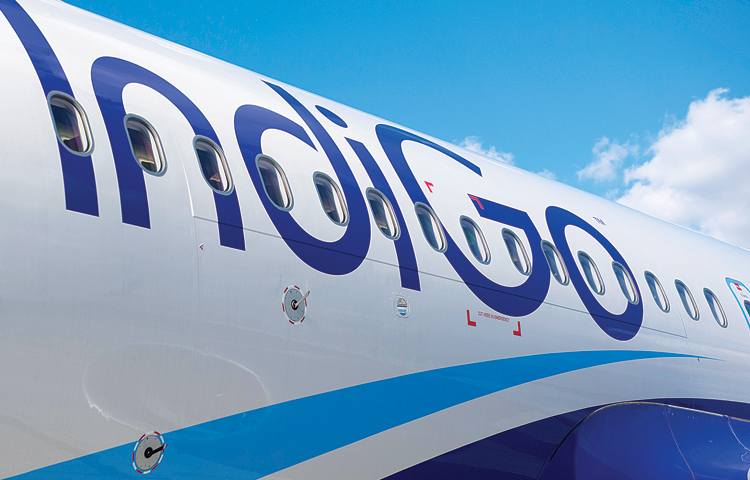 Aviation has always been a tricky industry, more so the Indian aviation industry which has been infamous for being harsh due to its high taxes, heavy import duties, costly airport charges, and infrastructural hurdles. To add to this, the economy of the country has also been on a rampant downfall. While the previous year witnessed Jet Airways ceasing to fly, and Air India struggling to continue operations, IndiGo posted an astonishing profit in their recent financial report.
INDIGO LIFTS OFF
The total income of the company swelled to a strong 25.5 per cent to 10,330 crore in the December 2019 quarter from 8,229 crore in the corresponding period a year ago.
Of this, passenger ticket revenue was 8,770 crore, which depicts an increase of 24.1 per cent year-on-year, while the additional revenue during the quarter stood at 1,037 crore, thereby registering a growth of 28.8 per cent over the year-ago period.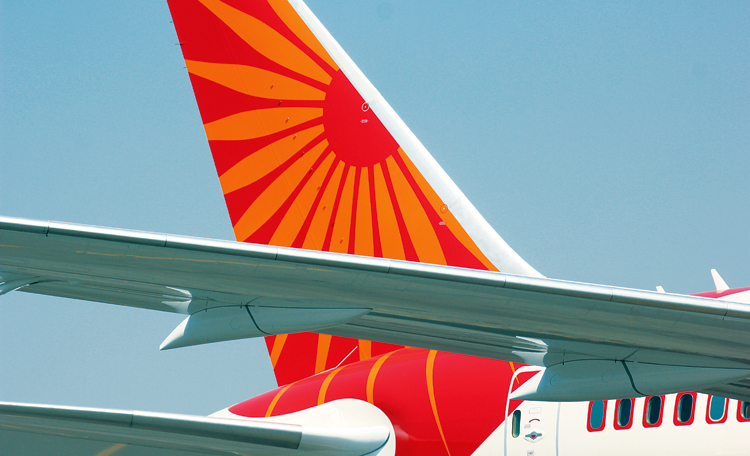 The new buyer will have a total of 146 aircraft, 56 per cent of which are owned by Air India, while the remaining are on lease
With a fleet of 255 aircraft including 96 new generation A320 NEOs, 124 A320 CEOs, 25 ATRs and 10 A321 NEOs, IndiGo was hailed as the largest passenger airline with a market share of 47.5 per cent as of December 2019. The airline also started operations on seven new international routes, 17 new domestic routes and operated a peak of 1,634 daily departures during the quarter.
Total cash balance stood at 20,068 crore, which included 9,412 crore of free cash and 10,656 crore of restricted cash.
WITH A FLEET OF 255 AIRCRAFT INCLUDING 96 NEW GENERATION A320 NEOS, 124 A320 CEOS, 25 ATRS AND 10 A321 NEOS, INDIGO WAS HAILED AS THE LARGEST PASSENGER AIRLINE WITH A MARKET SHARE OF 47.5 PERCENT AS OF DECEMBER 2019.
What has stood out for IndiGo is not just the efficient and on-time service that it offers, but more so the low costs at which the tickets are available. Many of these low fare tickets are also on some longer routes. In a market like India, along with the service offered, low fares are a significantly important factor as it is a price-sensitive market. Instead of contesting on the product, the budget carrier has been contesting on the price and doing a fairly well job for themselves, also gaining substantial market share.
TURBULENCES FOR AIR INDIA
On the contrary, the national carrier Air India (AI) is not fairing very well. The central government invited bids for 100 per cent stake sale Air India on January 27, 2020, and transfer of management control along with its complete share in two subsidiaries-low-cost international carriers Air India Express and ground-handling arm AISATS. AISATS is the joint venture between Air India Limited and Singapore Airport Terminal Services (SATS Ltd) provides ground handling services across airports in India. To appease the deal, the government has also offered to sell off liabilities worth nearly 40,000 crore. This is the government's second attempt in two years at privatising Air India.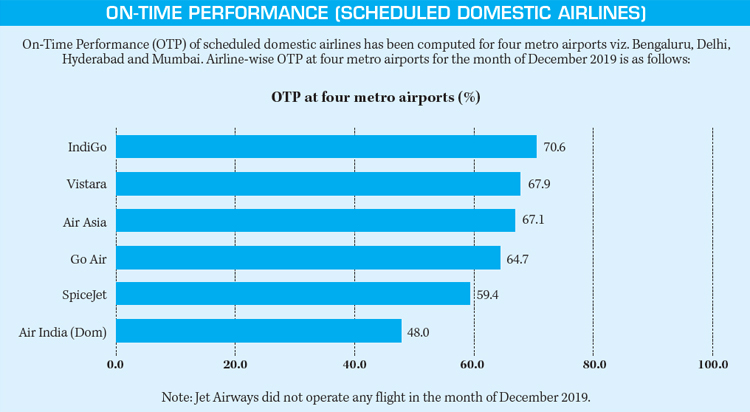 Source: DGCA
100 per cent stake in Air India, a 100 per cent stake in AI Express Limited (AIXL) and the government's entire 50 per cent stake in AI-SATS is on the table for the buyer. This implies that the new buyer will have a total of 146 aircraft, 56 per cent of which are owned by the airline group, while the remaining are on lease. The buyer will also benefit from 50 per cent of the international market share held by Indian airlines as well as AI's 4,400 airport slots at airports in the country and 3,300 slots in other countries, over 9,000 permanent employees (pilots and cabin crew).
THE ISSUE WITH AIR INDIA'S FLEET FOR THE PROSPECTIVE BUYER IS THAT IT IS NOT AS EFFICIENT WHEN IT COMES TO SEATING AND FUEL COST. WITH AIRBUS NEWER VERSION THE A320NEO, ETC. THERE ARE MUCH BETTER AND MORE FUEL-EFFICIENT AIRCRAFT IN THE MARKET NOW.
Any private or public limited company, a corporate body and a fund with a net value of 3,500 crore is eligible to bid.
However, it's certainly not all sunshine that awaits the buyer; some darkness in the form of certain liabilities too will come handy along with the airline's debt of 23,286 crore. The government will absorb 56,334 crore in liabilities, including 36,670 crore of debt. These have been transferred to a special vehicle known as Air India Assets Holding Limited (AIAHL), which will also comprise real estate and other assets worth 17,000 crore. The bid document also states that the existing FDI ( foreign direct investment) policy, which allows a foreign airline to buy up to 49 per cent in Air India will continue to apply.
In 2018, the government had made an unsuccessful bid to sell Air India to prospective buyers for the first time as there seemed to be too much debt but too little in terms of assets, and too much task in terms of control. At that time the government wanted to retain a 24 per cent stake in the national carrier.
In the new bid, things were different as except four Boeing 747 aircraft used for VIP operations, all the aircraft would be with the buyer. Air India artifacts, paintings, key buildings like the Air India Building at Nariman Point in Mumbai and the headquarters building in central Delhi are also being kept aside. The hotels owned by Air India under the Centaur brand, 100 per cent stake in Air India Engineering Services Ltd (AIESL), will be chipped out of the Air India Limited prior to the sale. The amount of debt to be taken over by the prospective buyers has also been cut down by Air India. The combined debt of Air India and Air India Express is 60,074 crore. The last time around it was expected that 33,392 crore would be taken over by Air India's prospective buyers. This time, the amount to be taken over is less by a third. Hence, 23,286 crore is the amount that Air India asks to be taken over.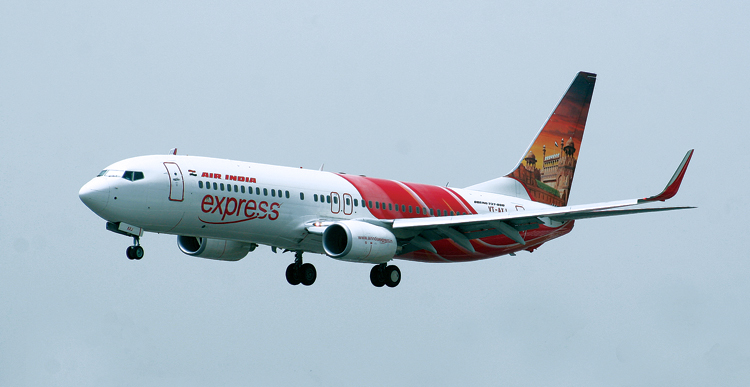 Air India's cost per available seat km for September 2019 quarter was 4.8 for FY2019, compared to IndiGo's 3.85 showing the difference in terms of costs
Air India possesses 128 aircraft in its fleet as of November 2019 out of which it owns (or will own) 70 aircraft and Air India Express has 25 aircraft in its fleet out of which 17 are owned (or will be owned) by the airline. Will be owned means that the aircraft is on a financial lease as of now, and once the entire amount is repaid to the bank, the title transfers to the airline.
Air India mentions in the Preliminary Information Memorandum (PIM) that they own 56 per cent of the fleet and other airlines don't own as many aircraft as they do. However, many years ago the market shifted from owning aircraft to leasing them. The owning of these aircraft has been a major reason due to which Air India has many old aircraft in its fleet. These older aircraft which have not been replaced by newer ones are not as fuel-efficient and faster as the newer aircraft, which is a drawback for the national carrier.
THE REPORT SHARED BY DGCA ALSO HIGHLIGHTS THAT INDIGO SCORED 70.6 PER CENT (THE HIGHEST) FOR ON-TIME PERFORMANCE IN THE MONTH OF DECEMBER WHILE AIR INDIA'S DOMESTIC TRAVELS SHOWED A 48 PER CENT MARK, THE LOWEST AMONG INDIA'S MAJOR SCHEDULED DOMESTIC AIRLINES
The issue with Air India's fleet for the prospective buyer is that it is not as efficient when it comes to seating and fuel cost. With Airbus newer version the A320neo, etc. there are much better and more fuel-efficient aircraft in the market now. Although most of Air India's aircraft were built for 25 years or more of operation, but they are almost on the back of older technology in the current situation. Air India's buyer would ideally have to replace these aircraft which means that the buyer would have to double down on getting new aircraft, or risk paying up to 15 per cent more per flight operation in comparison to the current generation aircraft. Air India's cost per available seat kilometre for September 2019 quarter was 4.8 for FY2019, compared to IndiGo's 3.85 hence showing the difference in terms of costs.
According to Directorate General of Civil Aviation (DGCA) report, the market share of Air India in December 2019 was 11.9 per cent while that of IndiGo was 47.5 per cent and the passengers carried by Air India during the same period were 15.49 lakh and that by IndiGo were 61.88 lakh. The report shared by DGCA, the Indian governmental regulatory body for civil aviation under the Ministry of Civil Aviation, also highlights that IndiGo scored 70.6 per cent (the highest) for on-time performance in the month of December while Air India's domestic travels showed a 48 per cent mark, the lowest among India's major scheduled domestic airlines.
While Air India struggles to stay operational, will the government be able to revive it on its own despite the grieving economy or will it succeed in privatisation of the national carrier and is privatisation the answer, are questions that only time will answer. On the other hand, looking at the success story that IndiGo is weaving, will more airlines be nudged to go the low-cost way and ensure on-time performance are also the speculator transitions that India's aviation industry awaits.