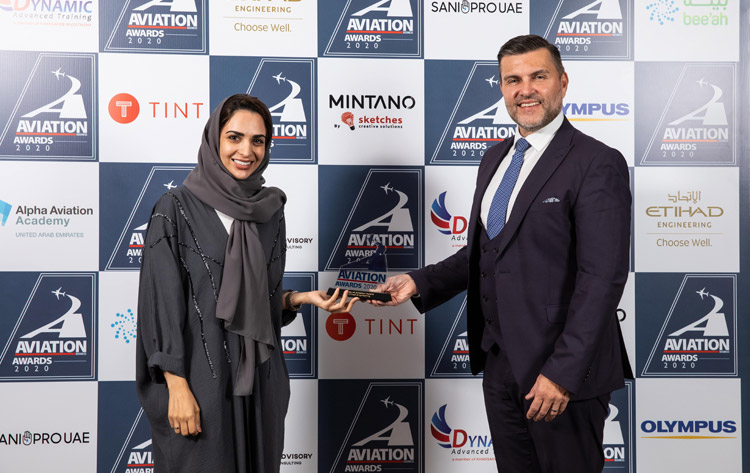 Etihad Engineering receiving the inaugural "Pride of Aviation" award at the Aviation Business Awards 2020
Etihad Engineering, the largest commercial aircraft maintenance, repair and overhaul (MRO) services provider in the Middle East, won the inaugural "Pride of Aviation" award at the Aviation Business Awards 2020, held in Dubai on December 15, 2020.
The award was presented to Etihad Engineering for demonstrating outstanding steadfastness in the face of an unprecedented industry crisis and meeting adversity with solidarity, innovation, determination and adaptability.
Frederic Dupont, Vice President Technical Sales and Customer Service at Etihad Engineering said: "The Etihad Engineering team is honoured to be recognised by the Aviation Business Awards, particularly given the challenges we have faced this year. We have not only been able to deliver on our commitments to our existing customers and Etihad Airways but hopefully also contributed in supporting the aviation industry during these challenging times. This has been made possible by the support of our stakeholders, the continued confidence of our customers and most importantly, the overwhelming resilience and determination of our people."
A380 inside hangar
During the ongoing pandemic, Etihad Engineering has expanded its operations to meet the ever-changing requirements of their customers and employees. To support a safe return to the skies for airlines around the world, Etihad Engineering launched a range of service solutions. It leveraged its comprehensive Part 21J and Part 21G capabilities to design, manufacture, certify and install aircraft cabin parts.
Etihad Engineering also invested in thermal scanning systems to ensure the safety of its staff and customers at its Abu Dhabi facility. It developed its 3D printing capabilities to supply protective face shields to frontline health workers within the UAE, and established a mask production facility onsite, producing more than 1 million masks to date. Business continuity was maintained with smart rostering, working from home arrangements, and constant interaction between staff, customers and partners through online meetings and video conferencing.
Etihad Engineering was also a finalist at the Aviation Business Awards for Technology Innovation of the Year.