Boeing has advanced its India demand forecast by 250 planes from last year's forecast of 1,850 planes, with total demand rising 13.5 percent over last year's forecast
Single-aisle airplanes, like the737 MAX family, will continue to account for the largest share of new deliveries
Asia will constitute nearly 40 percent of global passenger traffic
Single-aisle segment will see the most growth over the forecast globally
The overall freighter fleet will increase by more than half—from 1,810 airplanes in 2016 to 3,030 by 2036
Video gives a glimpse of Boeing presentation
The Company released its annual Current Market Outlook (CMO) for India during a briefing in Delhi. Dr. Dinesh Keskar, senior vice president, Asia Pacific and India Sales, Boeing Commercial Airplanes, shared the Boeing Forecast, stating a demand for 2,100 new airplanes in India, valued at $290 billion, over the next 20 years.
Robust demand in India
Boeing has advanced its India demand forecast by 250 planes from last year's forecast of 1,850 planes, with total demand rising 13.5 percent over last year's forecast.
Commercial aerospace demand in India continues to grow at unprecedented rates," said Dinesh Keskar, senior vice president, Asia Pacific and India Sales, Boeing Commercial Airplanes."The increasing number of passengers combined with a strong exchange rate, low fuel prices and high load factors bodes well for India's aviation market, especially for the low-cost carriers."
The optimism in the market has been a resultant of the traffic growth that had been more than 20 percent, far exceeding the global average of 7.3 percent. Domestic passenger traffic increased 23 percent from 2016 and low-cost carriers continued to account for more than 60 percent of all flights in India. The Economic, demographic and regulatory trends had been instrumental for the growth in aviation. "We are very bullish on this market, with the Regional Connectivity Scheme (RCS) the numbers will grow and you will see a further revision in the coming year," said Keskar.
737 MAX family
Single-aisle airplanes, like the737 MAX family, will continue to account for the largest share of new deliveries, with airlines in India needing approximately 1,780 airplanes. "The 737 MAX is the fastest-selling airplane in Boeing history because customers throughout the world, including India, want its combination of performance, flexibility and efficiency," said Keskar. "Boeing also continues to offer the most complete family of widebody airplanes, as evidenced by our more than 85 percent in-service market share in India."
New Airplane Deliveries to India: 2017-2036
Airplane type
Seats
Total new deliveries
Dollar value
Regional jets
90 and below
10
<$1B
Single-aisle
90-230
1,780
$195B
Small widebody
200 – 300
180
$50B
Medium/Large
widebody
300 and above
130
$45B
Total
2,100
(5.1% of world total)
$290
(4.8% of world total)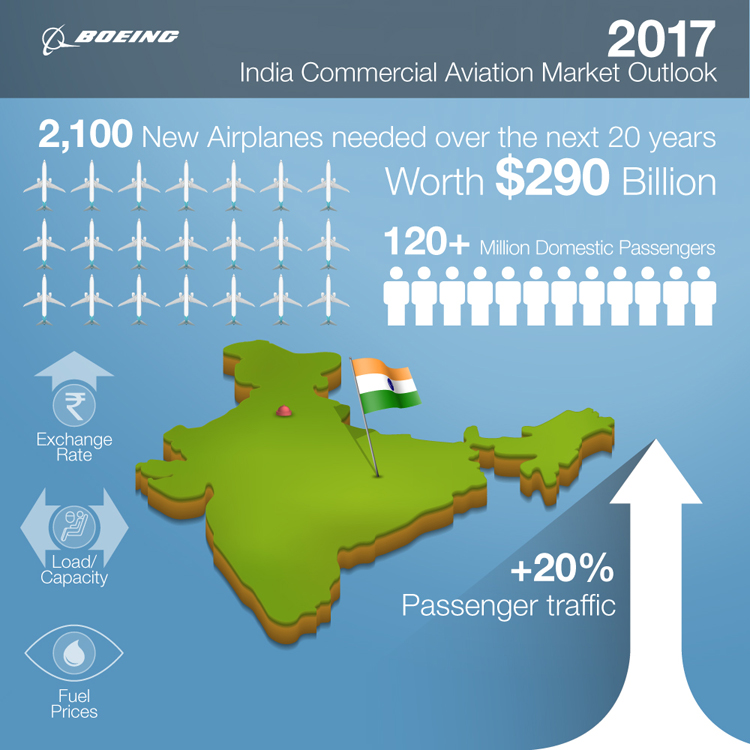 Asia to be the biggest travel market in the world
Growing at 5.7 percent annually, and by 2036 passenger traffic throughout Asia will constitute nearly 40 percent of global passenger traffic. One factor in this growth is the region's economic development; average Asian GDP is expected to grow by 3.9 percent annually over the next 20 years. As a result, the region's share of world GDP is projected to rise from 33 percent today to 40 percent by 2036. Although that growth will be mixed due to the region's current composition of mature, developing, and emerging markets, Asian GDP and passenger traffic will drive an estimated need for 16,050 new airplanes valued at $2.5 trillion. The LCC market, for example, is helping grow the need for 11,840 new single-aisle airplanes, with the majority in the 737 MAX 8 seat-size category.
Global Forecast
Boeing projected a worldwide demand for 41,030 new airplanes over the next 20 years, with India carriers needing more than 5.1 percent of the total global demand. Boeing has raised its forecast for new airplane demand world over, projecting the need for 41,030 new airplanes valued at $6.1 trillion dollars, with total airplane demand rising 3.6 percent over last year's forecast.
Single Aisle Airplanes dominate the global Market
Today, 64 percent of the world jet fleet is single-aisle airplanes. Over the next 20 years, this share will increase to account for nearly three-quarters of the global fleet, at just over 33,000 passenger airplanes in 2036. Single-aisle airplanes form the backbone of the low-cost airlines business model that is gaining momentum around the world. Asia Pacific, Europe, and North America are the three largest market regions for new single-aisle airplanes, and they represent nearly 80 percent of all single-aisle demand The single-aisle segment will see the most growth over the forecast globally, fueled by low-cost carriers and emerging markets. 29,530 new airplanes will be needed in this segment, an increase of almost 5 percent over last year, mentioned the forecast.
Air Cargo
Overall global air cargo traffic has been increasing. Improving world industrial production and global trade has driven demand for air cargo services. Growth in 2016 was 3.6 percent and marked the fourth consecutive year of positive growth. As global GDP and world trade growth continues, air cargo traffic, as measured in revenue tonne-kilometers, is projected to grow an average 4.2 percent per year over the next 20 years. Replacement of aging airplanes, plus the industry's growth requirements, will create a demand for 2,480 freighter deliveries over the next 20 years. Of these, 1,560 will be passenger airplane conversions. The remaining 920 airplanes, valued at $260 billion, will be new. The overall freighter fleet will increase by more than half—from 1,810 airplanes in 2016 to 3,030 by 2036.
Boeing's Current Market Outlook is the longest running jet forecast and regarded as the most comprehensive analysis of the aviation industry.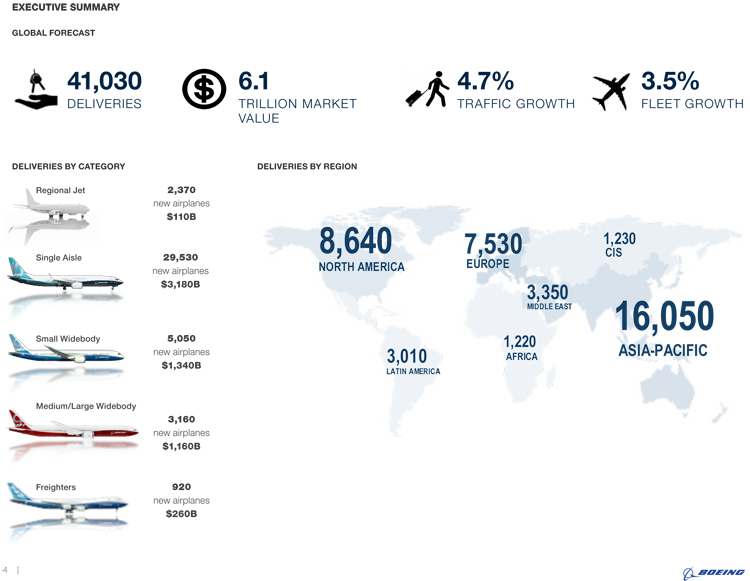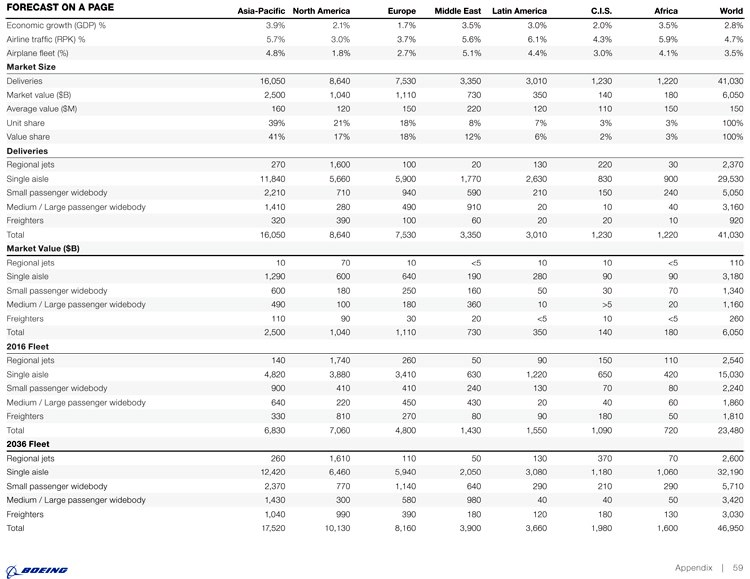 Jayant Baranwal, Editor-in-Chief cum CMD, SP Guide Publications speaks to Dr. Dinesh Keskar, senior vice president, Asia Pacific and India Sales, Boeing Commercial Airplanes on the sidelines of Boeing's annual Current Market Outlook (CMO) for India.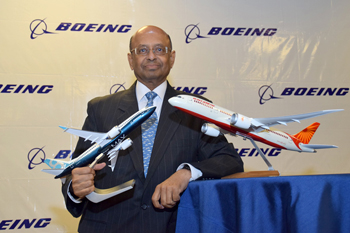 Jayant Baranwal (Baranwal): How do you view the standing of Boeing versus Airbus holistically and not in terms of type of aircraft?
Dr Dinesh Keskar (Dr Keskar): We are on a strategy, which is Point to point travel. Our point to point means; Air India using 787 non-stop to Australia and all major cities in Europe. We can also say that, we strategically continue to doing the same with the 777 also, which are flying in India over a decade now. Air India and Jet are both flying non-stop flights to the US and as they try to do this, they overtake the situation as they do this non-stop, while the others have to make at least a stop for the same destination. We have provided them with the right products which can do that. I do not see any wide body aircraft with the same significance and none can fly to the US non-stop. So we think that we have the right product and the right aircraft that is in place from the strategy point of view.
Baranwal: The hubs in India are getting heavily congested for example Bengaluru-Varanasi, Pune-Dehradun... there are no direct flights. Delhi, Mumbai, Bengaluru etc, are getting deeply congested. As Boeing, what solution do you foresee for the de-congestion requirement?
Dr Keskar: In terms of congestion, yes, that is tough problem! Navi Mumbai is one of the solutions that can be done but that cannot be done for all the places. I know in Delhi people are looking at Noida and other places to build an airport to reduce the congestion. The only thing a manufacture can offer, is what we did with the 737-10. With this aircraft, we offered that we can fly in the same slot and the same time with forty more passengers, carrying more passengers making it more profitable. We must cash on with whatever we can do with all the constraints, unfortunately the world full of constraints. I understand your point of view, we have lots of city places that has not been served and I think that the RCS can resolve that.
Baranwal: Can the hubs be surpassed in future?
Dr Keskar: If there is no way around it, you have to surpass and you got to use a bigger airplane. There had been some discussion on finding the wide body in the hubs, time will tell how that grows. There are constraints; the hub cannot be park at the domestic side of the aircraft. Once I had to take a flight and it took me thirty minutes to get to the bus to airplane door and another ninety minutes to get to Delhi. The wide body is going to be situationally difficult.