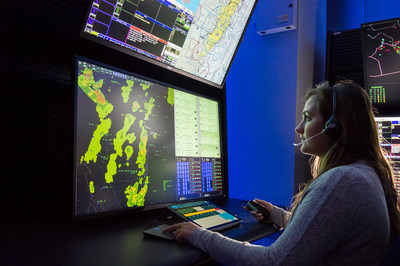 Raytheon Company has selected Aaron Rose, assigned to the Northern California Terminal Radar Approach Control facility, as the 2018 Air Traffic Controller of the Year. The award, provided by Raytheon's Intelligence, Information and Services business, recognizes his contributions toward the modernization of the Standard Terminal Automation Replacement System, or STARS, used by air traffic controllers to provide safe and efficient aircraft spacing and sequencing guidance.
"The STARS modernization effort has been successful in large part because of our close collaboration with the National Air Traffic Controllers Association," said Matt Gilligan, Raytheon vice president of Navigation, Weather and Services. "We can engineer the best technical system in the world, but it's the users and their feedback that ensure it's also the right solution to meet their needs."
Rose is part of a government-industry team responsible for the execution of a nation-wide modernization effort designed to give air traffic controllers a more complete, precise picture of the airspace from a single platform, integrating both surveillance data and flight information onto high-resolution displays using advanced automation. His efforts contributed to the 100 percent on-time or early delivery of modernized systems to 68 sites in 2017 with zero interruption to normal airport operations.
The announcement was made during the National Air Traffic Controllers Association's annual Communicating for Safety conference. The award comes less than one month after the Air Traffic Control Association awarded the STARS team the annual Industry Award for exceptional performance.