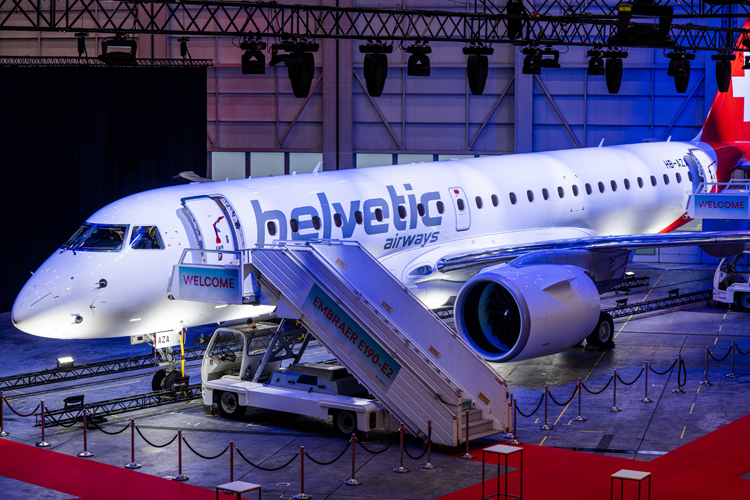 Zurich-based Helvetic Airways receives the newest addition to its fleet, the GTF-powered Embraer E190-E2.
Pratt & Whitney, a division of United Technologies Corp., joins Helvetic Airways today in celebrating the delivery of the airline's first Embraer E190-E2 aircraft, powered exclusively by Pratt & Whitney GTF™ engines. The delivery was commemorated in a ceremony at Helvetic's home base at Zurich Airport with representatives from Helvetic, Embraer and Pratt & Whitney in attendance.
"We are excited to welcome the first GTF-powered E190-E2 aircraft to our fleet as we look to the future," said Tobias Pogorevc, CEO of Helvetic Airways. "Our passengers will benefit from the quieter ride and the environment will benefit from the reduced emissions delivered by the advanced technology of this new aircraft."
Helvetic currently has on order 12 E190-E2 aircraft and 12 options, with conversion rights to E195-E2. The first 12 E190-E2 aircraft will progressively replace Helvetic's seven Embraer E190-E1 aircraft starting in late 2019 and completing in autumn 2021. The purchase options for 12 additional aircraft (E190-E2 or E195-E2) will enable Helvetic to further explore new markets.
"We are proud to welcome Helvetic Airways to the GTF customer family and excited for the airline to begin receiving the fuel savings of the environmentally friendly GTF engine," said Rick Deurloo, chief customer officer and senior vice president, Customers at Pratt & Whitney. "We look forward to growing our relationship in the years to come."
In addition to being selected as the exclusive engine for the E2 commercial aircraft, Pratt & Whitney's APS2600E auxiliary power unit (APU) is the sole-sourced APU for the E2 family. The APS2600E APU gives airlines greater flexibility, by increasing the altitude ceiling for ETOPS and other operations, and providing a significant increase in electrical power delivery, to meet the needs of today's airlines.
The E190-E2 aircraft has more than 17% reduction in fuel burn than the previous-generation E190, with NOx emissions 50% below the ICAO CAEP/6 regulation and a cumulative noise reduction of ICAO Chapter 4 minus 17dB to 20dB.