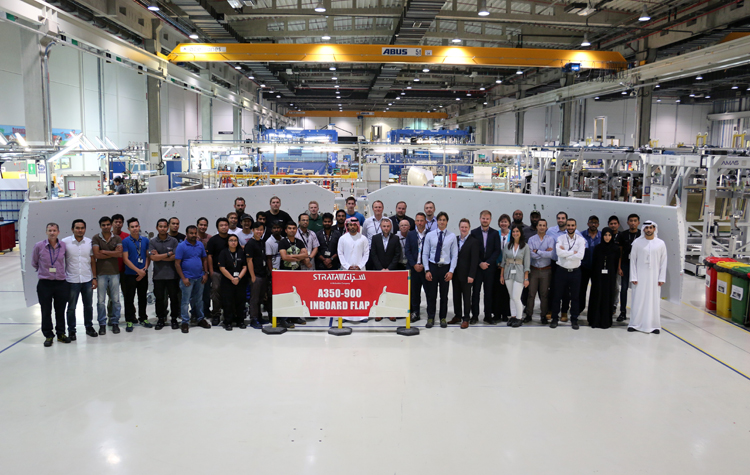 Strata Manufacturing PJSC (Strata), the advanced composite aerostructures manufacturing facility wholly owned by Mubadala Investment Company (Mubadala), has completeddeliveryof its first set of A350-900 inboard flaps to Airbus.
Airbus selected Strata to manufacturethe A350-900 inboard flap in 2015. Located along the trailing edge of the wings,the inboard flaps are positioned next to the airplane's body, enabling it to securegreater liftduring the most critical part of take-off and landing, when the angle of the aircraft is high and the speed is relatively low.
Ismail Ali Abdulla, CEO of Strata, said:"Theimpending delivery of flight critical and complete assemblies to the Airbus Final Assembly Line in Toulouse, reinforces Strata's statusas a tier-one supplier toAirbus. Today, we mark nineyears of a close relationship between our two organizations-an association driven by shared values and a sustained global demand for commercial airplanes.
"We are investing in innovative techniques to produce these components, including processes like automatic tape layering and adaptive machine fixtures, in line with global best practice in this industry," he continued.
Strata-produced inboard flaps will be incorporated into A350sfrom January 2018 and the UAE-based company expects to ramp up production of these important components in 2018 and 2019.
Franck Martin, Head of Airbus Procurement Aerostructures, remarked, "The delivery of the first shipset of A350 inboard flaps to Airbus is a major milestone in the Airbus and Strata relationship, building on our significant achievements over the last nine years. Airbus is proud to be a premier partner of Strata and the UAE and we look forward to continuing our relationship into the next decade."
The Airbus A350 XWB is Airbus' latestlong-range, twin-engine wide-body airplane. Itsintelligent airframe uses the right material in the right places for weight savings and up to40 per cent less maintenance. 70 per cent of the airframe is made out of advanced materials including 53 per cent composites.Built primarily from carbon composite materials, theA350 XWB wing combines aerodynamic enhancements, increasing the jetliner's efficiency at low speeds. The wing cover of the A350 XWB is the biggest single civil aviation part ever made from carbon fiber.
Strata's current manufacturing portfolio for Airbus includes complete wing movable assemblies for the A330, A350 and A380 product range.
The highlights of the long-standing partnership between Airbus and Stratainclude:
Acomprehensive co-operation agreement signed between Airbus and Mubadalain 2008which gaveStratathe capabilityto manufacture complete assemblies for A330, A340 and A380 aircraft
A supplier contract with Airbus in 2015 thatappointed Strata as the single-source supplier of ailerons for Airbus's A330 aircraft
Abdulla added: "We take great pride in our customer relationships with global aircraft manufacturers, as these synergies demonstrateour commitment to our specialized industry. The confidenceinternational aerospace leaderssuch asAirbushave shown in our capabilities is testimony to our emerging status as a global leader in advanced composite aerostructures."