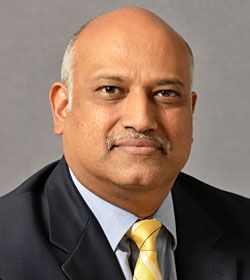 Rolls-Royce is a power systems company catering to aircraft, ships and land applications. Rolls-Royce is best known for aero engines that power many of the world's most advanced passenger jets, like the new Airbus A350 and the Boeing 787 Dreamliner. But, there is much more to the company than that. It also produce lowemission power systems for ships, a wide array of land vehicles: ranging from trains to combine harvesters. Here Kishore Jayaraman, President, Rolls-Royce India and South Asia, talks about the company's strides in India.

SP's AirBuz (SP's): Rolls-Royce prides itself as an innovations company and that it connects innovations to its customers. Could you give us examples of such innovations and how it has made other companies to follow suit?
Kishore Jayaraman (Jayaraman): Rolls- Royce continues to invest in core technologies, products, people and capabilities with the aim of broadening and strengthening its product and service portfolio, improving efficiency and enhancing the environmental performance of its products. Over the past 10 years, Rolls- Royce has invested £7.9 billion in research and development. In 2013 alone, Rolls-Royce invested £1.1 billion in R&D. We continually innovate to remain competitive and most importantly, we ensure that innovation is relevant to our customers' needs.
Research and development, and innovation are crucial. They will become more so as we strive to improve the quality and performance of our power systems and services. The Trent XWB, for example, has proved to be the most efficient large civil aero engine in the world. Design and development of that engine started in 2006. In our marine business, innovation and the development of liquefied natural gas (LNG) power systems has led to the possibility of a 40 per cent reduction in a ship's CO2 emissions and the virtual elimination of sulphur and oxides of nitrogen emissions compared with conventional, diesel-powered craft. This presents a clear environmental and commercial opportunity. These innovations have also taken years to develop.
SP's: Rolls-Royce has had a flat year in 2014 financially and expects a return to growth this year. How does it look at the beginning of the year? What would be the drivers for this return of growth for Rolls-Royce?
Jayaraman: At a global level, significant challenges and changes shaped the year 2014 at Rolls-Royce. However, we made considerable progress and continued to adapt in order to remain competitive. In the first half of 2014, the Group order book was £70.4 billion. We received a net order intake of £6.5 billion and delivered £644 million in underlying profit before tax. This is a long-term business and we remain confident in its growth trajectory. We continue to make investments to deliver the £70 billion order book and to deliver cost reduction. Our continuous investment in technology and our commitment to excellence allows us to seize opportunities that will change the present and help us face the future with confidence.
We see a huge potential in India and we will definitely leverage our strategic partnerships for pursuing future growth. As India gets ready to move on its growth path, we will continue to support the country with our powerful portfolio of products and services and the right combination of experience and advanced technologies.
SP's: What is the order book for aerospace engines like and how much does civil aircraft engines constitute of that?
Jayaraman: The civil aerospace segment is a major manufacturer of aero engines for the airliner and corporate jet markets. We haveparticular strengths in the wide-body market where Rolls-Royce has a 54 per cent share of aircraft on order. Demand for our products and services remains robust. A net order intake of £2.6 billion compares with £10.9 billion in H1 2013. The order book reduced by two per cent, due to deliveries made during H1 and cancellations, primarily by Emirates of A350s.The order book contains 2,554 Trent engines that will drive the growth in aftermarket revenue over the next decade.
Significant orders in the first half included:
A $1.1 billion contract with All Nippon Airways to power 25 Boeing 787 Dreamliner with our Trent 1000-TEN.
A TotalCare contract with Cathay Pacific for Trent 700 engines that power Cathay's fleet of 60 A330s in service and on order; and
A $400 million TotalCare contract with new customer Azul Brazilian Airlines for its planned fleet of six A330s and five A350 XWBs.
SP's: Could you tell about India and the emerging markets in terms of civil aircraft engines? What is the potential and what is Rolls-Royce strategy in garnering market share?
Jayaraman: The Indian civil aviation industry is amongst the top 10 in the world with a size of around $16 billion. With a promising civil aviation market, I believe that the way forward for India is wide-body aircrafts since it could be a key solution to increase efficiency in passenger load and air traffic.
Also, with increased number of Indian carriers flying overseas and with the 49 per cent FDI in aviation coming into play, we expect a huge interest in the Trent XWB and Trent 1000, which powers the A350 and B787 respectively. As mentioned above, these wide-bodied aircrafts have the potential to increase efficiency in passenger load and air traffic in India.
Our Trent XWB is the world's most efficient aero engine, which entered into service with Qatar Airways last year. The Trent XWB is specifically designed for the aircraft and improves the aircraft efficiency by almost 25 per cent making it 16 per cent more efficient than the first-generation Trent engines. The fifthgeneration of the Trent engine family, the Trent 1000 engine was selected as launch engine when the Boeing 787-8 aircraft entered service in 2011 and has been selected as launch engine when the 787-9 aircraft enters service in 2014. The Trent 1000 powered Boeing 787 Dreamliner is 20 per cent more efficient than the Boeing 767 aircraft it replaces.
With such a powerful portfolio of products, we believe that Rolls-Royce can offer India the right combination of experience and new technologies, to contribute towards building capabilities in the wide-bodied aircraft market for India.
There is renewed focus on creating better infrastructure across India. We are sure the plans will include road networks, railways, but also aviation. We think we will also see a growing business friendly environment and combined with the focus on better infrastructure, it will ultimately support a more robust civil aviation industry. This in turn will drive India's domestic as well as international travel. This means that passenger traffic in and out of India will grow at an even faster rate, which is forecasted to triple in the near future.
SP's: In India, you have a joint venture with HAL. Could you give an update on what the JV is doing, the kind of export orders it has bagged, and what is its mandate?
Jayaraman: RollsRoyce's association with HAL is one of the longest partnerships in defence aerospace history, and is now its 60th year. We started with licensed production of Orpheus engines that powered the Kiran aircraft, progressing to co-production on the Adour family of engines.
The Hawk Advanced Jet Trainer's Adour Mk871 engine marks the latest of a long line of Rolls-Royce engines that have been produced under licence by HAL in Bengaluru, with the first locally assembled aircraft and engine handed over to the IAF in August 2008. The IAMPL facility in Bengaluru is testimony to our long-standing association with HAL.
SP's: Rolls-Royce has been embroiled in several investigations in India and elsewhere. Has this slowed down business globally and also in India?
Jayaraman: We await clarification from the authorities in India. We have made clear that we will cooperate with the regulators and have been explicit that we will not tolerate misconduct of any sort.
SP's: Could you tell us what you will be showcasing at Aero India 2015 and why?
Jayaraman: This year at Aero India 2015, we will highlight our 'Partnership with India Past, Present and Future' by showcasing our technologically advanced and innovative products. At the booth we will feature our three innovative engines the Adour, which powers the Hawk trainer; the Trent 700 from the Airbus A330 tanker aircraft; and the C-130J's AE2100 engine.
Rolls-Royce has been present in India for the past eight decades and contributes to the development and modernisation of Indian armed forces. We believe that Aero India is a perfect platform for us to showcase our capabilities and also network with our customers, partners, etc. We look forward to bolstering our business opportunities in international aviation and defence sector this year at the show.
SP's: India has vast pool of engineering talent. How is Rolls-Royce strategised to utilise the talent pool? Are you tying up with academic institutions, R&D centres, etc.?
Jayaraman: There is high demand and competition for good talent across all industry sectors that are dependent on innovation and creative thinking. And the aerospace industry is no different. While India is home to a million engineering graduates every year, it is the industry readiness of this vast talent pool that will play a key role in achieving the vision of creating a scalable and sustainable aerospace ecosystem in India.
Rolls-Royce currently employs 1,000 engineers in the country through outsourced agreements with QuEST and TCS in Bengaluru. We further intend to leverage the capability built up in the last decade in the two supplier engineering centres in India for our programmes. Our strategic suppliers have visibility on the level of skills and complexity of work they intend to execute in the future and they have robust in-house capability development plans governed by Rolls-Royce.