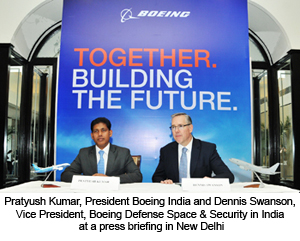 SP's AirBuz (SP's): You mention India is a Sunrise market; what do you mean by it?
Pratyush: 'Sunrise' is a traditional definition. We are looking forward to every project and we see growth.
SP's: Is it only perception or is it for real?
Pratyush: The projections and the numbers are pointing towards a significant growth. With the current economic growth and recent trends, we see more and more companies entering the field, there are Tatas, Mahindras, Dynamatics and a few more scaling very rapidly. It is indeed a reality to call India a 'Sunrise Market'.
SP's: Is 'Make in India' for India only or for the world?
Pratyush: It is both. If we make only for India, the business will be very challenging and we will be catering to a small market. It is important for the suppliers to be competent for the global market. We are making for India for sure and making for the world is very necessary for partnership from a global perspective. We do what makes the most business sense.
SP's: What is priority for you in India, civil or military?
Pratyush: There are lot of synergies. We have same suppliers for both. Our approach in India is to have integrated supply management.
SP's: What size of offset obligations is fulfilled till now?
Pratyush: We have met all the offset milestones. Contractual numbers can be gained from the Ministry of Defence.