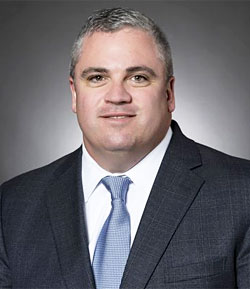 Gulfstream Aerospace Corp. today announced the appointment of Mark Knall as vice president and general manager of the company's facility in Appleton, Wisconsin. He reports to Dennis Stuligross, senior vice president, Operations, and Mark Burns, president, Gulfstream Product Support.
In his new position, Knall oversees the daily operations of Gulfstream Appleton, a maintenance, repair and overhaul facility for all Gulfstream aircraft and a completions center for the company's large-cabin G650ER, G650, G550 and G450 jets. The site has more than 900 employees and more than 300,000 square feet of hangar, shop and support space.
Prior to joining Gulfstream, Knall spent nearly 20 years at Pratt & Whitney in East Hartford, Connecticut, including the last four as general manager of the company's aftermarket program for its PurePower engine line for commercial airlines.
"Mark brings to Gulfstream a wealth of management experience and strong customer relations skills," said Burns. "He has had success increasing performance and profitability at organizations he's led. His leadership qualities and background will serve him well in this position."
Gulfstream Appleton, which is located 90 miles north of Milwaukee at Outagamie County Regional Airport, is a certified U.S. Federal Aviation Administration and European Aviation Safety Agency Part 145 repair station, which means its employees can work on Gulfstream aircraft registered in the U.S. and European Union countries. In 2013, Appleton's technicians serviced more than 500 aircraft.
Knall earned a bachelor's degree in politics and government from Ohio Wesleyan University and a law degree with honors from the University of Connecticut.