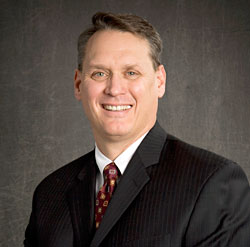 Inmarsat, the world leader in mobile satellite communications services for air transport and business aviation, has announced the appointment of Jeffrey Sare as Vice President of Airline Market Development.
Jeffrey, formerly Vice President of Strategy and Technology for Thales USA, joins Inmarsat during a period of rapid growth and unprecedented investment in its aviation business. This includes the ongoing deployment of the Global Xpress constellation, the first high-speed broadband network to span the world, and the development of Inmarsat's European Aviation Network which will offer airlines the world's fastest in-flight broadband connectivity service with speeds up to 75Mbps.
"Jeff is an important addition to our aviation management team," said Leo Mondale, President, Inmarsat Aviation. "Our multi-billion dollar investment programme is delivering new, world-leading aviation services, including Global Xpress and Inmarsat's European Aviation Network. Jeff will work closely with our aviation partners and their airline customers to drive adoption of Inmarsat's most advanced broadband connectivity services, which we believe will deliver the most efficient and effective satcom services for airline passengers and flight crew."
During seven years with Thales Group, Jeffrey was, among other roles, VP & General Manager of Thales IFE Systems where he was responsible for the operation and growth of the Inflight Entertainment Systems business unit with annual revenues in excess US$350m.
Jeffrey began his career in the US Navy, including a role as a naval aviator before joining Continental Airlines, where he was promoted to international marketing manager, responsible for product definition in the European and Latin commercial airline markets. In 1998, he joined Panasonic Avionics Corporation as regional marketing and sales manager with responsibility for the company's largest sales territory. He was subsequently appointed as their Director of Corporate Marketing before joining Panasonic Transportation Systems Company as Managing Director.