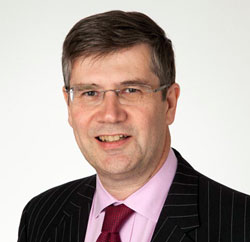 Rolls-Royce announced today that David Smith has been appointed as Chief Financial Officer and a Director of Rolls-Royce Holdings plc. He takes up his new role with immediate effect, replacing Mark Morris who has decided to leave the company after 27 years, serving most recently as Chief Financial Officer since January 2012.
David Smith joined Rolls-Royce earlier this year, and is currently Chief Financial Officer of the Aerospace Division. David spent the first 25 years of his career at Ford where he held a number of senior positions including Chief Financial Officer and subsequently Chief Executive Officer at Jaguar Land Rover, before he moved to the technology company, Edwards Group as Chief Financial Officer.
He said: "This is an exciting opportunity at an important time for Rolls-Royce. The company is well positioned in long-term growth markets, but we need to accelerate progress on our priorities: Customer, Concentration, Cost and Cash - most especially cost. I am proud to join the Board of such a great company, and look forward to playing my part in driving our financial performance".
John Rishton, Chief Executive of Rolls-Royce said:
"David has an exceptional track record as a finance leader. Since joining Rolls-Royce he has demonstrated determination, discipline and intellectual rigour. These are qualities that will be essential in returning Rolls-Royce to its long-term path of profitable growth. I am grateful to Mark Morris for his hard work over many years and wish him well for the future".
David Smith is a non-executive director of Motability Operations Group plc. Shares in Motability Operations Group plc are not publicly listed but the company has debt instruments listed on the main market of the London Stock Exchange. He was previously a director of Edwards Group Limited. There are no other details to disclose relating to David Smith under paragraph 9.6.13 of the Listing Rules.