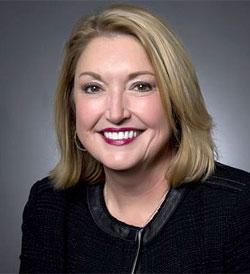 Gulfstream Aerospace Corp. recently named Cindy Halsey as vice president, Completion Planning and Design. She reports to Scott Neal, senior vice president, Worldwide Sales and Marketing, Gulfstream.
In her new role, Halsey will work directly with new aircraft Sales, Contracts, Marketing, Engineering, Initial/Final-Phase Operations and Product Support to ensure a world-class completion experience for customers purchasing a Gulfstream aircraft.
"We are excited Cindy is joining the Gulfstream family," said Neal. "Cindy's focus is on providing the best business jet interiors and the best completion planning, design and delivery experience in the industry. Her extensive knowledge in aviation design management and proven ability to lead design teams will enhance an already great customer experience characterized by our three sales and design centers. Cindy will take a leading role in the definition of our completion and outfitting strategies for both current and future aircraft."
Halsey has 36 years of experience in aircraft completions and interior design. Before joining Gulfstream, she was senior vice president, Interior Design Engineering, for Textron Aviation, where she was responsible for leading interior design, industrial design and interior engineering functions for all Textron Aviation products. Prior to that, Halsey served as a private aircraft completions consultant. She began her career as a design engineer.
Halsey earned a bachelor's degree in interior design and architecture from the University of North Texas in Denton. In 2012, STEMconnector™ named Halsey one of the top 100 women leaders in science, technology, engineering and math (STEM).