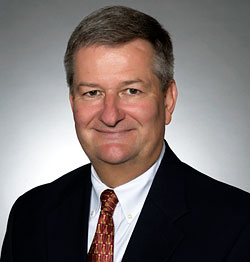 Gulfstream Aerospace Corp. today appointed Jeff Kreide vice president, Final-Phase Engineering. Kreide reports to Dennis Stuligross, senior vice president, Operations, Gulfstream.
In his new position, Kreide is responsible for all Final-Phase Engineering activities in Savannah and has dotted-line responsibilities for Engineering at Gulfstream's Appleton, Dallas and Long Beach Final-Phase Manufacturing facilities. Additionally, he is responsible for Industrial Design, Final-Phase research and development and Final-Phase new product engineering.
A 32-year Gulfstream employee, Kreide previously served as the vice president of Business Solutions. In that role, he was responsible for developing and managing integrated business solutions to support all facets of the business, including Product Lifecycle Management and Enterprise Resource Planning.
Prior to that, Kreide was the director of Product Lifecycle Management, leading a team responsible for the design and development of the Gulfstream G650 3D model-based type design environment.
During his Gulfstream tenure, Kreide has served in a number of positions, including director, Savannah Final Phase and Standards Engineering; manager, Project Engineering for the GV wing and tail; project engineer, special mission aircraft; engineering and computer system administrator and architect; and stress engineer, GV.
Kreide earned a Bachelor of Science degree in mechanical engineering from the Georgia Institute of Technology in Atlanta.